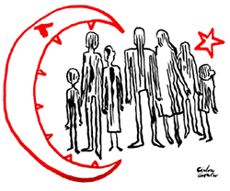 It's stunning how rapidly Turkey is devolving into an iron-fisted Islamist regime -while the West barely bats an eye. As I've blogged about before, Turkish president, Recep Tayyip Erdoğan is moving with ruthless determination to recreate the Ottoman Caliphate. And he's more than happy to crush any of his fellow Turks who get in the way.

In addition to rounding up journalists, opposition politicians and academics, last year Turkish authorities issued an executive decree ordering the permanent closure of 375 non-governmental organizations. According to Amnesty International ~
The closure of nearly 400 NGOs is part of an ongoing and systematic attempt by the Turkish authorities to permanently silence all critical voices […]

The work of NGOs like these is especially vital during the ongoing human rights crisis in Turkey, where flagrant misuse of emergency powers has cast a dark shadow over an already ravaged civil society.
Since then, Open Doors has moved the country up in their persecution (of Christians) rankings from #45 to #37 (North Korea being #1) ~
Turkey's rank on the World Watch List rose sharply this year… There are three notable trends in Turkey at the moment: the presence of radical Islam, the ethnic conflict and the changing political scene. Each of these trends are linked to each other, and all of them will affect Christians in Turkey.

Persecution in Turkey is shaped by Islamic extremism, and is increasingly marked by violence. Pressure on believers from Muslim backgrounds is especially acute due to the Islamic social environment. Increasing pressure on Christians is fueled by Turkish nationalism and a regime that aims to Islamize the country.

Most recently, Erdoğan has been imprisoning popular authors whose work he disapproves of ~
Recep Tayyip Erdoğan's Turkey has already made headlines for jailing dozens of journalists in a round-up that has transformed Turkey into "the world's biggest prison for reporters". Perhaps even more objectionable is Turkey's persecution of novelists who do not even take part in the political debate. They are hated by Erdoğan's Islamist government simply for conveying Western ideas and fighting for freedom of speech. What is happening in Turkey is even more urgent than what is happening in Iran and Saudi Arabia, two other Islamic countries that persecute and jail writers: Turkey is, at least rhetorically, a democracy as well as the Islamic world's purported bridge to Europe […]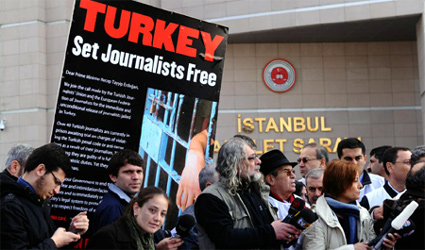 Nazis used to burn books; Turkey's Erdoğan is following the Soviet Stalinist method of burying the books, often along with their authors.

In the last month alone, four great Turkish writers made headlines not for their novels, but for their arrests, trials and persecution. Erdoğan's plan, however, goes beyond these writers' fate. Turkey is purging culture. The purge has been called an "intellectual massacre" that "has hit faculties from physics and biology to drama and politics at some of Turkey's best universities, chilling teachers and students alike". After a failed coup, last year, Erdoğan fired "21,000 teachers" and "1,577 university deans". It is the beheading of Turkey's academic culture. Shamefully, Europe has kept silent about this ideological massacre.

One lucky Turkish-Armenian blogger actually managed to flee ~
Sevan Nisanyan, an Armenian, just escaped from jail a few days ago and fled. "Turkey has turned into a veritable madhouse," he said.

He had been sentenced to 16 years and seven months for having made ironic comments about the Prophet Muhammad.
This Turkish despot is nearly as bad as Kim Jong Un. He still refuses to release Pastor Andrew Brunson – detained now for more than a year on trumped-up charges – and recently admitted to using the pastor as a bargaining chip against the U.S. ~
Turkish President Recep Tayyip Erdoğan has for the first time explicitly admitted he is using an American pastor jailed in Turkey as a bargaining chip to force the U.S. government to extradite one of his main political foes, the Muslim cleric Fethullah Gulen. (See my 8-26-16 post)

"The U.S. wants a pastor from us. You have a pastor of your own; you give him to us, then we return pastor to you," Erdoğan told a group of police officers at the presidential palace in Ankara on Thursday.

We better not cave to this extortion! Pastor Brunson has done NOTHING. Gulen, a former Erdoğan ally, has been in the U.S. since 1999 but is accused of having spearheaded last year's failed coup. Who knows? But he will no doubt will be tossed in prison for life – or worse – if he's returned to Turkey.

The Daily Caller reports on our rather anemic efforts to resolve this travesty ~
Trump has reportedly raised the issue of Brunson's imprisonment with Erdogan. Sec. of State Rex Tillerson has also pressed the Turkish government to release the pastor…
It's not enough – not by a long-shot!

~~~~~~~~~~~~~~
Related:
Please pray for Pastor Brunson!
Turkey's Islamist regression – Trump approves?