After last Sunday's referendum it's pretty clear that Turkey is intent on extracting itself from the 21st century – and has charted a direct course straight back toward the 7th ~ Turks Vote to Give Away Their Democracy ~
In a bitter irony, nearly 55 million Turks went to the ballot box on April 16 to exercise their basic democratic right to vote. But they voted in favor of giving away their democracy. The system for which they voted looks more like a Middle Eastern sultanate than democracy in the West.


According to unofficial results of the referendum, 51.4% of the Turks voted in favor of constitutional amendments that will give their authoritarian Islamist president, Recep Tayyip Erdogan, excessive powers to augment his one-man rule in comfort.
The UK Daily Mail was a bit more forceful in their description ~
His victory is not just a catastrophe for the West, and for Turkish democracy, but also for the thousands of journalists, opposition politicians, academics and ordinary citizens critical of his regime who are increasingly vulnerable to interrogation and imprisonment.

Two decades ago Turkey – although predominately Muslim – was still primarily a secular nation. In fact the Turkish constitution specifically gave the military the duty to maintain a secular government. But along comes Erdoğan who has always been associated with fundamentalist parties, that is to say anti-secular (- and by extension, anti-constitution and anti-military). In 1998 the party he was affiliated with was actually declared unconstitutional under long-standing rules designed to preserve Turkey's reputation for religious tolerance.

The Daily Mail relates his subsequent rise to power ~
Around the same time (late 90's), Erdogan was handed a ten-month prison sentence for reading an Islamist poem at a party meeting.

The high-profile affair turned him from an obscure local politician into a hero of working-class Muslims, who, after his release, handed a landslide victory to his Justice and Development Party in the 2002 elections.

Cementing power with a mixture of hard-line policies that appeased his core voters — for example, overturning a ban on female civil servants wearing headscarves — and aggressive attacks on his opponents, who mostly hail from the urban, educated middle classes, Erdogan would go on to serve as prime minister until 2014, when he promptly became president.
~~~~~~~~~~~~~~~~

Like megalomaniacs everywhere, of course Erdoğan must have an elaborate palace suitable for a demigod ~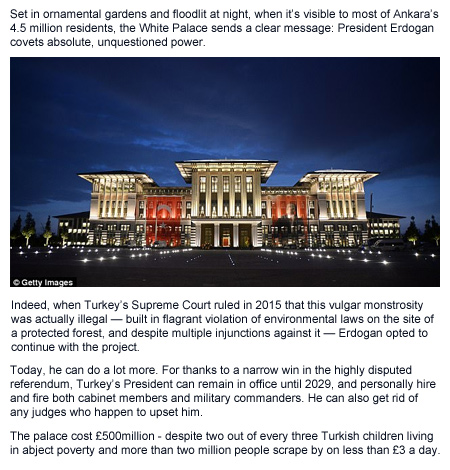 ~~~~~~~~~~~~~~~~
In the wake of last summer's failed coup attempt, Bruce Cornibe at Counter Jihad explained ~
Erdogan paints himself as an ally to the West, but he's unquestionably an Islamist using the democratic process to transform a once secular-democratic country of the Ataturk tradition to an authoritarian Islamic state that punishes dissenting opinions. Journalists, politicians, academics, military figures, and religious leaders alike have suffered under his rule.
Apparently the country favors oppression, because much more is sure to come.
The changes (resulting from Sunday's referendum) make Erdogan head of government, head of state and head of the ruling party — all at the same time. He now has the power to appoint cabinet ministers without requiring a confidence vote from parliament, propose budgets and appoint more than half the members of the nation's highest judicial body. In addition, he has the power to dissolve parliament, impose states of emergency and issue decrees. Alarmingly, the proposed system lacks the safety mechanisms of checks and balances that exist in other countries such as the United States. It would transfer powers traditionally held by parliament to the presidency, thereby rendering the parliament merely a ceremonial, advisory body.

Source: UK Daily Mail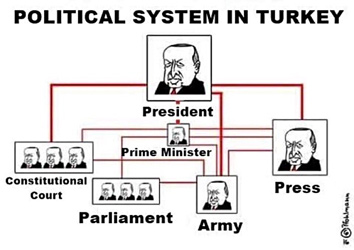 But what's much worse for the West than having a major player in the historical Levant revert to Islamic fundamentalism, is our increasingly cordial relationship with a Muslim despot. Why is the Trump administration following Obama's misguided policy of cozying up to tyrants (Iran, Cuba, Venezuela) – at least with regard to the Turkish tyrant?

Not only did Donald Trump seem to approve of Erdoğan's ruthless crackdown last summer – "Trump says U.S. shouldn't criticize Turkey's Erdogan over post-coup purge", he actually congratulated his Turkish counterpart on Monday for the latter's marginal victory in a referendum that will allow him to consolidate and extend his domestic powers.(!)

Why are we supposed to be enthusiastic about another fundamentalist Muslim regime? Erdoğan helped incubate ISIS and – due to the ongoing Sunni-Shia feud – is fanatically opposed to Syria's Bashar al-Assad ~
The Sunni supremacist Erdoğan would therefore even shake hands with Satan for the downfall of the Nusayri al-Assad. And he did. Turkey quickly became the mentor of all Syrian opposition groups which, ideally, would first defeat al-Assad, then form an Islamist government and volunteer to become a de facto colony of the emerging Turkish Empire.

Worst – like all Islamists – Christians are on his enemies list as well; he seized six churches as state property last spring. And, in a widely under-reported outrage, Turkey has been holding an American pastor on bogus charges for more than six months! ~
Languishing in a prison cell built for eight, which at times holds as many as 22 prisoners, of which Pastor Andrew Brunson is always the only Christian, he wonders if he has been forgotten. And just what crime has Pastor Andrew committed? He literally has no idea.

Under the current State of Emergency in Turkey, his file has been sealed and all visits from his attorney are recorded and all notes are copied. The only official written charge we have seen states, "membership in an armed terrorist organization," a completely false charge against a peaceful pastor who has lived in Turkey for over 23 years without incident, raising his family there and humbly serving the people of Turkey.

Brunson and his wife Norine have lived in Turkey for more than two decades. They were originally detained last year on October 7th. Norine was released on October 19th but Andrew has been incarcerated at Izmir's Sakran 3 Nolu T Tipi Prison since December.

Secretary of State Rex Tillerson apparently brought up Brunson's plight in a March meeting with Erdoğan. And the next day he met with Norine Brunson. Shortly after that visit she received a personal letter from Vice President Pence assuring that "Andrew's case remains a top priority of the U.S. government…."
In the letter, Vice President Pence wrote, "I can assure you both that the State Department and this White House, under President Trump's leadership, consider Andrew's release and reunification with you and your three children extremely important."

Sounds nice. But while Pence voted for the Armenian Genocide Resolution in 2005 (to formally recognize the Armenian Genocide of 1915), he voted against it in 2007 and 2010, ostensibly out of concern for its possible fallout on US-Turkey relations.

And now, we have POTUS congratulating the despotic Erdoğan on his referendum victory?! Sounds like as awfully schizophrenic White House doesn't it?!

~~~~~~~~~~~~~~~~
Despite the administration's hapless efforts, the American Center for Law and Justice (ACLJ) is working diligently for Brunson's release. You can help support their efforts by signing this petition: Free Pastor Andrew.

~~~~~~~~~~~~~~~~
Related:
#Turkey has reached its final destination. Say goodbye to Democracy as Erdogan moves forward in creating an Ottoman empire ruled by Sharia. https://t.co/oqfTitSPOq

— Nick Short (@PoliticalShort) April 16, 2017

O'Ministration sides with another tyrant
The World's War on Christendom – Latest Dispatch from the Front ~ Turkey, as Erdogan clamps down in the wake of last week's failed coup attempt, Islamists Attack Churches in Coup Frenzy

Failed coup; the end of secular Turkey?
The World's War on Christendom – Latest Dispatch from the Front
101 years ago this week, the Ottoman Turks (last century's Asia Minor Muslims) rounded up, deported to desert areas and murdered as many as 1,500,000 Armenian Christians. Known – by those of us who prefer historical accuracy – as the Armenian Genocide, this was a tragedy that leftists and present-day Muslims like to pretend never really happened. That way, when fascism starts to rear its ugly head again in the same corner of the world, by the descendants of the last tyrants, maybe no one will notice the similarities…

Like, for instance – Turkey's President Erdogan seizing control of six Christian churches – under the duplicitous pretext of maintaining stability in the civil war-torn southeastern part of the country.

On Turkey, Trump Catches Spring Fever ~
Amid reports of significant ballot-box stuffing, roughing up dissenters, and other electoral fraud, Turkey's sharia-supremacist strongman, Recep Tayyip Erdogan, hammered the final nail in the coffin of his country's democracy. Last weekend, he narrowly prevailed in a referendum that formally concentrates in the presidency the autocratic powers he had previously usurped.

Afterwards, Donald Trump called to congratulate him.

You read that right. The president of the United States called to congratulate a terror-supporting Islamist ruler on completing his country's turn away from Western liberalism.

Why a 'Yes' Vote for Turkish Referendum Means Harsher Reality for Women ~
With the passage of the referendum, regressive legislation vis-a-vis women's rights will have an easier time being passed. It is likely also that the trend of violence and abuse of women will continue to rise.

Human rights attorney Ipek Bozkurt, an avocate for women's rights, described how she felt as a woman in anticipation of the passage of the referendum.

"I am frightened and I feel suffocated, sometimes I wake up in the middle of the night and think about what will happen if there is a 'yes' vote, the whole system will change and it's terrifying."