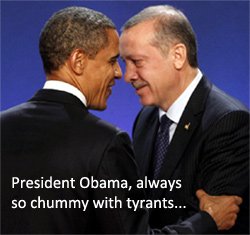 Back in the day – just a short decade ago actually – the United States would have strongly condemned Turkey's ruthless crackdown against secular elements of their society after last month's failed coup attempt. Instead, under Barack Hussein Obama, we now encourage and enable further tyranny ➡ Biden Reveals US Going Out of Its Way to Extradite Erdoğan's Archenemy.

The "archenemy," as the Jewish Press referred to him, is Fethullah Gülen, an Islamic cleric, exiled from Turkey since a political rift with Turkey's president. Erdoğan has accused him of masterminding the July 15th coup (For his part, Gülen has disavowed any involvement, countering with the suggestion that Erdoğan himself may have staged the revolt as a pretext to crush the opposition.).

After the coup was swiftly quashed, the purge to extinguish democracy began in earnest. Some reports put the number of those either detained, suspended from their jobs or sacked at well over 50,000 ~
President Recep Tayyip Erdoğan is turning the screws: "At every level of government, the period of cleansing this virus will continue. Because this body, my brothers, is infected with a cancer that spreads all around the government."
Who is "this virus?" First off, the military – more than 6,000 were arrested immediately, followed quickly by other undesirables ~
Thousands of teachers have had their licenses revoked and mass suspensions of civil servants across the education sector imposed.

The judiciary has been at the sharp end of Erdoğan's justice 2,745 judges have been suspended accused of being part of the 'parallel structure' of the opposition Hizmet movement of Fethullah Gulen.

Centres of learning are under attack 1,577 university deans have been ordered to tender their resignations and academics banned from leaving the country and those abroad ordered to return.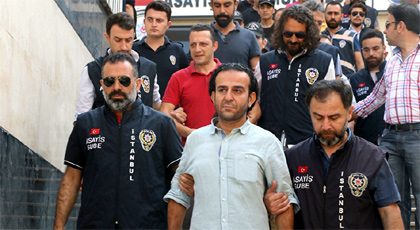 According to CNN, as of August 13th ~
The purge of those alleged to have been involved in the coup has been far-wide and sweeping. Approximately 35,022 people have been detained in connection to the failed coup earlier this month, a senior official told to reporters. Of those, 11,597 detainees have since been released while 5,685 people remain in custody but have yet to go before a judge […]

(Beyond the detentions, there have been;)
• 17,740 people arrested
• 89 arrest warrants issued for journalists
• 81,494 people fired or suspended
• 2,000+ institutions shut down



Allegations of torture and rape of coup plotters have also emerged, according to human rights groups. Amnesty International says detainees face grim conditions including beatings, lack of access to food, water and lawyers amid calls for independent monitors to assess conditions.
~~~~~~~~~~~~~~~~~~
So, in the face of these Stalinesque human rights violations, what does the Obama administration do this past Wednesday?
… Biden hinted that Obama may be prepared to throw Gülen under the bus. "I can understand Mr. President how some of your countrymen would feel that the world didn't respond rapidly enough to the existential crisis your country is facing," the VP said at a joint press conference in Ankara Wednesday. "That's why I want to personally be here. And I was asked by the president to personally be here to represent him, to tell you and all of your colleagues and your countryman how very, very sorry I am, the president and the American people are for the suffering and loss you have endured."

What??? (Clearly senility has set in.)

Considering the inhumane way that we see Erdoğan deal with his opponents (both real and imagined) no doubt Mr. Gülen can expect to be pushing up daisies shortly after Obama extradites him. Note for example the tragic case of Gökhan Acikkoglu ~ Turkish Teacher Detained After Coup Was Tortured, Denied Medical Aid, and Will Be Buried as a 'Traitor' ~
After the failed coup, Gökhan was arrested by the authorities. Of course, he didn't have anything to do with the coup. After all, the power grab was carried out by members of the military. Gökhan was sitting at home when it all happened and was just hoping he would be able to continue to teach his students the knowledge they need to succeed in life.

Sadly for Gökhan, the authorities had already added him to a list of supposed supporters of Fethullah Gülen […]

After a while, Gökhan fell sick due to diabetes and "harsh treatment," meaning abuse and even torture. He was brought to a hospital, but the doctors gave the go-ahead. He was brought back to detention.


On July 23, Gökhan — a teacher who was minding his own business when he was arrested — died. He was seriously ill and "badly wounded."

That's bad enough, but this story gets even worse.

After his death, and without any conviction, Gökhan was declared "a traitor." As a result, he was denied a funeral service. He will be buried in the so-called "Grave of the Traitors" (a mass grave created by the government for military soldiers who were part of the coup).
~~~~~~~~~~~~~~~~~~
It's difficult to tell how trustworthy Fethullah Gülen is. After all, he was formerly allied with Erdoğan in opposition to secularist rivals. On July 16th he spoke with a small group of journalists at his residence in Saylorsburg, Pennsylvania ~
Asked by the Guardian whether he would have returned to Turkey had the coup been successful, Gülen said: "Indeed, I miss my homeland a lot. But there is another important factor, which is freedom. I am here, away from the political troubles in Turkey and I live with my freedom."

Even a Muslim cleric seems to understand what's truly essential for the human spirit. Gülen better hope Obama doesn't ship him home because there is no more freedom in Turkey, as Gökhan Acikkoglu's distraught father could tell him ~
It's like a banana republic here. We can't claim our rights. We can't say anything. We can't do anything. For no reason, our kid was branded a traitor. We did nothing wrong!
~~~~~~~~~~~~~~~~~~

Once upon a time America was a shining beacon of liberty and freedom from oppression, righteously standing up to despots, dictators and other assorted global bullies. Obviously Obama has decided that he'd rather join the ranks of the tyrannical. And it appears that we-the-sheeple don't get a choice.

~~~~~~~~~~~~~~~~~
Related:
The World's War on Christendom – Latest Dispatch from the Front ~ Islamists attacked churches in coup frenzy

Joe Biden Will Visit Turkey This Week. Does He Have the Courage to Call Out Autocrat Erdogan? ~ Now we know. No.

And don't suppose for a New York minute that Donald Trump would come down on the right side of this one ~ Trump says U.S. shouldn't criticize Turkey's Erdogan over post-coup purge ~
"I don't think so," Trump said, responding to a question from the journalists about whether the attempted coup against Erdogan could have been staged, "but I do give great credit to him for turning it around." […]

When asked about the implications of the ongoing purge, he echoed the arguments of those from a very different side of the political spectrum than that of Trump's conservative base: What right do we in the United States have to criticize the condition of human rights elsewhere?

Did Obama Just Betray Syrian Christians to Please the Turks? Seems So ~
(N)ow the U.S. government has decided to abandon the Kurds and their Christian allies, as Michael Horowitz reported in the International Business Times […]

What motivation does the Obama administration have for turning against its erstwhile allies, the best hope in a desolate region for establishing something like a free and pluralist government? According to Horowitz, we are currying favor with Turkey — the former secular democracy which is morphing before our eyes into an Islamist dictatorship, in the wake of a failed coup that has proved a pretext for a massive purge of secular-minded dissidents.