As I've blogged about before, Islamist fundamentalist and ruthless autocrat Recep Tayyip Erdoğan has been determinedly dragging Turkey back to the 18th century (before it was modernized and secularized under Mustafa Kemal Atatürk) for the past few years, slowly but surely eliminating any remaining democratic obstacles to his absolute power. Last year's coup – whether genuine or deliberately manufactured for the sole purpose of crushing dissent – was soundly defeated. Pursuing his ambitious goal of recreating the Ottoman Caliphate, Erdoğan has been imposing fundamentalist policies, imprisoning tens of thousands of supposed dissidents, purging the military and government of any suspect opponents and persecuting any remnants of Christian presence still in the country.

Caught up in this tyrannical power grab is Pastor Andrew Brunson; arrested last October on bogus charges. This is from my 4-20-17 post ~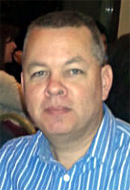 Brunson and his wife Norine have lived in Turkey for more than two decades. They were originally detained last year on October 7th. Norine was released on October 19th but Andrew has been incarcerated at Izmir's Sakran 3 Nolu T Tipi Prison since December […]

Under the current State of Emergency in Turkey, his file has been sealed and all visits from his attorney are recorded and all notes are copied. The only official written charge we have seen states, "membership in an armed terrorist organization," a completely false charge against a peaceful pastor who has lived in Turkey for over 23 years without incident, raising his family there and humbly serving the people of Turkey.

Trapped in a situation straight out of a Kafka tale, Pastor Brunson has been imprisoned for almost a year now. ACLJ (American Center for Law and Justice), who has been fighting for his release, published an update last week: New False Charges Levied at American Pastor Andrew Brunson as Unjust Imprisonment in Turkey Grows More Dangerous ~
In an unexpected video conference with a judge last Thursday, American Pastor Andrew Brunson was informed that the prosecutor had added additional charges upon which his continued detainment was now based.

These "new" charges, coming 322 days after his initial arrest in October of last year, are obviously just as false and ridiculous as the original charge of membership in an armed terrorist organization. Disturbingly, the new charges are even more serious than the original charge and carry stiff sentences, if convicted. Furthermore, Pastor Andrew's file continues to remain sealed, making it impossible to defend against the unknown.

Although new charges have been added, any evidence supporting such absurd claims has yet to be presented, and no indictment has been handed down. In his response to the judge, Pastor Andrew adamantly maintained his innocence and denied the charges. He pleaded with the judge that evidence be provided. He reiterated his sole purpose for being in Turkey for the past 23 years was "for one purpose only. To tell about Jesus Christ." He stated further that he has "done this openly, in front of the government."

Last month Secretary of State Tillerson highlighted Pastor Andrew's plight during the introduction of a report on International Religious Freedom ~
"[T]he United States continues to advocate for the release of Pastor Andrew Brunson who has been wrongfully imprisoned in Turkey."

Thanks Rex. Now can we please see some serious actions to back up your well-meaning intentions?!

In the meantime, please pray for Pastor Andrew – for his release – and that the Lord would comfort and sustain him in prison, enabling him to be a stalwart witness for the faith – even in the midst of his ordeal. Also that God would comfort and encourage his wife and family.

You can support ACLJ in their efforts to free Brunson and sign their petition HERE.
~~~~~~~~~~~~~~
Related:
Turkey's Islamist regression – Trump approves?
O'Ministration sides with another tyrant
Reporters Without Borders: Turkey Is 'World's Biggest Prison' for Journalists
Erdogan Marks Anniversary Of Coup Attempt By Firing Thousands Of Employees
Erdogan Seizes 50 Syriac Churches and Monasteries, Declares Them State Property ~ (June 2017)