I am a wife, mom, part-time graphic/web designer and an undocumented apologist for Christianity, and Western Civilization in general.
I believe that A is not non-A. That the Truth is what actually corresponds to reality. That I cannot "create my own reality" anymore than I can stop the earth from spinning, walk on water, turn a stone into a rosebush, or myself into Tinkerbell.
A statement that corresponds to reality is True. For instance: "Our planet is round." (OK - technically it's a sphere, which I suppose could skew my whole argument, but humor me here.) That statement corresponds to the facts: we measure time by the earth's rotations and revolutions, we've sailed around it and not fallen off, we've seen the pictures from NASA. It didn't become round simply because people stopped believing it was flat. It was just rolling around the sun year after year, the whole time, being its round old self. The earth was round whether anyone believed that fact or not.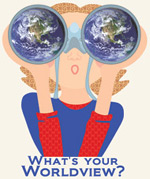 This distortion of the Truth is really rooted in the misuse of the word "reality". Because obviously there are many things you can change: your job, your hair color, your attitude - heck, these days, even your gender! But you must work within reality to make those changes. Take websites for example. There are millions (billions?) of sites on the internet - each with its own look. But without the underlying code, all their nice designs would fall apart. The "reality" - the Truth - that each site designer must acknowledge, is that there must be a structured, defined code undergirding the design to tell a browser exactly how to display the site. Ignore the code, and you're left with cyber-mush. Leave out one little "}" somewhere and you're sunk. Trust me, I've been there and it's not pretty.
So I have to deal with the reality of html, CSS and php when I design a website. I can't create my own "reality" by pretending the coding doesn't exist. And I can't create my own "reality" to include a flat earth - no matter how hard I try. Neither can anyone else (except maybe Charlie Sheen). But if we listen too long to people questioning what the meaning of "is" is, we might start thinking we can.
Creating your own "reality" sounds enticing. But only if you want to go through life pretending real Truth doesn't exist.
And so, even though my one small voice is only floating out in cyberspace somewhere, I will strive to speak the Truth. Ever mindful of the fact that this blog and I are both works-in-progress.
"Show me Your ways, O Lord; Teach me Your Paths." Psalm 25:4

Integrating my site with Wordpress has been a real adventure! I could never have figured it out without expert assistance (Coding - aarrgh!). Many thanks to the following sites which were extremely helpful:
Update: 2017 -Unfortunately most of these links are no longer up, but they were great while they were...
Website Design 411 This guy put together a great instuctional video - which I only had to play about 50 times. So I'm a slow learner!
Up-date Jan. 2013: Looks like this video was taken down... Disappointing, because it was super-helpful. Howver, the written version is still available at the link below.
BURN SEO Same guy I think - with a written tutorial.
Jonathon's Tutorials This one's a bit dated, but it helped fill in some explanation gaps for me.
Wordpress Answers Q & A format. Once you've got the basics going, there are lots of answers to specifics here. Chance are, someone's asked the same question(s) you have.
Wordpress.org Very helpful if you're just a Wordpress user. And hey - it's FREE. How great is that? They have tons of info but I'm not a web developer, so the technical jargon was kind of overwheming.
Maxdesign A web design that has generously shared several online tutorials and CSS layouts. Awesome CSS resource!