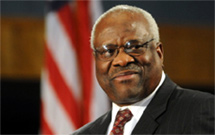 If you thought that the shiny new Smithsonian African American Museum of History and Culture recently opened in Washington D.C., would – no question – include a mention of Justice Clarence Thomas (the only African American currently sitting on the United States Supreme Court; the second black American to ever serve on the court) you'd be sadly mistaken ➡ Smithsonian's black heritage museum snubs Clarence Thomas ~
Last month, the National Museum of African American History and Culture opened in Washington D.C. However, Fox News reported on this month's 25th anniversary of Justice Clarence Thomas joining the Supreme Court that the museum is completely void of any reference to Thomas' personal and judicial legacy.
Well, he's in good company. The museum apparently had no room for Alveda King (M.L. King's niece and an ardent pro-life advocate), Michael Steele (first black RNC chair), Cora Brown (1st African American woman elected as a state Senator, MI 1952) or Thomas Sowell (economist, philosopher, author) either.

Reading this National Geographic review of the opening it's clear that an honest reflection of history was not a priority for the museum's directors. They had a more nefarious purpose in mind ~
People shuffled through the museum silent and stunned as zombies. They were sometimes stuck, riveted to an exhibit by the object, the words, or the pictures, seeming to question if this moment was ever real. I could hear groans and murmurs, sometimes people would shake their heads, others looked away finding the words or images too hard to take. One mother tried to explain to her son the injustice of lynching […]

The story of the museum was significant to me as a Jamaican man because African Americans have never had one that showcased the history and culture of blackness at such a huge magnitude. I could tell that it was being built to encompass the length and breadth of black American history and culture. I saw the museum as a place that families and communities could come to talk about their personal struggles.
Wonderful. Let's focus exclusively on the negative. They can "talk about their personal struggles." But let's not discuss ways to overcome those struggles. Let's not learn from the lives of successful blacks. Let's not have a conversation about how we (black OR white) can emulate people like ~
• Sen. Tim Scott (R-S.C.), first African-American senator from the state of South Carolina, the first black Republican elected to the United States Senate since the election of Edward Brooke in 1966, and the first elected from the South since 1881, four years after the end of Reconstruction.
• Shelby Steele, American author, columnist, documentary filmmaker, and a Robert J. and Marion E. Oster Senior Fellow at Stanford University's Hoover Institution.
• Walter E. Williams, American economist who is the John M. Olin Distinguished Professor of Economics at George Mason University.

According to this story at One News Now ~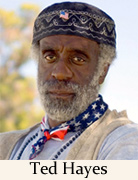 Ted Hayes, who serves on the National Advisory Council of Project 21 (The National Leadership Network of Black Conservatives), is up-in-arms at the decision to overlook Thomas and his contributions to society.

"Clarence Thomas is a great man," Hayes argues. "He went through more than most black people – especially the leadership."

Hayes also points to the challenges Thomas has successfully met over his lifetime.

Justice Clarence Thomas"[He] has even gone through Jim Crowism — and all the negatives that were thrown at him, he overcame," he continued. "This is a great American story that these cronies around the African American Museum have chosen to leave out."
Sounds to me like the Smithsonian's goals in creating this museum were to deliberately re-enforce victimhood mentality, push the "white privilege" lie, and foster more racism. Sigh. It's what progressives have been doing for 150 years.

~~~~~~~~~~~~
Related:
Democrats' Racist Roots – a reminder ~ Some real history I can guarantee that the museum "forgot" to include.
James Woods on the African-American Museum: 'This Slight of Justice Thomas is Absolutely Appalling' ~ Via Twitter ~
"This slight of Justice Thomas is absolutely appalling. Now even the Smithsonian bears the stain of #liberal bias."

What we learn from black history ~ Some wise words from Star Parker about America's past and future ~
In looking at the great civil rights struggle in America, we cannot forget that this was a Christian movement led by a Christian pastor. And this is how we must continue this movement in the future, united in faith. Any other approach, I believe, leads to despair rather than hope.

Up-dated: Added 10-21-16 ~ Celebrating 25 Years of Clarence Thomas on the Supreme Court: His Close Friend Spills the Beans ~
(Longtime friend Mark) Paoletta believes Justice Thomas will leave "a robust judicial legacy of original meaning jurisprudence." More importantly, perhaps, he has been and will be "an inspiring figure who was born into poverty in the segregated deep south to serve as a Supreme Court Justice."

His other legacy is of a man who overcome an almost unprecedented public attack when he was nominated for the court, and years of criticism and insults since, and done so with great and rare dignity.