Sadly, for whatever reason, "race relations" in America seem to be rapidly disintegrating. Many had anticipated that eight years of "hope and change" would have resulted in just the opposite, but strangely, no.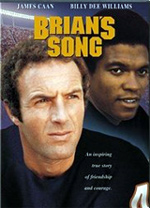 Watching this absurd take-a-knee movement unfold brought to mind "Brian's Song," the on-screen depiction of the Brian Piccolo and Gayle Sayers story. It's just tragic that we've come so far from a time in this country when two NFL players could be best friends even though their skin was a different color. That TV movie was made in 1971 – almost 50 years ago!

Then there was the satirical Mel Brooks' Blazing Saddles (1974). Offensive? Absolutely. But an equal-opportunity offender. There was something for everyone to find shocking (by that era's standards for sure) – and hysterical. In 2017 though? Forget about it. As Brooks himself recently said ~
(T)here's no chance his 1974 comedic hit Blazing Saddles, a Western parody which features a black sheriff in a racist town, could be made today due to such hyper-sensitivity.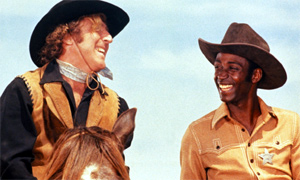 Many of us who grew up in the 60's and 70's are shaking our heads in amazement, wondering how in the world America went from being racist (slavery, Jim Crow, etc.) – to diverse and multicultural – to racist again. Astounding.

Leading up to the 70's there had been huge strides made in bringing blacks and whites together. One local example here in Michigan was recalled earlier this month with the death of the first passenger on Duffy Daugherty's Michigan State Underground Railroad. [Hat-tip: CoachComar]

A century after the abolitionists' Underground Railroad, Spartan football coach Daugherty, in a deliberate stand against racism in college sports, found a way to bring promising black high school athletes in the South up to Michigan ~
Texas didn't want Houston-area black players Bubba Smith and Gene Washington for the color of their skin, so the progressive Daugherty brought them north to East Lansing. The same was true of George Webster of Anderson, S.C., when Clemson and South Carolina shunned him. Jimmy Raye of Fayetteville, N.C., was ignored by his home-state schools, North Carolina, N.C. State, Duke and Wake Forest.

They were among the 44 passengers he brought north to East Lansing from 1959 through his final season, 1972. Daugherty's efforts recruiting the South are dismissed by some as merely about winning games with the seven southern African-American players that earned All-America or Big Ten honors. But most of the 44 players weren't stars, but they were grateful for the opportunity to escape the South.

The Underground Railroad evolved from Daugherty being invited to speak at clinics in the South in the late 1950s and his displeasure with learning black high school coach couldn't attend. He subsequently staged his own clinics for their benefit […]

(W)hat also makes the Underground Railroad a special story was the 68-percent graduation rate of those 44 players. Escaping segregation meant education — not just football.

One of the remarkable young men with a seat on that northbound train was Clifton Roaf (1941-2017). A retired dentist, Roaf passed away earlier this month at the age of 76 ~
(Clifton) grew up in the segregated South in Pine Bluff, Ark. He was a teenager at all-black Merrill High when historic Civil Rights events unfolded in 1957 at nearby Little Rock, where President Eisenhower sent U.S. Army troops to Central High to enforce desegregation for the Little Rock Nine.


As an adult he recently retired after 40 years as a dentist, saying he is "indebted to the people of Michigan State" for his opportunity despite a knee injury preventing him from playing a down for the Spartans. At Michigan State he met his late wife, Andree Layton Roaf. She was the first African-American woman named the Arkansas State Supreme Court.
Continuing the family tradition, Roaf's son Willie played football through his high school years and was a first-round draft pick by the Saints in 1993 out of Louisiana Tech. His proud father introduced him at his 2015 induction into the Pro Football Hall of Fame ~
"There is no question America is unique," Clifton said. "I came from humble beginnings. There is no way I could have gone to college without my football scholarship. I am wearing this ring through the efforts of my son. Where else on this planet could my family's story happen but in America?"

Indeed. And it's this very understanding of what makes America unique that's so sadly lacking these days. Clifton Roaf and his family and millions more like them, black and white know that this country is still an amazing land of equal opportunity – if you're ready to work hard and take advantage of it.
"The pundits, erudites and crazies might say because of Ferguson and New York that America is not unique," Roaf said. "I don't block out the negatives. The things we went through in segregation and the Civil Rights movement were horrible. But sometimes the positives and the negatives bring us together and provide more opportunity to achieve.

"Only in this country could there be a place like Michigan State where you could find a John Hannah, a Duffy Daugherty, a Biggie Munn and Raymond Hatchell. That is why people cross the desert to come here; they come packed in trucks or in hulls of ships. They know this is the place that offers opportunity. That's what I taught my children and let my grandchildren know. I get emotional when I defend America."
Amen.

Oddly enough, our "progressive" gatekeepers don't seem to share those sentiments – and not just because they rarely express them. Their warped worldview is evident in the new Smithsonian African American Museum of History and Culture in Washington D.C. which apparently couldn't find any room for blacks who embrace traditional American values, family structures and work ethic. They left out Clarence Thomas (the only African American currently sitting on the United States Supreme Court; the second black American to ever serve on the court), ~
Alveda King (M.L. King's niece and an ardent pro-life advocate), Michael Steele (first black RNC chair), Cora Brown (1st African American woman elected as a state Senator, MI 1952) and Thomas Sowell (economist, philosopher, author)
Instead the shiny, new museum seems deliberately staged to advance racial grievance-mongering and prevent the wounds of slavery and prejudice from ever healing. (Perhaps the kneeling NFL players all visited on their summer vacations.)

~~~~~~~~~~~~~~~
I happened to be listening to a Christian talk radio show while I was working on this post. The topic was the NFL player protest and one caller, a Christian conservative, black woman, shared her personal experience; the stark differences in worldview and approach to life between her mother's side of the family and her father's. The contrast was quite stunning. Much like the Roaf family, mom's folks followed the rules, valued education, worked hard, stayed married and instilled a strong sense of personal responsibility. Dad's… not so much.

I'm not sure what their motive is, but since we're not really allowed to discuss the importance of values and personal choices over skin color, I don't think the Left will ever let America move beyond racism. We seem to have lost our last best chance in the 70's…
~~~~~~~~~~~~~~~
Related:
The remarkable Roaf family ~ An inspiring eulogy – were it still available for free. Some excerpts ~
Clifton Roaf was one of nine children who grew up in a four-room house at Pine Bluff (Arkansas). In a 1993 story for Sports Illustrated, Gary Smith described Clifton Roaf's father as a man who "loaded railroad freight, worked fields, sawed wood and pushed mops to survive." Pine Bluff was among the most segregated cities in the South […]

"Sure, he had been his high school's co-valedictorian, but sports had always been his true love," Smith wrote of Clifton Roaf. "He had spent Friday nights playing football and Saturday mornings picking cotton, and he had become an all-state defensive lineman talented enough to do what was virtually unheard of for a black teenager in Arkansas in the '50's — win a scholarship to a Big Ten school…" […]

Roaf boarded a train in 1959 and vowed to never return to the South. He had his train ticket, a copy of his financial-aid agreement with Michigan State, a bag of clothes and $30. He later attended dental school at Howard University in Washington D.C., and returned to Pine Bluff with his talented wife in tow.

Andree Layton came from a Nashville, Tenn., family where academics were stressed. Her grandfather won a scholarship to Yale in the early 90's and later became the director of the YMCA in Norfolk, VA. Her mother was an honors graduate of Talladega College in Alabama and earned a master's degree from Michigan State. Her father earned a master's degree at Fisk. A blind date with Clifton Roaf in the spring of 1961 at Michigan State led to marriage and eventually on of Arkansas' most remarkable families.