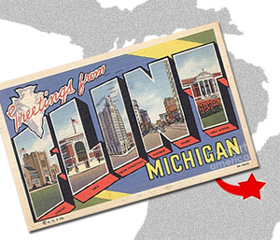 "Greetings from Flint, Michigan" (ironic motto: "Strong, Proud") ~
a metropolis which – for the benefit of you out-of-staters – is basically just a scaled-down version of Detroit. Fifty miles north and west of the Motor City, once upon a time Flint used to be "Buick-Town," a place where the majority of vehicles from that GM division were produced.

Unfortunately, the city's fortunes, like Detroit's, rose and fell along with America's auto industry (CAFE standards and UAW demands). And so, it too is only a shadow of its former self.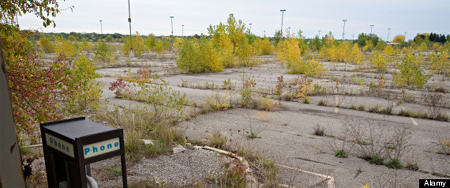 The plain fact is, Flint is broke; currently under the auspices of an emergency manager (their 3rd). And yes – like Motown – it's also a magnet for corruption.

As the city decays, it seems Flint's discerning voters have developed an affinity for criminals. Last month they elected to city council two convicted felons, and two others with bankruptcies. Sad but true ~
The newly elected Flint City Council includes a convicted killer 😯 – a man who served probation for felonious assault, and two people who have gone through personal bankruptcies.

Wantwaz Davis, who beat incumbent Bernard Lawler by 71 votes to win the Fifth Ward seat, served 19 years in prison after pleading guilty to second-degree murder in 1991.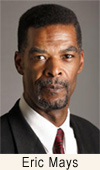 Some fine upstanding citizens eh? No suprise then that another newly-elected councilman, Eric Mays, who pleaded guilty to felonious assault in 1987 and served a year of probation, was just arrested for DUI, marijuana possession on Saturday morning.
Flint Police arrested Mays who was also cited for No Proof of Insurance and Failure to Submit to Fingerprinting.
How about that? And just in time for his election recount later today ~
According to MLive, (Anita) Brown (who lost to Mays by 7 votes) alleged "underhanded activities" at polling locations when requesting the recount. The Board of Canvassers approved Brown's request by a 3-1 vote prior to Saturday's incident.
Who knows…?

Not sure if Ms. Brown herself has a record (a web search didn't yield much info), but at this point does it really matter?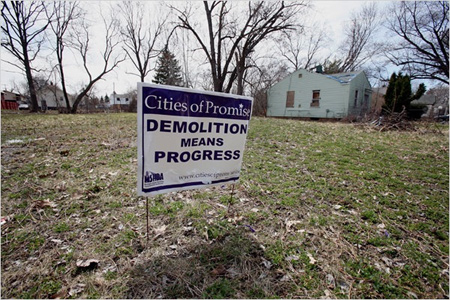 Isn't this Orwellian sign just too depressing?
While we're changing the meaning of words,
perhaps "corruption" now means ""Strong, Proud." *
~~~~~~~~~~~~~~~~~~~~~~~~
In the meantime (last Spring) ~ Fiscal Problems Not Stopping Flint From Pursuing $2.4M Hydrogen Bus. Mustn't stand in the way of "progress."
~~~~~~~~~~~~~~~~~~~~~~~

* "Cities of Promise" ~ "(Democrat) Governor Jennifer M. Granholm offered hope and promise of better days to come to nearly 200 attendees at the first annual Cities of Promise conference held at the Kellogg Center on the campus of Michigan State University Monday (June 18, 2008)."