God is smiling today as President Trump (making good on what the United States has been promising to do for 22 years) officially recognized His Holy City Jerusalem as Israel's capital… Halleluiah!

~~~~~~~~~~~~~~
"I will bless those who bless you,
And I will curse him who curses you;
And in you all the families of the earth shall be blessed."
~ Genesis 12:3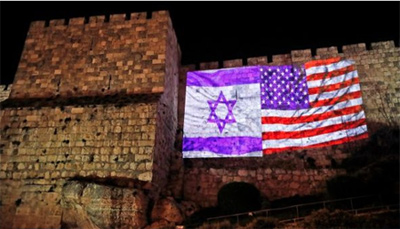 ~~~~~~~~~~~~~~~
Related:
A Momentous Day: Jewish Leaders and Israel Advocates Respond to Trump Announcement on Jerusalem ~
"Today, nearly seventy years after the founding of the modern State of Israel as the national homeland of the Jewish people, the United States has officially recognized Jerusalem as the capital of Israel. Since 1949 the seat of Israel's government has been in Jerusalem. This historic change in US policy rights a longstanding injustice."
~ Stephen M. Greenberg, Chairman, and Malcolm Hoenlein, Executive Vice Chairman/CEO, of the Conference of Presidents of Major American Jewish Organizations.
Unesco still living in a parallel universe ~ Earlier this year, in a deliberate snub to Israel, on that country's Independence Day (May 2nd), the United Nations Educational, Scientific and Cultural Organization denied the Jewish State's rights on its ancient capital.
Take that UN!

Up-dated 12-7-17:
Added: Why Trump is right in recognizing Jerusalem as Israel's capital ~ Excellent defense from Alan Dershowitz ~
President Trump's decision to recognize Jerusalem as Israel's capital is a perfect response to President Obama's benighted decision to change American policy by engineering the United Nations Security Council resolution declaring Judaism's holiest places in Jerusalem to be occupied territory and a "flagrant violation under international law." […]

(I)f there is any change to the status quo, let the blame lie where it should be: at the hands of President Obama for his cowardly decision to wait until he was a lame-duck president to get even with Prime Minister Netanyahu. President Trump deserves praise for restoring balance in negotiations with Israel and the Palestinians. It was President Obama who made peace more difficult. It was President Trump who made it more feasible again.