UNESCO, the UN agency that pretends to promote peace, social justice, human rights and international security through international cooperation on educational, science and cultural programs, will continue to deny reality as long as the rest of the world allows them to indulge their anti-Semitic fantasy. Earlier this month, in an insulting move deliberately timed to coincide with Israel's Independence Day on May 2nd, the United Nations Educational, Scientific and Cultural Organization denied the Jewish State's rights on its ancient capital ~
The Steering Committee of UNESCO voted Tuesday to adopt an Arab-sponsored resolution that declared null and void "all legislative and administrative measures and actions taken by Israel, the occupying Power, which have altered or purport to alter the character and status of the Holy City of Jerusalem, and in particular the 'basic law' on Jerusalem."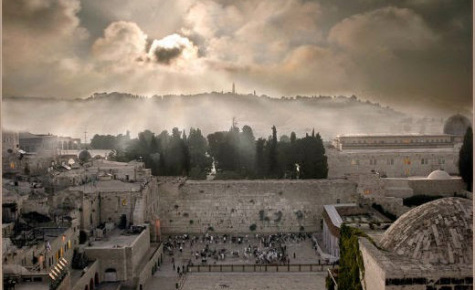 Initially, the Trump Administration renounced the ridiculous UNESCO proclamation ~
The United States was among the only ten countries that voted against the resolution while 22 nations voted in favor and 23 others abstained. […]

Laurie Cardoza-Moore, the Special United Nations Envoy for the World Council of Independent Christian Churches, was the only dignitary who condemned UNESCO for issuing what she called "a blatant anti-Semitic statement."


"UNESCO's vote to deny the Jewish people's sovereignty over Jerusalem on Israel's Independence Day is not a coincidence. It is a blatant anti-Semitic statement," Cardoza-Moore wrote in a statement.

"It is also an outrageous attack on millions of Jews and Bible-believing Christians worldwide who recognize that Jerusalem is the eternal capital of Israel and the Jewish people and has been for over 3,000 years," she added while calling upon "the UN Secretary General to condemn this absurd vote in the highest of terms."

However, just as the president prepares for a visit to Israel, the official position is suddenly annoyingly vague – as evidenced by this White House briefing on Tuesday
National Security Adviser General H.R. McMaster declined to answer whether President Donald Trump considered the Western Wall in Jerusalem part of Israel. "That sounds like a policy decision," he said, laughing.

Ha-ha. Sorry General, the humor eludes me.
Trump wasn't very ambiguous on the campaign trail when he promised to move the U.S. embassy from Tel Aviv to Jerusalem. Now it looks like he's shamefully reneging on yet another campaign promise…
~~~~~~~~~~~~~~~

Too bad we didn't elect this guy ➡ Cruz: Western Wall 'part of Israel' & Jerusalem Israel's capital ~
"The Western Wall is part of Israel," Cruz tells Conservative Review, "and Jerusalem is the eternal and undivided capital of Israel." […]

Cruz has long pushed for the president and the past administration to make good on promises to move the American embassy in Tel Aviv to Jerusalem. In January, he introduced (along with Sens. Dean Heller, R-Nev., and Marco Rubio, R-Fla.) the Jerusalem Embassy and Recognition Act, which called for the relocation of the embassy.

~~~~~~~~~~~~
Related:
UNESCO detaches itself from historical reality
Temple Mount Geography Confounds New York Times
Trump Inauguration Rabbi Slams Administration's Jerusalem Confusion, But Confident President Will Recognize City as Israel's Capital During Visit ~ Wish I shared that confidence
Russia Recognizes Jerusalem as Israel's Capital. Why Can't the U.S.? ~ Wall Street Journal opinion piece (full article is subscription-only)
International kangaroo court mocks God