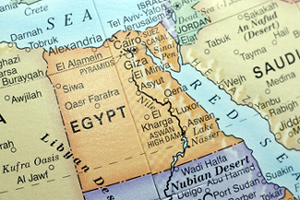 Well, this looks promising. While Saudi Arabia is suddenly in a huge state of turmoil, just across the Red Sea it seems Egypt is actually moving toward a more open, pluralistic, democratic society ~ For the first time in history, a leader of Egypt, President Abdel Fattah el-Sisi, met with American evangelical leaders ~
(Al-Sisi) on Wednesday (November 1st) welcomed a delegation of American evangelical leaders for the first time. General Intelligence Services Chief Khalid Fawzi and the president of the Protestant community in Egypt, Rev. Dr. Andri Zaki also attended. The meeting covered a wide range of issues.


The evangelicals told the president that they came to build a long-term friendship. They want a friendship between Sisi and people of Egypt, as well as other Christians.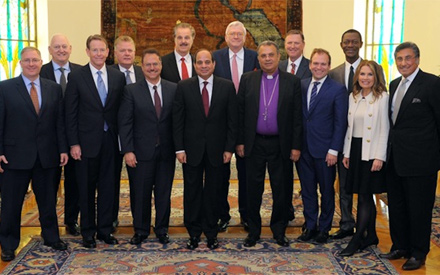 The meeting, arranged by Joel C. Rosenberg (NYT best-selling author and founder of the Joshua Project) was attended by a dozen Americans including Michael Youssef, Michele Bachman and Tony Perkins of the Family Research Council.
President Sisi looks to "build on the legacy of President Anwar Sadat," said Rosenberg. The Egyptian leader signed a peace agreement with Israel in 1978, and was killed because of it. SiSi now has more confidence in his stability and position. Now he will focus on more regional issues.

Michael Youssef (on the extreme right in the above photo), himself born in Egypt, was quite moved by the meeting ~
I was grateful for the opportunity to meet President el-Sisi personally and shake his hand. With tears in my eyes, I told him how my wife and I had watched him on television from our home in Atlanta, Georgia, when he visited the Coptic Cathedral in Cairo on Christmas Eve 2015. I thanked him for his promise to rebuild Christian churches that had been destroyed in recent years.
For the one-year period that Obama's pal – Muslim Brotherhood member Mohammed Morsi – was in charge of the country, Coptic Christians were running for their lives. Now, instead of the mislabeled "Arab Spring" which only made the Middle East a more fractious, volatile place, Egyptian President Abdul Fattah al-Sisi seems intent on ushering real, promising renewal.

The beleaguered Coptic community remains skeptical of Sisi's committment, possibly because they've been disappointed one too many times. Egypt is still #21 on Open Doors list of nations with the highest levels of Christian persecution ~
President al-Sisi's authoritarian style of government has to some extent restored the rule of law in Egypt, but also implies a stricter compliance with the relatively restrictive legislation related to religious affairs. This is not in the advantage of the country's Christian population.

Let's hope that last week's meeting wasn't just a photo-op for President Sisi. Let's pray that he's sincere about protecting religious freedoms for all Egyptians.

~~~~~~~~~~~~~
Related:
Copts: "Mr. Obama is supporting terrorism" (August 2013)
Talking Mideast peace and Christianity, Egypt's Sissi makes unprecedented overture to U.S. evangelicals
Christian Girls Are Being Abducted in Egypt—Never to Return (October 2017)