Well isn't this special? Before the onerous nuclear deal even went down it appears that the Iranian regime was illicitly ferrying militants into Syria on commercial aircraft – and Obama and his henchmen knew it! But hey – why alienate your major political supporters by jeopardizing the multi-billion dollar deals that they had all lined up with Tehran's state-controlled airline sector?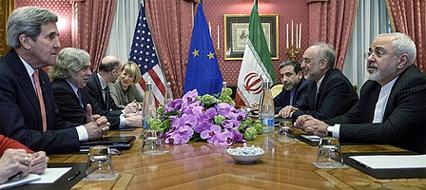 Unbelievable. Washington Free Beacon, reports on this latest revelation in the whole shameful treaty debacle ~
(C)ongressional leaders are calling for an investigation into Iran for using its state-controlled air carrier, Iran Air, to ferry militant fighters into Syria, where they are taking up arms in defense of embattled President Bashar al-Assad.

Photographs provided to Congress show Iran using Iran Air to ferry these soldiers between 2016 and 2017, in part when the Obama administration removed sanctions on Iran Air and promoted multi-billion dollars sales between the carrier and aircraft manufacturer Boeing, which is seeking to provide Iran Air with a fleet of new planes that many suspect will be used to carry terrorist fighters and weapons into regional hotspots.

This behavior violates international laws governing the nuclear deal and has now led lawmakers and others to accuse the Obama administration of downplaying Iran's illicit activity in order to promote the nuclear deal and ensure Tehran receives a new commercial fleet.

Multiple senior Obama administration officials, including former secretary of state John Kerry, traveled the globe to promote trade with Iranian companies, including Iran Air, at the same time Iran was found to be ferrying militants into Syria.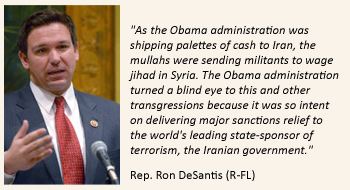 Several Republican congressmen have petitioned the Treasury Department to investigate the photographic evidence for this illicit use of commercial aircraft. Whether they will or not remains to be seen ~
Administration insiders have expressed confusion over the matter, saying they are unsure where Trump officials stand on scrapping the nuclear agreement.
Wonderful. Far from draining the swamp – and ripping up this Iran deal as promised during the campaign – the Trump administration seems to be morphing into the Obama administration ~
Multiple proponents of ending the deal were recently removed from the White House's National Security Council and it appears that those officials supporting the deal currently are now the majority voice. This includes Secretary of State Rex Tillerson and National Security Adviser H.R. McMaster.

Even more ominous, it appears that former UN Ambassador John Bolton can no longer get an audience with President Trump. Bolton is one of the most knowledgeable and sane voices on the Middle East and radical Islam in D.C.. He was once in the running for Tillerson's job (and should have it!). He's been a staunch advocate for exiting the Iranian deal all along. If Trump won't even talk to him now we're in trouble.
Unlike the media's phony "Russia-Russia!" circus, this scandal deserves to be widely reported on – and investigated at the highest levels of our government – as the serious threat to national security that it is. A veteran congressional adviser bluntly told the Free Beacon, half of the O'Ministration must have colluded on this disaster ~
"The Obama administration actively politicized and downplayed intelligence about Iran to preserve the deal. They had State remove references to Iranian terrorism, had Justice ignore Iranian sanctions-busters and proliferated, and even had Energy buy off Iranian deal violations. So of course they had Treasury look the other way while the Iranians were facilitating Assad's mass slaughter."
~~~~~~~~~~~~~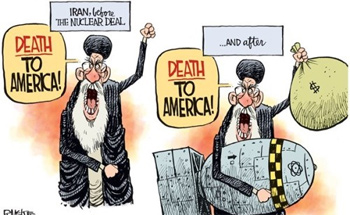 Right now the nukes everyone is focused on are the ones in North Korea. But it's only a matter of time before their fellow terrorists (and nuclear comrades) in Iran start threatening us with theirs as well. All part of the Obama legacy. And soon to be Trump's – if his administration refuses to address this outrageous treaty scandal.