Anybody else remember Donald Trump's campaign position last year with regard to Obama's shady 2015 Iranian nuclear deal ?
March – 2016 ~ 'Dismantle the disastrous deal': Trump tells AIPAC Iran deal is 'number one priority' ~ "My number one priority is to dismantle the disastrous deal with Iran," Trump said, speaking before AIPAC in Washington, DC on Monday evening. "I have been in business a long time…this deal is catastrophic for Israel – for America, for the whole of the Middle East… We have rewarded the world's leading state sponsor of terror with $ 150 billion and we received absolutely nothing in return."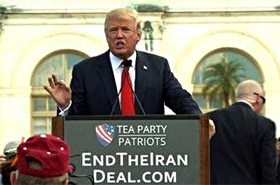 His running mate was even more emphatic: Pence goes farther than Trump on Iran deal, says US will "rip up" ~
March – 2016 ~ The Indiana governor and foreign policy hawk declared to loud audience cheers, "when Donald Trump becomes president of the United States of America, we're going to rip up the Iran deal!" He promised, "we're going to marshal our allies, and we will not allow the leading state-sponsor of terrorism to ever obtain a usable nuclear weapon."

Pretty unequivocal wouldn't you say?

But that was then. And this is now ➡ Trump Administration Recertifies Iran Nuclear Deal ~
The agreement, also known as known as the Joint Comprehensive Plan of Action (JCPOA), went into effect in October 2015 and is between China, France, Germany, Russia, the United Kingdom, the U.S., the European Union, and Iran […]

U.S. law states the administration must notify Congress of Iran's compliance to the 2015 agreement, every 90 days. […]

Senior administration officials, told reporters that Iran has followed the conditions laid out in the nuclear deal and thus it will be recertified. A senior official said that Iran is not following the "spirit" of the agreement, therefore new sanctions will be levied against Iran. A senior administration official pointed to Iran's missile development, hostility to Israel, cyberattacks against foreign nations, and human rights abuses as causes for concern.
Not to mention hostility to Trump and the U.S. in general.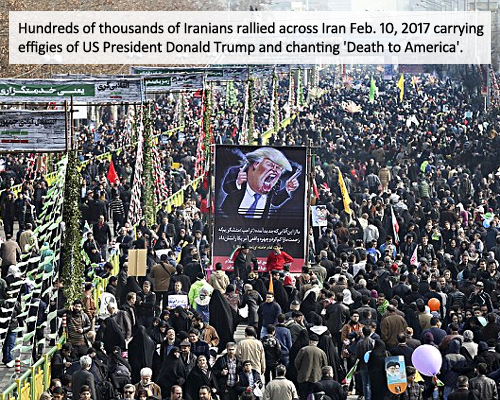 Or this unfortunate Chinese-American graduate student (who the mainstream media has apparently never heard of) ~
DUBAI, United Arab Emirates (AP) — A Chinese-American graduate student at Princeton sentenced to 10 years in prison in Iran for allegedly "infiltrating" the country and sending confidential material abroad is innocent of all charges against him, his professor said Monday.

Xiyue Wang's arrest, which happened nearly a year ago, only came to light Sunday (Aug. 16th) when Iran's judiciary announced his sentence and the detention of President Hassan Rouhani's brother in an unrelated case.
Totally bogus ~
The U.S. State Department has not provided details on the case but called on Tehran to immediately release "all U.S. citizens unjustly detained in Iran." The U.S. does not maintain formal diplomatic relations with Tehran and warns its citizens traveling there that they risk arrest or being barred from leaving.

"The Iranian regime continues to detain U.S. citizens and other foreigners on fabricated national-security related changes," it said.
(But hey, let's reward them by continuing the lopsided nuclear deal.)
And then there's Iran's cozy relationship with that lunatic in Pyongyang ~
"We must also urgently reassess the available intelligence on issues like joint Iranian-North Korea nuclear and ballistic-missile programs, free from the Obama administration's political biases. Cooperation between Tehran and Pyongyang is deep and long-standing. North Korea's July 4 ICBM launch should cause greater interest in the implications for Iran." – John Bolton

The guy who should have Nikki Haley's job says Iran hasn't been complying with the deal, so we shouldn't be re-certifying. Writing in The Hill, former UN Ambassador Bolton had some advice for President Trump last Sunday ~
"The administration should stop reviewing and start deciding," he said. "Even assuming, contrary to fact, that Iran is complying with the (Joint Comprehensive Plan of Action) JCPOA, it remains palpably harmful to American national interests," (John Bolton) said […]

"It should not have taken six months to reach this conclusion. Well before Jan. 20, we saw 18 months of Iranian noncompliance and other hostile behavior as evidence. The Trump transition team should have identified abrogating the deal as one of the incoming administration's highest policy priorities." […]


Over the past two years, considerable information detailing Tehran's violations of the deal have become public, including: exceeding limits on uranium enrichment and production of heavy water; illicit efforts at international procurement of dual-use nuclear and missile technology; and obstructing international inspection efforts (which were insufficient to begin with).

They said they would. But they aren't. Duped again.
~~~~~~~~~~~~~
Related:
Obama's Iranian Legacy