Apparently it's not enough that the feds already own over 65% of the land in Utah, now President Obama has his sights set on an additional two million acres.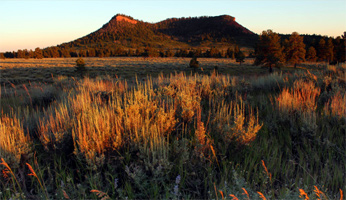 With a stroke of his infamous pen, under cover of the Antiquities Act of 1906, it seems the president can just unilaterally "take" land to create a new National Monument on 1.9 million acres of wilderness in San Juan County (southeastern Utah). The area under consideration would be bigger than Yosemite National Park by 700,000 acres. Heck, it would be bigger than the state of Rhode Island! ~
Potentially covering 1.9 million acres, the Bears Ears National Monument would encompass 40 percent of San Juan County. Opponents of the potential monument designation call it a federal "land grab" that would greatly restrict access and use of area.

As a petition opposing the autocratic action states ~
This monument will take all control and input about the land from the locals, who use it everyday, and give it to the federal government. It will put families out of work, increase access and therefore desecration of ancient and sacred ruins, it will also restrict and prohibit gathering of food, hunting, and cutting wood.

Seriously, what are we – the USSR? Our founders certainly never intended that massive amounts of land would be owned and controlled by a federal leviathan. Had they envisioned this travesty, they never would have ratified the Constitution – which enshrines private property ownership, and states rights – as this map starkly illustrates: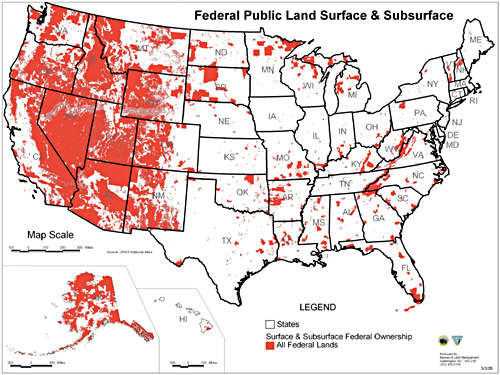 In the original 13 colonies on the east coast, federal land ownership is minimal. But as settlers moved further and further west the government's appetite for more control became practically insatiable. How much is enough?!

The usual lying, leftist, earth huggers are trying to convince Native Americans that this move is in their best interest. Having been deceived one too many times by Washington D.C. over the decades, many of them aren't buying it ~
San Juan County Commissioner Rebecca Benally, who claims Navajo heritage, said she believes special interest groups are pressuring and harassing Native Americans into supporting the monument designation.


"There's intimidation, harassment, bullying and the tactic of divide and conquer that is being used against my people, Navajo against Navajo, Native Americans against Native Americans," Benally said at the Utah State Capitol April 20, according to Fox 13 News.
Utah's governor and most of his fellow Republicans oppose the monument; Gov. calls pro-Bears Ears monument proposal 'a political tomahawk' ~
Gov. Gary Herbert on Wednesday (July 27th) derided a multitribe proposal for a national monument as "a political tomahawk" that will do more to foment conflict than to protect the Bears Ears region considered sacred by Native Americans.

In his remarks at a Senate field hearing in Blanding, he said these mesas and canyons in San Juan County should be protected, but by congressional action, not through the stroke of a president's pen.

"It is my belief that a unilateral monument designation will divide the people. It will create anger and division. It will provoke protest and may inhibit our ability to resolve tough public land management decisions for decades to come.," Herbert told the Senate Energy and Natural Resources Committee.

Utah's Sen. Mike Lee hosted a hearing on the monument proposal at San Juan High School last Wednesday (July 27th). Retired educator, and Native American, Lewis Singer had this to say ~
"National monument status will restrict access to the land, require payment of entrance fees, and may restrict or prohibit traditional activities such as hunting, gathering wood, picking pine nuts, acquiring medicinal herbs, and performing ceremonies on the land," Singer told Lee. He pointed to the Navajos' negative experience following the designation of the Wupatki and Canyon de Chelly monuments.

"The Navajo people have given up enough of their tribal lands for national monuments," he said. "How can we as a native people trust the United States Government when they provide reservations and then come back and claim them as national monuments?"

Yes the land in question is beautiful – but the whole darn country is beautiful. Does that give the feds the right to own it all? Under the guise of protecting it – from the we-the-people? These decisions should be made locally – as the Constitution, and the founders, intended.

~~~~~~~~~~~~~~~~
Related:
Remote Utah Enclave Becomes New Battleground Over Reach of U.S. Control
Utah lawmakers pass resolution opposing potential designation of Bears Ears National Monument
The Ugly Facts of Federal Government Land Ownership
Federal Land In The United States
"Donald Trump: Don't hand federal lands to states" ~ Evidently, the Republican candidate is a statist.