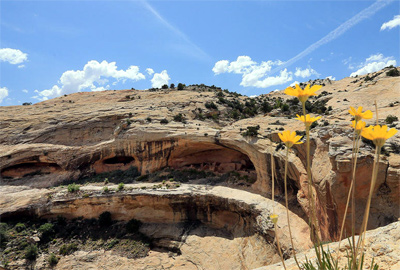 In one of his last authoritarian acts as despot-in-chief, Barack Obama created Bears Ears National Monument in Utah, seizing nearly 1.5 million acres in state land under the auspices of the 1906 Antiquities Act. Under that law, the former president managed to put more lands under tight-fisted federal control than any of his predecessors.

As Nicolas Loris, writing at the Daily Signal, points out ~
The Antiquities Act, signed into law by President Theodore Roosevelt, was intended to prevent the looting of archaeological and Native American structures and objects, and it gave the federal government an expeditious path to do so.

Unsurprisingly, its use has evolved into a federal power tool for making land grabs that cater to special interests, rather than welcoming input from local affected parties, such as the outdoor tourist industry, Native American tribes, or simply the people living in the community.
Those who lobbied for the national monument designation for Bears Ears were the usual radical earth-firsters and non-locals. Their motive: grab the land and prevent access to those who have responsibly managed it for generations; Native Americans and other residents. Last September Susie Philemon, an Aneth Navajo, fought back tears as she expressed her opposition to Obama's designation…
… underscoring the fact that they (the Navajo) have strong incentives, both economic and spiritual, to protect and preserve the land.

She stressed that "[t]here are people that still graze there, they reside there, and they make that place their livelihood and you cannot just take that away."
As usual when pushing their autocratic agenda, progressives have misrepresented the motives of the national monument opponents. Suzette Morris, a member of the Ute Mountain Ute Tribe in White Mesa, Utah, calls out 'false narratives' ~
The initial reasons for a Bears Ears National Monument have always been about "tribal co-management," yet the end results are far from ringing true. If you believed the rhetoric coming from special-interest groups, you'd actually think the Bears Ears Commission actually has the same level of authority as the United States Department of Interior in managing the Bears Ears National Monument […]

In fact the very language for the proclamation simply implies that the Bureau of Land Management and the U.S. Forest Service would give a Native American voice on land management within Bears Ears National Monument a rather monotonous, "dully noted."

Furthermore, a large chunk of the lands within the designated area had already been restricted from development before Obama grabbed it.
Utah's Senator Mike Lee has published more than a dozen videos of San Juan Country residents who want the monument designation rescinded – or the area significantly reduced. Eva Workman is one of these articulate spokespeople ~

So now the good news – President Trump's Interior Secretary, Ryan Zinke, after visiting Bears Ears last month and meeting with locals has recommended that the monument's boundaries be shrunk ~
SALT LAKE CITY ~ June 12, 2017 ~
In a memo to President Donald Trump, the Interior Secretary recommends reducing the boundaries of the 1.35 million acre monument in southeastern Utah, but also giving Native American tribes "co-management" authority over it.

"The recommendations were not made in a bubble in Washington, D.C. These recommendations were made after extensive, exhaustive, on-the-ground listening and learning sessions," Zinke told reporters in a conference call. […]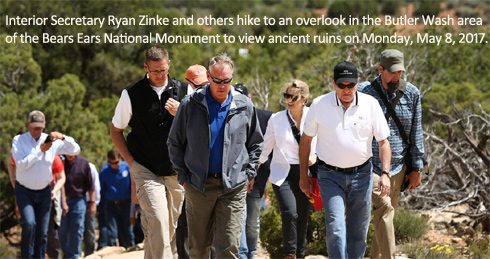 (Utah Governor) Gary Herbert was also happy with the recommendation.

"This interim report is an important first step toward re-establishing sound land management practices for one of the most special areas in the world. Throughout this process Secretary Zinke has demonstrated the utmost respect for local and tribal input. I encourage the president to take this recommendation seriously, and I applaud the ​secretary for his balanced and responsible proposal," the governor said in a prepared statement.

But some locals in San Juan County who have been pushing for rescinding the monument said they could live with Zinke's recommendation to shrink it.
This appears to be an excellent first step in rolling back decades of federal overreach and abuse of the Antiquities Act. Let's hope Trump follows through on his secretary's recommendations.

~~~~~~~~~~~~~
Related:
Greedy Obama grabbing more Utah land
Various articles on Bears Ears at Free Range Report (An honest, responsible source of information for rural Western news and issues)
Federal Officials Target 27 National Monuments for Review

Up-dated: 6-22-17 ~
[More links added]
~~~~~~~~~~~~~~~~~~~~~~
Obama Puts 1.6 Million Acres Under Stricter Federal Control Despite Intense Local Opposition

30 different organizations ask Trump to reduce or rescind egregious national monuments ~
"National monuments are no longer about protecting specific historical and cultural sites. Instead, political gamesmanship, outdoor recreation, climate change, and other motivations inconsistent with the original intent of the Antiquities Act rule the designation process.

"These ulterior motives have expanded national monuments well beyond "the smallest area compatible" with protecting archaeological sites. According to National Park Service data, newly designated monuments averaged just 15,573 acres in 1906, when the Antiquities Act was passed. National monuments designated last year averaged 739,645 acres – more than 47 times the size of those created 110 years ago.

"Expansive national monuments restrict access, weaken local economies, corrode rural communities and put the very archaeological resources they are supposed to protect at increased risk. Our communities, our country, and our national treasures deserve better."