Last Tuesday (July 26th) a pair of ISIS knifemen stormed a church in Normandy slitting the throat of Father Jacques Hamel an elderly Catholic priest; a nun was critically injured as well.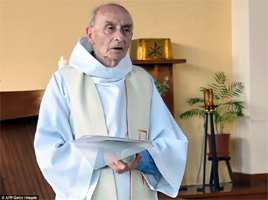 This was a particularly heinous attack in that the terrorists made their hostages watch, and even forced one to record their vile actions.
~~~~~~~~~~~~~~

Why is it that while all Muslims aren't terrorists, all terrorists are Muslim? And why can't they seem to COEXIST with Europeans – especially lately, with the French?

Let's see… on January 7th, 2015 Islamic terrorists attacked the publishing offices of "Charlie Hebdo" in Paris leaving 12 innocent people dead.

Last November – also in Paris – the murderous death-cult struck again, this time at the Bataclan concert hall, leaving 130 dead; over 300 more injured. Some of the victims, as we've recently learned, were horribly tortured before they died.

Then just weeks ago in Nice, a lone Muslim lunatic mowed through Bastille Day crowds in a truck, killing 84 and injuring over 200 others.
And in between these larger headlines, on June 13th, was this tragedy: Murderer of French Police Commander & Wife Swore Allegiance to ISIS Just Like Orlando Shooter ~
(A) man shouting "Islamic slogans" brutally stabbed a French police commandant to death on his own doorstep before forcing his way into the home and taking the family hostage. The attacker was killed by police when they stormed the house. Inside they found the police officer's wife also murdered. Their three year old son survived.
Yet despite all these dead and broken bodies – and now this most recent atrocity in Normandy – you can bet the French will continue to cower-in-place like lambs to the slaughter. Especially when their spineless leaders speak like jellyfish ~
The archbishop of Paris, Cardinal Andre Vingt-Trois, called on Catholics to "overcome hatred that comes in their heart" and not to "enter the game" of the Islamic State group that "wants to set children of the same family upon each other."
Huh? Are you kidding me?!

It's almost surreal. As Guy Millière writes at the Gatestone Institute ~ France: After the Third Jihadist Attack ~
Those who tried to speak of jihad were promptly reduced to silence. Not even a year later, in November, the Bataclan Theater bloodbath did not lead to protests, but was a deeper shock. The mainstream media and the government could no longer hide that it was an act of jihad. The number killed was too overwhelming; one could not just turn the page. The mainstream media and the government did their best to downplay anger and frustration and to emphasize sadness. Solemn ceremonies with flowers and candles were everywhere. A "state of emergency" was declared and soldiers were sent into the streets.

But then the feeling of danger faded. The Euro 2016 soccer championship was organized in France, and the French team's good performance created a false sense of unity.
In fact, earlier on the very same day of the Nice massacre, President Hollande announced that France's state of emergency (imposed after the Bataclan tragedy) would be lifted. Oops.

The French are angry, frightened, increasingly intimidated. Something must be done to stop the terrorism but their feckless leaders continue to pretend they don't even understand the cause.

On the other hand, as Millière goes on ~
Islamists view the landscape and do not dislike what they see.

On their websites, they often quote a line from Osama bin Laden: "When people see a strong horse and a weak horse, they will naturally want to side with the strong horse."

They appear to think that France is a weak horse and that radical Islam can bring France to its knees in a pile of dust and rubble. Time, they seem to think, is on their side as well — and demography. Muslims now make up about 10% of the French population; 25% of teenagers in France are Muslims.

The number of French Muslims who want Islamic sharia law applied in France increases year after year, as does the number of French Muslims who approve of violent jihad. More and more French people despise Islam, but are filled with fear. Even the politicians who seem ready to fight do not take on Islam.
As long as France's leadership remains immobilized by denial, innocents will continue to be butchered by barbarians.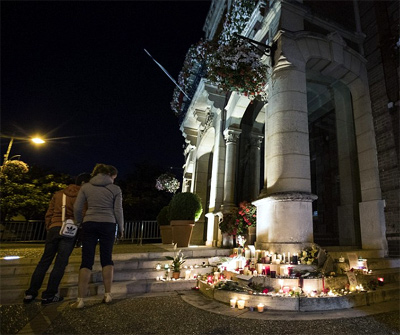 ~~~~~~~~~~~~~
Related:
Murder in the parish church; A simple French priest died this week at the hands of Muslim fanatics ~ An awful tragedy yes, yet from a Christian perspective – focused on eternity – uplifting.

Slain French Priest Remembered, Honored
Oddly enough Islamists stuck on Bastille Day last summer as well (You'd think they'd connect the dots at some point) ~
Two days before a radicalized Muslim gunned down 4 marines and a naval petty officer in Chattanooga… "There Was a Significant Terrorist Attack in France (and the Mainstream Media Hasn't Even Bothered Telling You)." Breitbart has the story:

Three deliberate, simultaneous explosions rocked a major petrochemical plant in France on Bastille Day (June 14th), but as usual it is still 'too early to talk about terrorism'.

Do you think ISIS gives two pins for your pathetic hashtags, prayers and candles? Stop waiting to be slaughtered and demand our leaders DO something! ~
Politicians tell us to stand united. The Prime Minister of France has said he will not allow the country to be destabilised. President Hollande reminds us terrorism will not be tolerated.

Well big news: France IS destabilised – in a perpetual state of Emergency. We do not stand united. We are divided, we are ripped apart. And yet we tolerate it every time […]

I am not Islamophobic. I have an entirely RATIONAL fear based on the fact these horrors find home in some form of that religion. I have no hate. Only a powerful intolerance of those who murder.

Update 8-2-16: Added ~ Why Jihadists Beheaded Fr. Jacques Hamels — on The Glazov Gang ~ (Video) interview with Dawn Perlmutter (Director of the Symbol Intelligence Group and one of the leading subject matter experts (SME) in symbols, symbolic methodologies, unfamiliar customs and ritualistic crimes) who provides an in-depth analysis of what makes jihadis tick.