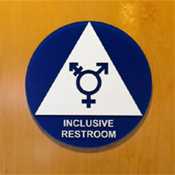 Are Americans really so unmoored from reality that we're willing to let delusional individuals indulge in their various pathologies – at the expense of the rest of society? Apparently so.

If we don't mind this sort of thing:
• Indiana University Student Charged With Recording Women in Dorm Showers
• Cross-dressing man arrested for filming Alabama woman in public bathroom
• Man Dressed as Woman Arrested for Spying Into Mall Bathroom Stall, Police Say (VA)
• California Man Dressed as Woman Busted for Videoing in Women's Bathroom
• Man secretly videotaped woman, kids in bathroom, authorities say (FL)
• Man Strips In Women's Restroom, Says New Transgender Rules Make It Totally Legal (WA)
… then by all means, let's have gents in the Ladies!

Incidentally, this particular deviancy has its own separate category on the porn sites – just do a web search for "voyeurism in bathrooms." (In fact you can explore a whole new subculture by googling "perverts in bathrooms." No- don't!)

The question is, why are we being made to believe any of this behavior is normal?! Wouldn't the more humane thing – if we really cared about these troubled souls – be to get them some help?

~~~~~~~~~~~~~~~~~~~~~
A male who believes he's a female – and vice versa – is disordered not "dysgendered," deserving of our compassion and assistance – not our encouragement. Watch this Steven Crowder interview with Walt Heyer, a former transgender. Very honest and enlightening.