You may remember David Daleiden as the intrepid producer of the Planned Parenthood videos, the guy who California officials – rather than thank for exposing the illegal sale of fetal body parts – decided to prosecute for his valiant efforts…?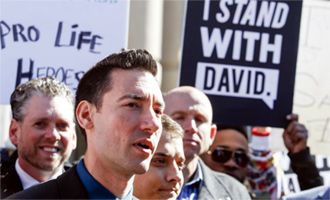 Unfortunately it seems the Orwellian circus is just getting started; Daleiden's home was actually raided by California officials on Tuesday ~
Daleiden said that California Attorney General Kamala Harris ordered her agents to enter his Orange County apartment on the afternoon of April 5 and seize all the material he collected during the 30-month-long investigation he conducted on behalf of the Center for Medical Progress.

They "invaded my home the other day," Daleiden told Fox News host Sean Hannity last night, removing everything dealing with the abortion industry's potentially illegal practices related to organ and tissue harvesting and sale.
The clearly unprincipled Harris is running for Barbara Boxer's senate seat, and this intimidating raid appears to be an attempt to prove her aggressive pro-abort bona fides. At least that's how Operation Rescue sees it: CA AG's Office Ransacks Daleiden's Apartment to Defend Campaign Contributor Planned Parenthood ~
Harris, a pro-abortion Democrat, chose to focus her investigation on Daleiden and his associates rather than Planned Parenthood, even though the video footage so far released by Daleiden's Center for Medical Progress shows clear evidence that Planned Parenthood was illegally altering abortion procedures to endure intact organs targeted for harvesting then selling the organs for profit.

And there appears to be a huge conflict of interest – since Planned Parenthood is financially supporting Harris' candidacy ~
Operation Rescue has obtained evidence that supports accusations that Harris' investigation was politically retaliation, and that the raid on Daleiden's home represents a frightening attack on free speech, freedom of the press, and our precious guarantee of equal (not biased) protection under the law […]

In total, over $81,000 has flowed into Harris' campaign coffers from PLanned Parenthood and other abortion promoters. She owes these people for her political livelihood […]

… if large amounts of campaign financing from Planned Parenthood, the NAF, and abortion promoters isn't enough to see that Harris is working to protect Planned Parenthood and punish those who are calling attention to their misconduct, one need only look at Harris' own website.
(Or rather look at the screen-shot in Operation Rescue's article; it seems to have disappeared from Harris' site.)
~~~~~~~~~~~~~~

Scary stuff.
Anyone who doesn't find this self-serving, thuggish intimidation extremely troubling is either oblivious – or part of the authoritarian enforcement brigade itself.