If there was one universal message the president's enthusiastic voters had for then-candidate Trump last year it was "Build the Wall!"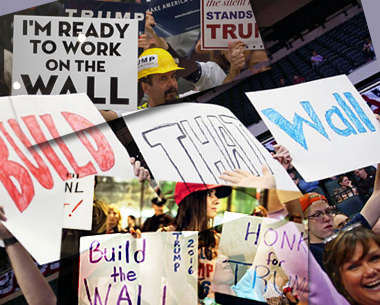 And, ever the showman and populist, he was certainly happy to pledge to do just that. It was a promise he boldly repeated at every rally ~
"We will build a great wall along the southern border," he said to cries of "build the wall" from the boisterous crowd. "And Mexico will pay for the wall."

He later said the wall would be "impenetrable, physical, tall, powerful, beautiful."

But now? Not so much. And Ann Coulter, long one of Donald's staunchest supporters, is not pleased – especially with the GOP surrendering to the Dems' threat to "shut down the government" ~
The government's No. 1 job is to protect the nation.

This has always been true, but it's especially important at this moment in history, when we have drugs, gang members, diseases and terrorists pouring across our border. The failure of the government to close our border is the definition of a government shutdown.

This isn't like other shutdowns. Democrats can't wail about Republicans cutting Social Security or school lunches. They are willing to shut the government down because they don't want borders […]


As commander in chief, Trump doesn't need Congress to build a wall. The Constitution charges him with defending the nation. Contrary to what you may have heard from various warmongers on TV and in Trump's Cabinet, that means defending ourborders — not Ukraine's borders.

Building a wall is not only Trump's constitutional duty, but it's also massively popular […]

Republicans are both corrupt and stupid, so it's hard to tell which one animates their opposition to the wall. But the Democrats are bluffing. They're trying to get the GOP to fold before they show us their pair of threes.

Now that Trump has capitulated on even asking for funding for a wall, the Democrats are on their knees saying, "Thank you, God! Thank you, God!"

No politician wants to have to explain a vote against the wall. What the Democrats want is for Trump to be stuck explaining why he didn't build the wall.

Then it will be a bloodbath. Not only Trump, but also the entire GOP, is dead if he doesn't build a wall. Republicans will be wiped out in the midterms, Democrats will have a 300-seat House majority, and Trump will have to come up with an excuse for why he's not running for re-election […]

No one voted for Trump because of the "Access Hollywood" tape. They voted for him because of his issues; most prominently, his promise to build "a big beautiful wall." And who's going to pay for it? MEXICO!

You can't say that at every campaign rally for 18 months and then not build a wall.

Do not imagine that a Trump double-cross on the wall will not destroy the Republican Party. Oh, we'll get them back. No, you won't. Trump wasn't a distraction: He was the last chance to save the GOP.

Millions of Americans who hadn't voted in 30 years came out in 2016 to vote for Trump. If he betrays them, they'll say, "You see? I told you. They're all crooks." […]

It would be an epic betrayal — worse than Bush betraying voters on "no new taxes." Worse than LBJ escalating the Vietnam War. There would be nothing like it in the history of politics.


He's the commander in chief! He said he'd build a wall. If he can't do that, Trump is finished, the Republican Party is finished, and the country is finished.
You can read the entire rant HERE.

Coulter doesn't pull any punches, and she's pretty much right on target with this one. A majority of Americans – not just Trump supporters – are in favor of a border wall.

And almost unanimously, those on the front lines of border enforcement, believe that a wall – while not the only answer – would most certainly help. This video from CBN News highlights the ongoing problems with our porous southern border ~



~~~~~~~~~~~~~~
Today at an NRA Leadership Forum in Atlanta Trump was again renewing his commitment to build a wall ~
"We'll build the wall," he continued. "Don't even think about it. Don't even think about it. That's an easy one. We're going to build a wall. It's the final element. We need the wall. And it's a wall, in certain areas where you have massive physical structures, we don't need, and certain big rivers and all, but we need a wall. And we're going to get that wall.

So now, he's back on the build-a-wall side of the fence, bigly. But tomorrow? Trump's credibility is really beginning to fray.

His biggest supporters always touted the fact that their guy was an outsider. Seems he's turning into a typical inside-the-beltway politician more and more every day. Promises to the rubes are only made to be broken.