While today's attempted bombing (Bangladeshi immigrant, Akayed Ullah, failed to self-detonate as planned) in a New York City subway tunnel was the work of another "lone wolf," it seems to be part of a larger movement by Islamists to target Christmas gatherings and the season in general ~
Law enforcement officials said the attacker, identified by the police as Akayed Ullah, 27, chose the location because of its Christmas-themed posters, a motive that recalled strikes in Europe, and he told investigators that he set off his bomb in retaliation for United States airstrikes on ISIS targets in Syria and elsewhere.
This jihad against Christmas got off to a roaring start last year with that truck attack in a Berlin Christmas market which killed 12 and injured dozens more.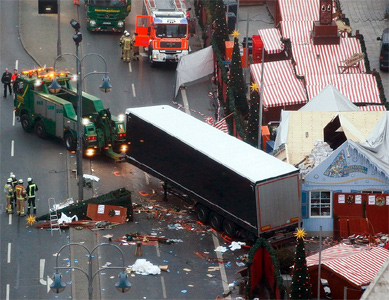 This year ISIS is calling for even more carnage ~
(A) propaganda poster, released across ISIS-linked social media channels today, comes shortly after the terror group named Christmas markets across Europe as potential targets over the winter holidays.

In one terrifying poster, a blood-soaked hand gripping a knife was photoshopped in front of the Eiffel Tower.

In another, a hooded figure could be seen looming behind Father Christmas standing on London's Regent Street.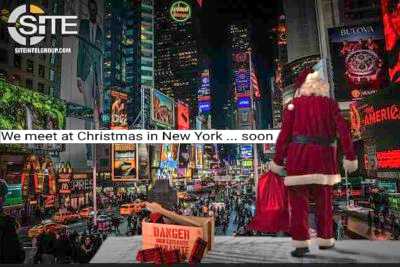 Here are some recent headlines from Europe ~

• Germany: Explosive device planted on children's carousel at Christmas market

• German city protects Christmas markets from vehicular jihad massacres with gift-wrapped car barricades

• UK's Christmas in the age of jihad: Armed guards, concrete barriers and metal detectors around festive markets

• Paris cancels Christmas market; holds special Ramadan party every year

• UK: Car explodes into fireball near London Christmas market, cops say it's "non-suspicious"
~~~~~~~~~~~~~~~

Odd that the Religion-of-Peace doesn't buy into the whole of peace-on-earth-goodwill-to-men thing isn't it? Unfortunately, as more and more angry Muslims invade the West, it looks like we'll just have to get used to celebrating Christmas from behind barricades.
Oh well, at least we can still light candles…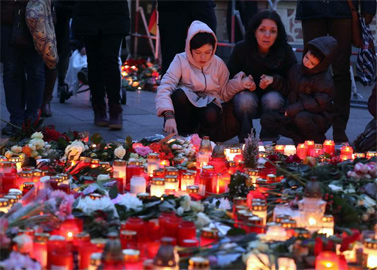 The site of the terror attack in the centre of Berlin was transformed
into a shrine to those who lost their lives

~~~~~~~~~~~~~~
Related:
Santa Jihad: 'WE MEET AT CHRISTMAS SOON' ISIS posts chilling pic of Santa with box of dynamite in NYC's Times Square, 'We meet at Christmas'
Taxi driver 'intentionally' detonated crude bomb made of Xmas lights, sugar and match heads in NYC subway tunnel after 'seeing Christmas posters on wall' and days after 'big row with his family'
Robert Spencer on Muslim immigration's effect on Christmas in the West (Video) ~ (W)hy Christmas 2016 was so tense and heavily guarded in Europe and North America, and why Christmas 2017 could be even worse.