Joni Eareckson Tada's story is an amazing one; her life, one of amazing grace. Though it didn't always seem so ~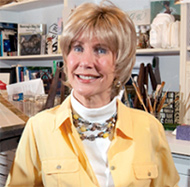 AGOURA HILLS, Calif.—In the midnight darkness of a Baltimore hospital in 1967, Joni Eareckson begged God to heal her. Weeks earlier, the 17-year-old girl had broken her neck after diving into unexpectedly shallow waters in the Chesapeake Bay.

The result: paralysis from the shoulders down.

The teenager endured grueling surgery and lay strapped onto a Stryker frame designed to allow nurses to turn patients with spinal cord injuries. Her weight dropped to 80 pounds. One friend sobbed at the sight.
A dear cousin of mine was injured exactly like this, diving into shallow water, with the same tragic results, also in the late sixties. At the time of her accident Beth was just a couple years younger than Joni, and a year younger than me. It all sounds so very similar. They even resemble one another.

For those anguished cries of Why God, why? I can only answer from my own – perhaps selfish – perspective; God used my cousin to be a beautiful reflection of His love. So too with Joni ~
Joni never walked again.

Her permanent paralysis—including losing the use of her hands—led to a battle with depression and doubts about God's goodness. Why would He leave her this way? What kind of Savior doesn't heal a paralyzed girl who cries out to Him?


Fifty years later, Joni's answer is jubilant: "It sounds incredible, but I really would rather be in this wheelchair knowing Jesus as I do than be on my feet without Him." She celebrates "that glorious but awful, beautiful but sad, terrible but wonderful day I broke my neck—because look what God has done."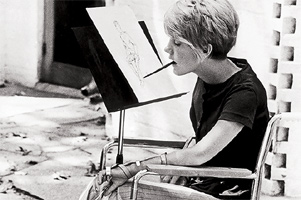 What He has done – through Joni – since her accident, is more than more able-bodied people accomplish in three lifetimes.

She learned to paint by mouth-brush, wrote her autobiography, joined Pastor Billy Graham at 12 evangelistic crusades, founded a ministry "Joni and Friends" (JAF helps special needs and disabled individuals and their families in numerous ways), as well as Wheels for the World (supplying wheelchairs for the needy in developing countries), served on the National Council on Disability and battled stage 3 breast cancer into remission!

Still, in the early months after her accident there were understandably moments of bitterness and despair. At a low point Joni prayed: "God, if You won't let me die, then show me how to live." ~
She'd sit for hours with a Bible on a music stand, turning the pages of Scripture with her mouth-stick. Friends joined her for Bible studies around her family's large farm table, and they read books about God's sovereignty by authors like J.I. Packer, Martyn Lloyd-Jones, and J. Gresham Machen. "We just delighted that this accident wasn't a mistake," she says.

Not only was it not a mistake—Joni learned God uses suffering to make people more like Christ and to know Him more deeply. Indeed, He used the suffering of His own Son to accomplish salvation for sinners. Joni's deepest need for healing was spiritual, not physical.

Her friend, Steve Estes, crystallized this truth in 10 words Joni still repeats often: "God permits what He hates to accomplish what He loves." It was a life-altering realization: God was fully in control, and He could use her suffering for good in her life and the lives of others.
Sadly we lost sweet Beth two decades ago, but the memories of her inspiring ways are still vivid. While I'm sure she had her dark moments, when she was with family and friends she was friendly, outgoing and simply a beautiful reflection of God's grace. I'm looking forward to the moment when we'll run to meet one another in heaven some day!

Joni's life continues to be a wonderful testament to Jesus' love. Read more of her story HERE.

If you're blessed to have a Joni or Beth in your life cherish them, learn from them, love them. And thank God for them.