Victor Davis Hanson marked the 50th anniversary of Winston Churchill's passing (Jan. 24, 1965) with a fitting tribute to one of Britain's greatest prime ministers: Remembering the Last Lion ~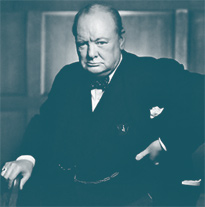 Churchill is remembered for his multiple nonstop careers as a statesman, cabinet minister, politician, journalist, Nobel laureate historian, and combat veteran. He began his career serving the British military as a Victorian-era mounted lancer and ended it as custodian of Britain's nuclear deterrent.

But he is most renowned for an astounding five-year-tenure as Britain's wartime prime minister from May 10, 1940, to June 26, 1945, when he was voted out of office not long after the surrender of Nazi Germany [...]

… Britain was the only major power on either side of the war to fight continuously the entire six years, from September 3, 1939, to September 2, 1945. Britain was the only nation of the alliance to have fought Nazi Germany alone without allies. Churchill's defiant wartime rhetoric anchored the entire moral case against the Third Reich [...]

Defeat would have meant the end of British civilization. But victory would ensure the end of the British Empire and a future world dominated by the victorious and all-powerful United States and Soviet Union.

It was Churchill's decision that Britain would fight on all fronts of both the European and Pacific theaters. He ordered strategic bombing over occupied Europe, a naval war against the German submarine and surface fleets, and a full-blown land campaign in Burma [...]

The wisdom and spirit of Winston Churchill not only saved Britain from the Third Reich, but Western civilization from a Nazi Dark Ages when there was no other nation willing to take up that defense.
When it counted most, Winston Churchill had the moral courage and integrity to do the right thing no matter the personal political cost. He was named an honorary citizen of the United States in 1963 by President Kennedy, who said of Churchill; "(his) bravery, charity and valor, both in war and in peace, have been a flame of inspiration in freedom's darkest hour."

You can understand then why the Churchill bust, lent to President George W. Bush by then-Prime Minister Tony Blair, meant so little to feckless, narcissist like Barack Obama. Winston Churchill embodied everything Obama holds in contempt.

The two men are polar opposites. One was the greatest military, political and spiritual leader of the 20th century. The other is… an empty chair.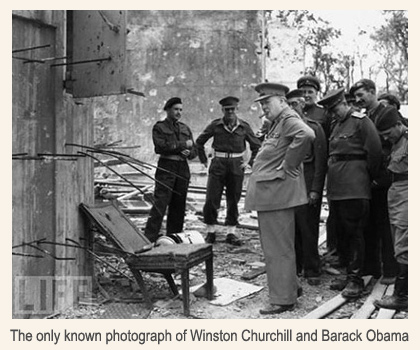 ~~~~~~~~~~~~~~~~~~~~~~
Related:
WinstonChurchill.org
National Churchill Museum – in Fulton, Missouri. Website includes many of his great quotes.
Remember the Obama-returns-Churchill-bust flap? ~ Another Bust in Washington — but This One Is Likely to Make Conservatives Smile.
Welcome to UK-Eurabia, where quoting Churchill is now illegal Churchill understood that the religion-of-peace – isn't.