Unfortunately for the future of America, the old "Protestant Work Ethic," instilled in so many of us while growing up; do your best, work hard, give your employer an honest day's effort, is mostly a thing of the past (- must have been racist or something). It's likely that anyone under 35 has never even heard the term. Which pretty much explains this phenomenon ➡ Unemployed More Likely to Go Shopping Than Look for a Job ~
Unemployed Americans are more likely to shop for things other than food and gas than to look for a new job on an average day, according to data from the Bureau of Labor Statistics.

Only 18 percent of unemployed Americans spent time searching or interviewing for a job on an average day, while 41.1 percent shopped online, in store, or by phone. About one in five unemployed Americans, or 21.2 percent, went shopping for items other than food and gas.

Nearly all of the unemployed, or 96.6 percent, socialized, relaxed, or took part in leisure activities, and 83 percent watched television and movies on an average day.
Heck yeah! Why help pull the wagon when you can ride on it?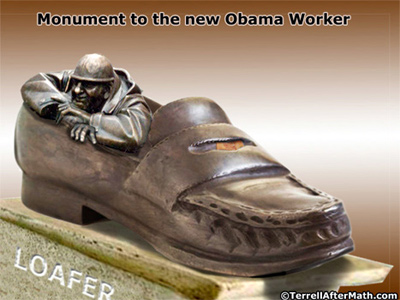 That old work ethic thing, which used to be woven into the fabric of America, came from a now-apparently outdated biblical worldview. Jack Wellman writing in this May, 2014 Patheos blog reminds us of God's word on the subject ~ Top 7 Bible Verses About Work, Work Ethic or Employment ~
"Whoever works his land will have plenty of bread, but he who follows worthless pursuits lacks sense." ~ Prov. 12:11

There is no short cut to hard work and having sustenance. Nothing can replace hard work. For those who follow get-rich quick-schemes, these are really "worthless pursuits" that "lacks sense." Work is its own reward but hard work always pays off, if not in this life, in the life to come.

There are so many welfare frauds who are really robbing those who work hard and pay taxes. These people lack bread because they lack the effort of working hard and someday those things done in secret will be exposed openly because "All hard work brings a profit, but mere talk leads only to poverty" (Prov 14:23).

But who has time for that nonsense anymore? Let's go shopping!

~~~~~~~~~~~~~~~~
Related:
Work for Every Person ~
God's Law insists that every person should have meaningful work and be a contributing part of the local economy and society.