Holy Hussein! What an impressive display of statesmanship!
For the thousands of mourners inside Johannesburg's FNB Stadium it was meant to be a fitting tribute to a 'giant of history'.

But while some reflected on the remarkable life of Nelson Mandela, some world leaders saw it as the perfect opportunity to grab a quick 'selfie' with their peers [...]


U.S. President Barack Obama, Prime Minister David Cameron and Danish leader Helle Thorning-Schmidt grinned as they cosied up for a quick picture at yesterday's memorial service for the former South African president, prompting an outpouring of criticism.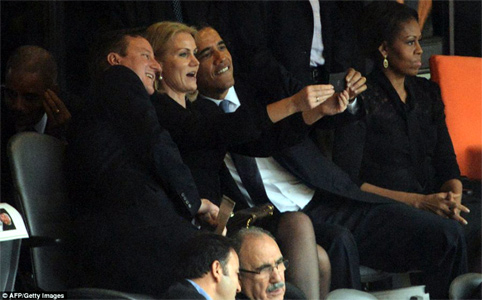 As the trio posed for the mobile phone snap, Obama's wife Michelle sat alongside her husband looking somewhat stony faced.

Her mood didn't improve as Mr. Obama and Ms Thorning-Schmidt talked through the order of service and shared a joke.

Isn't Obama just an awesome inspiration to the entire planet?!
(Well – if earth were populated only by the perpetually adolescent – and maybe flocks of wandering sheep.)