So last week the Big Apple quietly unveiled a replica of the gateway arch leading to the Temple of Baal ~
Under the auspices of the UAE and in collaboration with UNESCO, the University of Oxford and Harvard University, a restored, three-dimensional version of Palmyra's monumental Arch of Triumph – destroyed at the hands of the terrorist organisation, Daesh, was revealed on Tuesday (Sept. 20th).

In the presence of Mohammad bin Abdullah Al Gergawi, Minister of Cabinet Affairs, Vice Chairman of the Board of Trustees and Managing Director of Dubai Future Foundation, as well as a number of specialists and subject-matter experts, interested parties and tourists, the historic arch gate of Palmyra's Temple of Baal was reconstructed in New York City's Times Square, facing the municipal building.

Source: Emirates 24/7 News

Weird that it didn't get much coverage in the mainstream media isn't it? When this project was initially announced earlier this year there was a lot of blow-back – mostly from those intolerant Christians I presume – and it was reported that the plans were subsequently cancelled. Perhaps that was just a ruse, because the temple gate is definitely up now.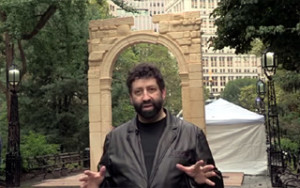 Jonathan Cahn, author of the bestselling book "The Harbinger," was among the sparse crowd at the unveiling. Note any parallels between the Old Testament story of Baal and present-day America? ~
But no worries eh? After all, peace and harmony are breaking out all around the country lately. Every day it's seems there's another "lone wolf" terrorist attack, another mall shooting or stabbing, another trumped-up race riot breaking out. In fact, Michael Snyder, writing at Charisma News, has noticed a marked increase in evil ~ A Spirit of Violence Rises in America Following the Unveiling of the 'Harbinger of Baal' in New York ~
Perhaps it is just a coincidence, but I find it very, very strange that there has been a dramatic outbreak of violence in this country in the week since this arch was put up.

The most recent incident happened over the weekend. A 20-year-old Turkish immigrant named Arcan Cetin walked into a Macy's department store in the Seattle area and started firing. Five innocent people were killed, and this incident immediately made headlines all over America […]

Police say that Cetin was in a "zombie-like state" when he was later caught and arrested, and authorities say that his motivation for the attack is "unclear" at this moment. […]

… what should be exceedingly clear to all of us is that a spirit of violence is rising in America. The tensions that are causing riots like we just witnessed in Charlotte continue to intensify, and the growth of radical Islam around the world will continue to motivate jihadists in this country and elsewhere to conduct more terror attacks.
This isn't going to help ➡ Satanic Temple brings 'Satan Club' to elementary school.

~~~~~~~~~~~~~~~~
Related: