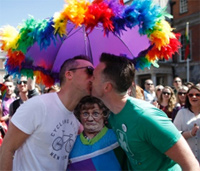 How sad that it's come to this

Ireland Goes Gay; Yes vote to allow same-sex "marriage" triumphs. May 22nd, 2015: a date which shall live in infamy, at least for the Emerald Isle ~
The Yes vote has triumphed, making the Republic of Ireland the first nation in the world to open the institution of marriage through a plebiscite, not an act of a legislature or a court ruling, to members of the same sex.

Very simply, traditional marriage is the bedrock of Judeo-Christian civilization. And for the Irish to reject the institution is for them to return to their pagan roots. In a classic article – Why Judaism (and then Christianity) Rejected Homosexuality – Dennis Prager explains how God's creation of – and His insistence on – an exclusive male/female union, forever altered the course of human history ~
It is probably impossible for us, who live thousands of years after Judaism began this process, to perceive the extent to which undisciplined sex can dominate man's life and the life of society. Throughout the ancient world, and up to the recent past in many parts of the world, sexuality infused virtually all of society.

What marriage provided was a civilization-saving means to channel that unbridled sexual energy into a sanctified relationship between one man and one woman. But apparently, Ireland would rather return to the "good old days," before they believed in God and His laws ~
Human sexuality, especially male sexuality, is polymorphous, or utterly wild (far more so than animal sexuality). Men have had sex with women and with men; with little girls and young boys; with a single partner and in large groups; with total strangers and immediate family members; and with a variety of domesticated animals.

They have achieved orgasm with inanimate objects such as leather, shoes, and other pieces of clothing, through urinating and defecating on each other (interested readers can see a photograph of the former at select art museums exhibiting the works of the photographer Robert Mapplethorpe); by dressing in women's garments; by watching other human beings being tortured; by fondling children of either sex; by listening to a woman's disembodied voice (e.g., "phone sex"); and, of course, by looking at pictures of bodies or parts of bodies. There is little, animate or inanimate, that has not excited some men to orgasm.

Of course, not all of these practices have been condoned by societies — parent-child incest and seducing another's man's wife have rarely been countenanced — but many have, and all illustrate what the unchanneled, or in Freudian terms, the "un-sublimated," sex drive can lead to.

Sounds like a blast eh?

I think Michael Voris has definitely gotten this one right (video was produced a couple days before the fateful vote, but by then the handwriting was on the wall) ~

As Dennis Prager rightly concludes, Judaism (and by extension, Christianity)…
…cannot make peace with homosexuality because homosexuality denies many of Judaism's most fundamental principles. It denies life, it denies God's expressed desire that men and women cohabit, and it denies the root structure that Judaism wishes for all mankind, the family.

Essentially then, the Irish have now chosen to deny life, family… and God.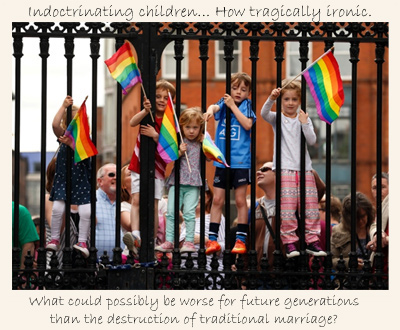 ~~~~~~~~~~~~~~~~

Related:
Some great commentary from a couple Catholic blogs ~
What Ireland's Gay Marriage Vote Says About Us ~
For those claiming to be Christian: continue to cohabitate, continue to contracept, continue to divorce, and continue to abort. The collapse of marriage and the family have created a void which has been filled by the marriage "equality" movement.
For those claiming to be Christian who celebrate today's vote in Ireland: continue to make up the meaning of marriage as you go along; if you bother to define it at all. But by all means, celebrate. Your destruction of marriage, at least in Ireland, is complete.

Those who profess to be Catholic have also failed miserably. We either do not understand our own faith, or we are unable to clearly and coherently explain the meaning and purpose of marriage.

When the historically Catholic Ireland, whose priests helped to spread Catholicism throughout Europe and the United States in centuries past, equates sodomy with marriage, our fire and brimstone alarms better be going off (see Genesis 19).

The Irish have sounded the alarm. It's time to wake up. The question is, are you Lot or his wife?

Ireland lies in ruins, and the laity are not to blame ~
Just last week Bp. Donal McKeown of Derry said Catholics could vote in good conscience either for or against gay marriage, as long as it was with an "informed conscience" and a "mature decision." Laying aside the fact that no one with a truly informed conscience could ever make the "mature decision" to vote in favor of legalized sodomy, when confronted with this irresponsible remark McKeown neither apologized nor recanted; instead, he deflected responsibility by claiming his words should be read in the context of his entire talk. (This is the same bishop who several years ago chastised pro-lifers for their vigorous defense of life, and claimed the Church could not inform the State on the issue of so-called gay marriage.)[…]

We are surely living in the time of gathering clouds. The demons that once reigned over the Land of Eire, driven out through the holiness of the Irish saints, are returning in force and staking their claim. Saint Patrick's heart would break to look on the state of spiritual destruction in which Ireland lies today [...]

The Irish bishops have inherited the legacy of St. Patrick. They have betrayed his legacy. Let them now take up his mantle, and make amends for their failure. It's not too late — if not to redeem other souls, then at least to redeem their own.