Less that 24 hours after the carnage in Manchester, ISIS barbarians went on a rampage in Southeast Asia ~ Terrorists Linked with Islamic State Abduct Priest in Attack in Mindanao, Philippines ~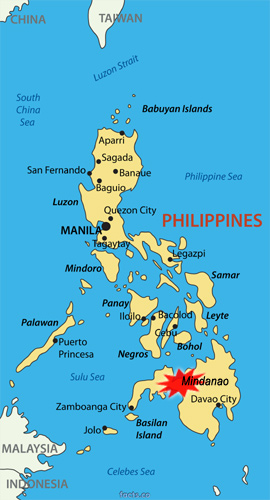 MINDANAO, Philippines (Morning Star News) – An ascendant terrorist group in the Philippines that has pledged allegiance to the Islamic State (IS) yesterday wreaked violence on the island of Mindanao, kidnapping a catholic priest and 13 members of his parish.

Soldiers engaged in firefights with the Maute Group (MG) in Marawi City as its militants reportedly beheaded a police chief, kidnapped the priest and others, burned their cathedral and other buildings and raised the black flag of IS. Marawi is predominantly Muslim.

Authorities identified the abducted priest as the Rev. Teresito "Chito" Suganob, vicar-general of the prelature of Marawi, who was at St. Mary's Cathedral when a group of armed men barged in and abducted him and 13 other parishioners. Reports indicated 10 worshippers and three other church workers were abducted.
Mindanao is the second largest island in the archipelago that is the Philippines. In a country that is still majority Christian (Roman Catholic), Mindanao is a sort of Muslim outpost. But of course, as is becoming clearer every day, Islam is simply incapable of peaceful "coexistence" with other faiths – even moderate elements within the faith are being persecuted ~
Clergymen have often become hostage victims of local terrorist groups operating in the southern Philippines. Last week Islamic extremists threatened Muslim preachers about to participate in an anti-terror summit organized by the Autonomous Region in Muslim Mindanao (ARMM). An ARMM official received an email from a local terrorist group ordering her to discourage Muslim leaders from attending the summit. The summit ended peacefully on Friday (May 19).
Thousands have been forced to flee from their homes in this latest attack, prompting President Duterte to declare martial law and vow to rid the Philippines of ISIS ~
Soldiers and guerrillas set up rival checkpoints and roadblocks on routes in and around Marawi as civilians fled the city of 200,000 in droves, leaving behind what one official described as a ghost town.

Long queues of pickup trucks and jeeps crammed full of people and loaded with belongings crawled along roads into nearby towns as troops searched vehicles for weapons and bombs.

The military said it had rescued 120 people from a school and a hospital and was trying to isolate Maute fighters while awaiting reinforcements that were being blocked by rebels […]

"I made a projection, not a prediction, that one of these days the hardest things to deal with would be the arrival of ISIS," Duterte said, referring to Islamic State.

"The government must put an end to this. I cannot gamble with ISIS because they are everywhere."

Wouldn't it be nice for concert goers in the UK – and the rest of the civilized world – if all of our leaders were as realistic and pro-active about this existential threat as Mr. Duterte?