When two iconic comediennes can't even joke around on Twitter without getting shamed into submission by the self-appointed Social Media Thought Police you know we're in Orwellville.

First it was Ellen DeGeneres, who last week tweeted this photo-shopped picture of herself with the fastest-man-in-the-world, Usain Bolt ~
For that – no doubt an innocent gesture simply meant as a humorous nod toward Bolt's amazing Olympic achievements – DeGeneres was immediately slammed for being a racist; Ellen DeGeneres: Notorious bigot ~
Never mind that Bolt himself retweeted DeGeneres' image. Just stick to your running, slick. Leave the sprint to the politically correct finish line to the professional propagandists. What do you think you are, free to laugh whenever you want to?

Next it was Bette Midler's turn; Left-Winger Bette Midler Under Fire After 'Transphobic' Tweet. The singer/actress/comic was reacting to the news that "Kaitlyn" Jenner's reality TV show had been cancelled, but clearly her hyper-sensitive followers didn't approve of her witticism ~
"Now that [I Am Cait] has been cancelled, will she go back to being Bruce?" Midler joked.

The actress also added a knock to Kris Jenner, a woman known to be so driven by fame and money that she even exploited and profited off of her own daughter's sex tape. "Will Kris take him back? Do I smell a re-wedding?!" she wrote. […]

Apparently it was the "he" pronoun that ticked off the left-leaning social justice warriors most; they went nuts on Midler, spitting out a barrage of tweets scolding the actress for her "transphobic mindset."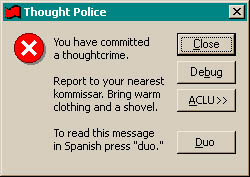 While I've found both Midler and DeGeneres to be darn funny at times, I certainly don't share their politics. But give me a break here! When did every word we utter suddenly become subject to whiplash criticism and public excoriation? And how is anyone supposed to know when they're crossing some ever-changing invisible line of acceptability?

Political correctness in America has truly reached new levels of insanity, and it's really not that funny.