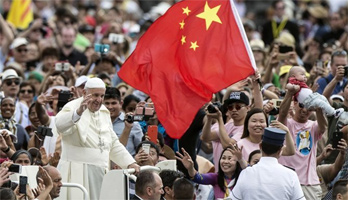 While the Catholic Church has certainly had its share of bad popes over the centuries, the present pontiff may soon top the list of heretics as his perplexing actions become less and less defensible. The latest ➡ Pope Francis Ditches Underground Catholic Church, Makes Deal With Communist Government ~
The Holy See has reportedly asked two Chinese bishops to stand aside to make way for illicitly ordained, Chinese government-backed counterparts.

A Vatican delegation asked Bishop Peter Zhuang of Shantou and Bishop Jospeh Guo Xijin of Mindong to retire or accept demotion in order to smooth relations with the Chinese government.

Source: The Catholic Herald
As Steve Skojec at One Peter Five reports, Cardinal Joseph Zen, bishop emeritus of Hong Kong has long been concerned that Rome was getting a little too cozy with the Chinese communists, a totalitarian regime which manages all aspects of its citizens' lives, including religion. As Zen wrote in August 2016 ~
We know that in China the atheist regime has always wanted to totally control the religions. Until now large groups of Catholics, both underground and in officialdom, making great sacrifices, remain faithful to the Church founded by Jesus on Peter and the Apostles. But today a specter appears in the horizon, of a statement coming right from the authority of the Church, that tells them to change course. What was declared as opposed to the doctrine and discipline of the Church will become legitimate and normal; everyone will have to submit to the Government that manages the Church; everyone will have to obey to bishops who until today are illegitimate and even excommunicated. So, they have been wrong for decades these poor "confrontationists"?
According to Open Doors, persecution of Christians in China has been increasing in recent months ~
While it's legal to be a Christian in China, the government keeps a close watch on religious activities, and many Christian communities and leaders have been increasingly targeted. Most of China's estimated 97 million Christians worship in private, hoping to avoid interference by the Communist Party.

Just a couple weeks ago the regime blew up a megachurch; Golden Lampstand Church in Linfen ~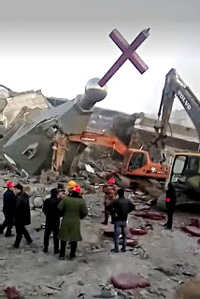 As of Tuesday, Jan. 9, the well-known megachurch, which reportedly was built with nearly $3 million in contributions from local worshippers in one of China's poorest regions, was a pile of dust and rubble after Chinese paramilitary forces reportedly used excavators and dynamite to destroy the church, and with it, the hopes and dreams of many believers in the area […]

Many churches, like Golden Lampstand, do not register with the government, and many have been destroyed. Just last month, the government demolished a Catholic church in Xi'an, one of China's historic cities, bringing protests from more than 100 church members.
So the pope is now officially siding with these church destroyers? (Next he'll be expressing support for ISIS – they like to blow up churches too.) Earlier in 2016 the courageous Cardinal Zen spoke about the Vatican's unfortunate fondness for the Chi-coms ~
On the day that an agreement is signed with China there will be peace and joy, but do not expect me to participate in the celebrations of the beginning of this new Church. I disappear, I will start a monastic life to pray and do penance. I will ask the forgiveness of Pope Benedict for not being able to do what he was hoping that I could do. I will ask Pope Francis to forgive this old Cardinal from the peripheries for disturbing him with so many inappropriate letters.

The innocent children were killed, the angel told Joseph to take Mary and the Child and flee to safety. But today would our diplomats advise Joseph to go and humbly beg for dialogue with Herod!?
Pope Francis doesn't quite seem to understand that God demands much better from those to whom He entrusts His flock ~

"What sorrow awaits the leaders of my people–the shepherds of my sheep–for they have destroyed and scattered the very ones they were expected to care for," says the LORD. ~ Jeremiah 23:1 (New Living Translation)
~~~~~~~~~~~~~~~
Woe unto them that call evil good, and good evil; that put darkness for light, and light for darkness; that put bitter for sweet, and sweet for bitter! Woe unto them that are wise in their own eyes, and prudent in their own sight! ~ Isaiah 5:20-21

~~~~~~~~~~~~~
Related:
Vatican Finally Capitulates to Beijing, Demands Bishops Step Down for Communist-Appointed Replacements
Pope Francis Appeases Chinese Regime, Depriving Persecuted Underground Catholics of Their Bishops ~ Bishops of underground Catholic churches removed in favor of the regime's officials
Rejected by the West, appears that the Holy Spirit has moved to China
Pope embraces false AGW doctrine
ChinaAid ~ An international non-profit Christian human rights organization committed to promoting religious freedom and the rule of law in China.
Signs of Increasing Religious Intolerance in China ~ November and January updates from Open Doors:
1. China's passage of new religious regulations
2. The increased cult of personality around Xi Jinping
3. The positioning of Xi Jinping and the Communist Party against Jesus and His Church
4. Christmas celebrations were banned in some parts of the country
5. Articles posted on the internet and on Chinese social media (most likely by authorities) to promote strong Communist ideology. Christianity is seen as a kind of overseas infiltration.