Judging from his recent actions, inactions and globalist tendencies, if – God forbid – Hillary Clinton were president, H.R. McMaster could be her national security adviser. Seriously. Based on his performance thus far, the former lieutenant general seems to be working for the progressive globalists – even though he's on Donald Trump's payroll.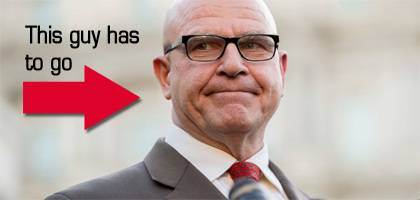 With regard to America's international policy, Trump seemed pretty darn clear on a few specific issues during his campaign ~

• The nuclear agreement with Iran was a bad deal; we're going to reverse it
• Our national interests are paramount. To that end, we need to strengthen our military
• We are at war with Islamic terrorism, let's not pretend otherwise
Questionable résumé.

Either McMaster wasn't paying attention last year – or he's deliberately attempting to undermine Trump's agenda. I'm going with option #2, especially considering who was paying for his services until a few short months ago: McMaster Served at Group Financed by Multinational Corporations Doing Billions in Iran Business.

In this piece at Breitbart, Aaron Klein explores the funding behind International Institute for Strategic Studies (IISS), the group for which McMaster served as a consulting senior fellow from 2006 until February of this year. Describing itself as a "world-leading authority on global security, political risk and military conflict," IISS' sponsors include a number of corporations looking to profit from doing business with our new best buds, the Iranians; Boeing, Airbus, Total SA (a French multi-national oil and gas company) and – oh my, isn't that interesting – Ploughshares Fund…
… a George Soros-funded nonprofit identified by the Obama White House as central in helping to sell the Iran nuclear deal to the public and news media […]

The involvement of Ploughshares in selling the Iran agreement to the public was revealed in an extensive New York Times Magazine profile of Obama's former deputy national security adviser, Ben Rhodes, titled, "The Aspiring Novelist Who Became Obama's Foreign-Policy Guru." The article contains interviews with Rhodes and scores of top Obama administration officials.
Questionable judgement.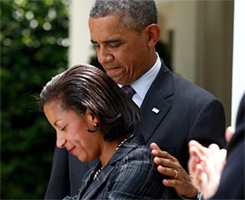 Then there's McMaster's baffling approval of Susan Rice's top-level security clearance. This despite the fact that Obama's former national security advisor was implicated in the "unmasking" of numerous American citizens and is still under investigation by a number of different congressional committees ~
National Security Adviser H.R. McMaster let one of his predecessors, Susan Rice, keep her top-level security clearance nearly one month after reports surfaced about Rice's potential misuse of that clearance […]

A White House official told the Standard that revoking Rice's clearance would have been unusual and that this practice applies to other high level government officials, such as the secretary of state. The reason is "for the purposes of continuity," because it would be illegal for government officials to discuss certain sensitive information with a former official unless that official had a continued clearance.

Source: Washington Free Beacon

That may be, but as Richard Pollock from the Daily Caller told Frank Gaffney earlier this month, considering the fact that Rice is under investigation for breaching public trust, why give her carte blanche access to sensitive information? Her clearance should be significantly downgraded or pulled entirely.

Questionable personnel selection.

Finally, there's the purge. McMaster is getting rid of Trump national security council staffers who are pro-Israel and take a hard line on Iran and Islamists ~
McMaster last week fired Ezra Cohen-Watnik, the senior intelligence adviser at the NSC. The week before, he fired Derek Harvey, the NSC's Middle East adviser. In July, he fired Rich Higgins, the director of strategic planning at the NSC.

All three men were brought on board by former National Security Adviser Michael Flynn and were fired because they were part of the "nationalist" camp that supported the president, versus McMaster's "globalist" camp, according to a former White House official.
• Cohen-Watnick was a staunch opponent of the Iran nuclear deal and Islamist terrorism, who "wanted to revamp counter-Iran efforts in the Middle East, and sought to reform the intelligence community to rein in the 'deep state' of unaccountable bureaucrats with rogue agendas." Source: Breitbart
• Harvey, who held the Middle East portfolio at the NSC was also was an Iran hawk Source: Breitbart
• Higgins' crime was exposing the marriage between the radical left and their Muslim Brotherhood allies (sometimes described as the "Red-Green Axis") and their deep, ongoing influence in the federal government. Source: TrevorLoudon.com
Even worse, McMaster is replacing these staffers – who supported the policies we thought Trump stood for – with disloyalists. According to Frank Gaffney ~
"He has been surrounding the president with people who disagree with the president, in some cases, quite vehemently. Former Obama people, holdovers if you will, he refuses to acknowledge that that's what they are. They agree with McMaster but are not supporting the president's policies. Some of them, again, brought in, I think, for the purposes of opposing them.

"I think this is nothing short of a coup d'etat, in terms at least of the president's foreign and defense policies. They have been subverted by his National Security adviser and his minions. It must stop."
Daniel Horowitz at Conservative Review agrees, and wonders why Trump continues to support the man ~
Trump's continued support for McMaster, in conjunction with Mattis and Tillerson, raises the serious question of whether he even cares about many of the issues he ran on during the campaign.

McMaster has fired all of the pro-Israel staff from the NSC […]


He has brought in Obama's people for the most important Middle East roles, including Kris Bauman, a Hamas apologists, as the lead advisor on "Palestine," as he so proudly calls it.

He even worked hard to bring on Linda Weissgold, the woman who drafted the original Benghazi talking points, which fabricated the narrative about the Islam video spawning a spontaneous protest. Plus, Dina Habib-Powell has taken over the deputy role from K.T. McFarland. As Daniel Greenfield reminds us, this is a woman with an affinity for Muslim Brotherhood organizations who once bragged about the levels of immigration from the Middle East.

This is not just a Bush-style Republican opposed by the hardcore grassroots conservatives. McMaster is the "full Obama." He is the lowest common denominator of the worst elements of the neo-cons and the Obama acolytes. He is obsessive about intervening in every Islamic civil war with no positive outcome or strategic interest for America, but at the same time he is pro-PLO and passionately supportive of the Iran deal […]


The personnel problems explain why McMaster has been such an apologist for the Iran deal and has covered up Iran's refusal to allow in weapons inspectors to critical sites. McMaster is looking at this crazily backwards: He is obsessed with intervening in Syria to take out Assad but is weak on the problem of Iran, which foments and causes the problems in Syria. McMaster has refused to publicize the 15 side agreements Obama made with Iran.
But hey, just how much commitment to undoing the Iran nuclear agreement can we expect from a guy who until last February was consulting for a bunch of Iranian business pals?

Horowitz continues ~
McMaster is an anathema to every word uttered by Trump on the campaign trail and in the presidential debates: Moving the embassy to Jerusalem, the Iran deal, aimless involvement in Syria, maintaining ties with the Muslim Brotherhood, mass immigration from the Middle East, and the endless war in Afghanistan.
~~~~~~~~~~~~
By now you've got to be asking, whose side is this dude on? If you're still not sure consider this stellar endorsement ~
Speaking at a recent event held by Ploughshares Fund, former Secretary of State John Kerry implied that McMaster is the best bet at keeping the nuclear agreement alive, according to a Ploughshares Fund description of the June 5, 2017 event.
Like I said, Hillary would have loved the guy.

Instead of criticizing an attorney general that he perceives as disloyal, Mr. Trump should seriously consider getting rid of someone who actually is!

~~~~~~~~~~~~~~
Related:
The Fake News Claim That Israeli Government Officials Back McMaster
Uh-oh: Look who's supporting McMaster now ~ Hint: an unindicted co-conspirator in the Muslim Brotherhood's Holy Land trial
Walks Like a Globalist, Talks Like a Globalist, Thinks Like a Globalist: McMaster is a Globalist
The revealing effort to discredit the #FireMcMaster movement
Susan Rice's White House Unmasking: A Watergate-style Scandal ~
President Obama's national-security adviser, confidant, and chief dissembler, called for the "unmasking" of Trump campaign and transition officials whose identities and communications were captured in the collection of U.S. intelligence on foreign targets […]

At a high level, officials like Susan Rice had names unmasked that would not ordinarily be unmasked. That information was then being pushed widely throughout the intelligence community in unmasked form . . . particularly after Obama, toward the end of his presidency, suddenly — and seemingly apropos of nothing — changed the rules so that all of the intelligence agencies (not just the collecting agencies) could have access to raw intelligence information.

Updated: 8-15-17 -Added ~
McMaster blocked Ayaan Hirsi Ali from speaking to NSC and meeting Trump: "Islamophobic" ~
Ayaan Hirsi Ali was schedule to present a paper on radical Islamic terror at the National Security Counsel before being blocked by H.R. McMaster and his recently appointed Senior Director of Counter-Terrorism, Mustafa Javed Ali […]

McMaster appears to be doing all he can to make sure that the truth about Islam and jihad is not discussed at the NSC or the White House. He must go. He must go soon.
Is this America – or the Middle East?!