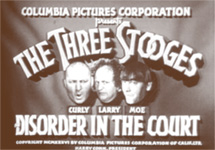 In this week's episode of "Disorder in the Court,"
we learn that an Australian court has decided sexual attacks are
all relative – when it comes to a certain "religion-of-peace" ~
~~~~~~~~~~~~~~~
Equality under the law was one of America's central founding tenets. Prince or pauper, male or female, Baptist or Buddhist – all are (theoretically at least) held to the same standards of accountability and consequences. I always assumed Australia had a similar approach to legal justice – but no longer. Apparently they now go in for the Krupke defense (see West Side Story) ~
(Muslim) Teenager avoids jail for sex attacks due to 'cultural differences'
A teenager who immigrated to Australia from Afghanistan has escaped jail after a series of sex attacks because he grew up in a different culture.

The court heard the teenager, who cannot be named, pleaded guilty to assaulting eight women and girls on a Surfers Paradise beach in January 2016.

The judge accepted that seeing girls in bikinis is different to the environment in which he grew up.

The teen, who lives in Victoria, is now on two years probation with no conviction.

If Australian (western) culture is no longer the standard for Australian laws, presumably "honor killings" will now be considered misdemeanors and those responsible for them sentenced to 20 hours of community service.

~~~~~~~~~~~~~~
Related:
Australia: Muslim avoids jail for sex attacks on beach due to "cultural differences" ~
To what extent will Australian authorities be willing to set aside Australian law for these "cultural differences"? At what point is an immigrant expected to know and respect the laws and mores of his new country? Or would that be "Islamophobic"?
Do Women Wearing Bikinis Deserve to be Sexually Assaulted? ~
Ironically, if an Australian woman living in Afghanistan decided to dress as she did in her home country, she'd be lucky to escape a mob assault on the streets, let alone experience leniency from the court. Yet in Australia, a young man guilty of multiple sexual assaults is let off the hook because of his Muslim background.