Another joyous Christian Holy Day. Another celebration of Jesus' final entry into Jerusalem, with palms and "Hosannas…"


Another Islamist terror attack ~
Egypt's Christians mourn 49 killed in Palm Sunday church bombings ~
Egypt's Christians are in mourning and profound shock after yesterday's twin suicide bombing attacks on churches packed for Palm Sunday, which left at least 49 people dead and more than 110 injured […]

The bombing in St. George's Cathedral in the Nile Delta city of Tanta, 60 miles north of Cairo, killed at least 25 and injured at least 78, the state-run news agency, Al-Ahram, reported.

A suicide bomber then blew himself up among worshippers leaving St. Mark's Cathedral in Alexandria, where Pope Tawadros had just finished celebrating Mass. Eighteen worshippers and four police officers were killed, and 35 were injured […]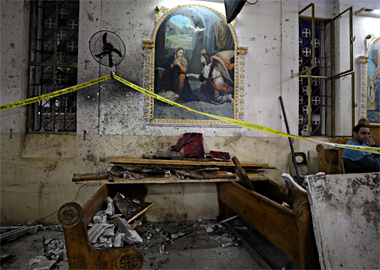 A local Christian known as "Nehemiah", who works to support Christians under pressure for their faith in Egypt, told World Watch Monitor he feared some Christians would be too scared to attend the daily church services that will take place throughout the rest of Holy Week.

He added: "One of the most joyful days for Christians in Egypt is Palm Sunday. To prepare for that day, parents buy palm leaves for children the day before and weave them together and decorate them with spring roses, so that children can carry them happily the next day to church and place them near the pulpit… But that joyful day turned into a painful tragedy.

"My soul is bitter and my spirit is crying in pain and agony. Lord have mercy on Egypt, Lord unveil the dark spirit of deception and show Your light, Lord help Your children to continue to be people with guts, courage and strong convictions, and may Your name be glorified even in the middle of death, pain and devastation."

This is just the latest in Islamist attacks on Egypt's Christian community as Raymond Ibrahim reports at FrontPage Mag ~
In death toll and severity, Sunday's bombings surpass what was formerly considered the deadliest church attack in Egypt: less than four months ago, on Sunday, December 11, 2016, an Islamic suicide bomber entered the St. Peter Cathedral in Cairo during mass, detonated himself and killed at least 27 worshippers—mostly women and children—and wounded nearly 70. Descriptions of scenes from that bombing are virtually identical to those coming from Egypt now: "I found bodies, many of them women, lying on the pews. It was a horrible scene. I saw a headless woman being carried away. Everyone was in a state of shock. We were scooping up people's flesh off the floor. There were children. What have they done to deserve this? I wish I had died with them instead of seeing these scenes."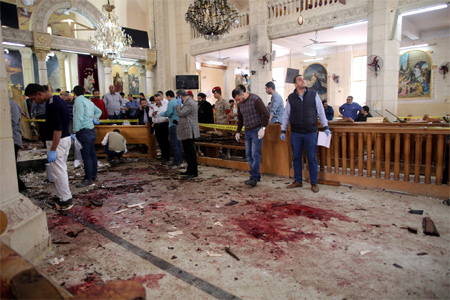 Horrific. And on it goes ~
It should be remembered that for every successful church bomb attack in Egypt, there are numerous failed or "too-insignificant-to-report" ones. Thus, in the week before yesterday's bombings, an explosive device was found by St. George's in Tanta and dismantled in time. Before that, another bomb was found planted at the Collège Saint Marc, an all-boys school in downtown Alexandria. Similarly, a couple of weeks before December 11's church bombing, a man hurled an improvised explosive at another church in Samalout. Had that bomb detonated—it too was dismantled in time—casualties would likely have been very high, as the church was packed with thousands of worshippers congregating for a special holiday service. In a separate December incident, Islamic slogans and messages of hate—including "you will die Christians"—were painted on the floor of yet another church, that of the Virgin Mary in Damietta.
In the wake of these latest murders Egypt's president called yet again for an end to the violence ~
Egyptian President Abdel Fattah el-Sisi declared three days of nationwide mourning and said a three-month state of emergency would begin once legal and constitutional measures have been completed.
Trying to maintain an uneasy peace, Sisi is relatively powerless against the radicals. There's a civil war brewing for the soul of the country; fundamental Islamism vs. a more moderate, secular version, and – as we see all across the Middle East – the Christians all have targets on their backs.
Coptic Christianity was first planted in Egypt by St. Mark – of gospel fame – in the first century. Apparently the Religion-of-Barbarians (founded 500 years later) has decided that the Copts' 2000 years in Egypt must now come to an end. They're on a relentless jihad to replace a religion of sacrificial love and redemption with one of hate and destruction.

~~~~~~~~~~~~~~~~
Related:
"Happy Easter" from the ISIS Barbarians ~ Assyrian Christians targeted in Syria (Dec. 2015), NOT by Assad.
In Egypt's "Arab Spring" the only thing growing is persecution of the Copts ~ It's been going on for at least the last six years.
Palm Sunday Horror: Two Churches Bombed in Egypt
[Urgent Prayer] Palm Sunday Church Bombing in Egypt Kills at Least 42 ~
The deadly attack, occurring on Palm Sunday, is a reminder of the wickedness and violence many Christians face in Egypt and around the world. The powers of darkness are present, and Satan's desire to wipe out every believer who bears the name of Christ is real […]

• Pray for the believers who've faced this terror first-hand and lost loved ones and close friends.
• Pray for justice. Pray that this terrible event will draw the attention of world leaders to focus more heavily on human rights and religious freedom in Egypt.
• Pray for the church in Egypt to be both comforted and strengthened in the midst of this senseless tragedy.