Not content with murdering, kidnapping, raping and driving Christians out of their homes, the Religion-of-Death-and-Destruction is determined to eliminate every vestige of Christianity from the Middle East ~
As Assyrian Christians were celebrating Easter Sunday, militants from the Islamic State blew up the 80-year-old church of the Virgin Mary in Tal Nasri village in the western countryside of Hasaka province, in northeastern Syria.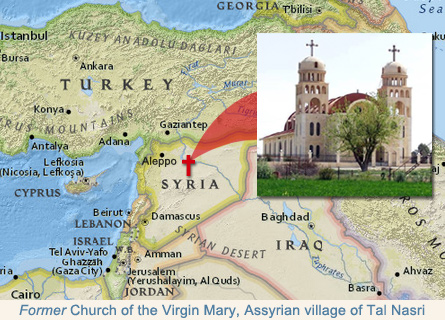 The Church of the Virgin Mary was originally built in 1934 and is one of three main churches in the Assyrian village of Tal Nasri, which is located to the south of Tal Tamr town that was earlier overrun by ISIS.

According to the Assyrian International News Agency (AINA), the church has been "leveled" […]

In February, Islamist militants burned down the historic church of Tal Hurmoz, one of the oldest churches in Syria, and destroyed three other churches in the town of Tal Tamer in Hasaka province.

Open Doors has the latest on Syrian Christians fleeing ISIS ~
A brutal Islamic State offensive that begun in late February against Syria's dwindling Assyrian Christian population is accelerating, forcing a steady stream of Christian refugees to undertake a desperate flight to the relative safety of Turkey, northern Iraq and Lebanon […]

Christian refugees cannot flee Syria by conventional means since the Turkish border crossings are closed to all but commercial trucks and emergency medical vehicles. So the Assyrians are forced to pay smugglers to take them across the border… or risk traveling overland to Lebanon or northern Iraq, which requires crossing extremist checkpoints.

One Christian refugee who managed to escape Syria to Mardin by plane is a man who calls himself Gabriel. He was able to board a plane because he had a passport from his previous service in the Syrian military. Most residents of northern Syria are poor and do not have passports.

Gabriel's city of Qamishli has been under siege from IS ever since the militants' February attacks that emptied out a cluster of Assyrian Christian villages along the Khabour River. Now, more than a month later, some 220 or more Christian villagers who were kidnapped in the attacks are still being held hostage.

Whatever these hateful, 14th century throwbacks hope to accomplish, the ultimate victory belongs to our risen Lord and His Church ~

… I will build My church, and the gates of Hades shall not prevail against it. ~ Matthew 16:18
Father, what terrible hardship our fellow Christians in Syria have suffered. Indeed, the whole nation of Syria is in the midst of affliction. We lift them up to You today; that You might soon bring about peace. We pray for those who have fled to Turkey; that You would comfort and sustain them there. We give thanks for Joseph, Fr. Akyuz, and others caring for the refugees, and pray that You would continue to provide needed resources.
We pray for those who are looking for ways to flee to Turkey, northern Iraq and Lebanon; that You would grant opportunity and safe travels. And, we pray for Your hand of protection to guard those who remain in Syria; that You would sustain them with food and shelter. In the midst of the turmoil, we pray for the Holy Spirit to use Your Word to comfort and encourage those who mourn, strengthen those with struggles of faith, and bring life to those who live in spiritual darkness.
In the name of Jesus, our anchor of hope in this world of tumult, Amen.
~~~~~~~~~~~~~~~~~~~

Related:
Why won't our "Christian" president help save Christians?
ISIS militants take sledgehammers to Mosul tomb of Prophet Jonah
Meanwhile, in another part of the world… ~ Kurds flee Syria to avoid ISIS murderers