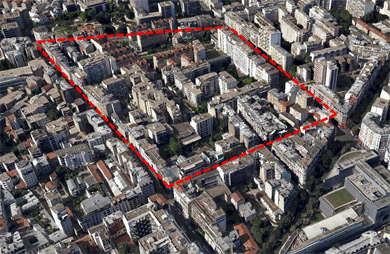 In the wake of Wednesday's raid by French SWAT teams it's instructive to review the degree of denial exhibited by both the Mayor of Paris and Fox News officials (and every other mainstream news agency in the country) just a mere 10 months ago on the subject of Europe's notorious "no-go zones." Back in January, the mayor of Paris was fuming over the very idea that separate Muslim enclaves actually existed in her city ~ Paris mayor may sue Fox News over no-go-zones report ~
Paris Mayor Anne Hidalgo told CNN Tuesday that she may sue Fox News because the network "insulted" the city with its coverage of "no-go zones" that are supposedly only for Muslim residents.

In a series of reports that have been widely criticized and mocked, Fox News reported that some neighborhoods in Paris are so heavily Muslim that some young men openly wore Osama bin Laden T-shirts. Displaying a map that supposedly outlines these "no-go zones," Fox News also reported that terrorists groups recruit members in the areas.

Hidalgo's angry accusations were totally phony – Fox was telling the truth! But in reporting this story, USA Today went along with the charade and actually said: "Such zones don't exist and Fox News has repeatedly apologized for the errors."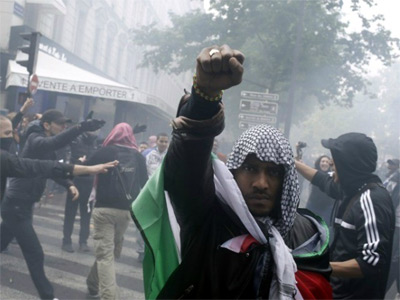 That's right, in the grand tradition of leftie-progressives everywhere, if reality doesn't fit your worldview just ignore it. As Robert Spencer, at Jihad Watch, reported at the time ~
The mainstream media is running hard these days with the absurd idea that Sharia no-go zones in Europe are the "Islamophobic" fabrication of Fox News or Steve Emerson. This despite the fact that the New York Times, Newsweek and the New Republic, hardly conservative outlets, have all referred to them. And in this piece, Soeren Kern shows that numerous French analysts have referred to them as well.

One of the worst French no-go zones that Kern described was Saint-Denis, a suburb just north of Paris. In the article, written more than three years ago, he was explaining – way back then – how French authorities were attempting to Reclaim 'No-Go' Zones (Yeah, those zones that don't exist) ~
The French government has announced a plan to boost policing in 15 of the most crime-ridden parts of France in an effort to reassert state control over the country's so-called "no-go" zones: Muslim-dominated neighborhoods that are largely off limits to non-Muslims.

The crime-infested districts, which the French Interior Ministry has designated as Priority Security Zones (zones de sécurité prioritaires, or ZSP), include heavily Muslim parts of Paris, Marseilles, Strasbourg, Lille and Amiens, where Muslim youths recently went on a two-day arson rampage that caused extensive property damage and injured more than a dozen police officers.

The crackdown on lawlessness in the ZSP is set to begin in September, when French Interior Minister Manuel Valls plans to deploy riot police, detectives and intelligence agents into the selected areas. The hope is that a "North American-style" war on crime can prevent France's impoverished suburbs from descending into turmoil.
If the plan worked it apparently didn't have any lasting effects; Saint-Denis was the very neighborhood the SWAT teams raided yesterday ~
The site of Wednesday's raid is just over a mile (less than two kilometers) from the Stade de France soccer stadium; three suicide bombers blew themselves up outside the stadium during an international soccer match Friday […]

On Wednesday, residents of Paris' Saint-Denis neighborhood were shocked awake by an explosion at around 4:20 a.m.

Amine Guizani said the blast was followed by the sound of grenades and automatic gunfire.


"It was continuous. It didn't stop," he said. "It lasted from 4:20 until 5:30. It was a good hour. I couldn't say how many shots were fired, but it was probably 500. Hundreds, definitely. There were maybe 10 explosions."

Police cordoned off an area around the building in a narrow street lined with low-rise buildings. Riot police cleared people from the streets, pointing guns at residents to move them off the roads.

What a shame that dozens of people had to die, and hundreds more wounded, before France was forced to face the ugly truth, and get serious about invading a "no-go zone."

~~~~~~~~~~~~~~~~~
Related:
European 'No-Go' Zones: Fact or Fiction? Part 1: France ~
No-go zones are Muslim-dominated neighborhoods that are largely off limits to non-Muslims due to a variety of factors, including the lawlessness and insecurity that pervades a great number of these areas. Host-country authorities have effectively lost control over many no-go zones and are often unable or unwilling to provide even basic public aid, such as police, fire fighting and ambulance services, out of fear of being attacked by Muslim youth.

Muslim in Paris: Life inside the 'No-Go' zones ~
Tuesday, November 17, 2015 06:57PM ~ PARIS (KABC) —
As the international attention is directed towards Paris following terrorist attacks from Islamic radicals, the spotlight is showing glimpses of what it's like to be a Muslim within the City of Light.

ABC7's David Ono is on the ground in Paris and traveled to a Muslim community commonly known among the locals as a "No-Go" zone.

In other words, it's a place you don't want to live or be there.