Yippee. Sounds like Michigan's RINO governor is all set to roll out the welcome mat for Obama's Syrian "refugees" ~
(Governor Snyder) says Michigan can expect to see more Syrian refugees in the coming months as his administration continues talks with federal officials about the role the state can play in taking more refugees from war-torn Syria and the Middle East.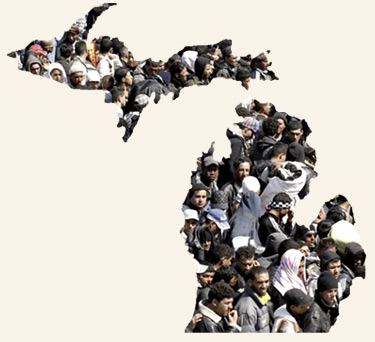 What a guy eh? Funny, I don't recall him asking my opinion on the issue… Or any of my fellow Michiganders for that matter.

But do we really think Mr. Magnanimous cares that most of his state doesn't particularly want to play any role at all (other than rescuing Christians, which the O'Ministration is clearly not willing to do) in this ridiculous undertaking? That we're extremely concerned that ISIS terrorists might sneak in undetected, and we'd rather the governor not take that chance with our safety? That we don't want to foot the bill (with either our state or federal taxes) for this fiasco? Nope. Doesn't even faze old Ricky.

Just like his elitist counterparts in D.C., our Islamist-friendly executive abuses his authority, and betrays his constituents by pandering to the highest bidders – in this case, the Muslim lobby (CAIR, Hezbollah and HAMAS supporters, etc.).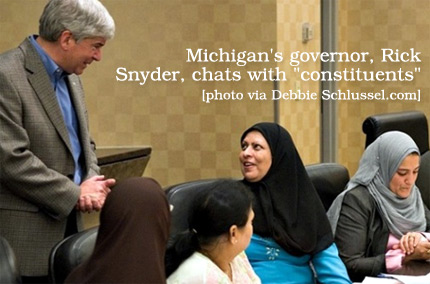 Here's the spin on his latest pronouncement ~
"The governor thinks it's an economic plus," reported WWJ Lansing Bureau Chief Tim Skubick. "And to those who fear that the immigrants would take away jobs, the governor says, Michigan has a record of immigrants coming in and actually creating jobs."

But guess what Rick, we know that's all a crock. All we have to do is tune in to what's been going on in Europe:

• Raging Horror Confirmed at Austria Italy Border – Mid-East Muslim "Refugees" Go On Rampage
• Must see VIDEO: Muslim refugees chant 'F*ck You' and ' Allahu Akbar'
• THEY INAVDED AND NOW THEY DEMAND CHANGE: Muslims File Petition To End OKTOBERFEST
• Muslim Migrants Set Up Camp – Trash Christian Cemetery in Croatia (VIDEO)
• Video: How the media orchester the refugee scam
• Refugee camps may blow with violence, German police officials warn
• Peter Hitchens: We Cannot Give Our Country Away Just To Make Us Feel Good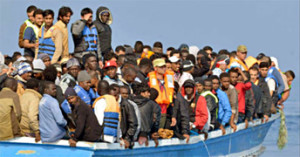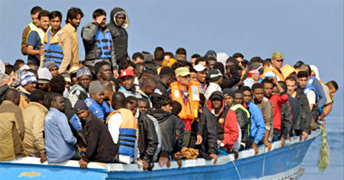 And my personal favorite ~
Muslim migrants threw 12 Christians overboard to their deaths because they were not praying to Allah when they asked God for help when their dinghy suffered a puncture

Religion of peace indeed.

But none of the ugly realities playing out in Europe right now matter to Gov. Snyder and his fellow pandering power-brokers. They're all part of the arrogant ruling class that brought us Big Oil, Big Pharma, Big Ag, Big Climate and the granddaddy of them all, the Military/Industrial Complex. Americans are about to be subjected to their latest creation: "Big Refugee."

This week the Huffington Post featured – what was, for them – a refreshingly unbiased article; Are Cities And States Prepared To Host More Refugees? It focuses on how the admission process works, and explains whose palms get greased along the way ~
Parceling out tens of thousands of refugees to U.S. communities takes advance planning. Each week, representatives of (nine) nonprofit groups meet in the Rosslyn, Virginia, offices of the Refugee Processing Center, a State Department contractor. Some groups attend via conference call.

Staffers sit around a table and review a thick packet of refugee case files. The files contain the addresses of any family members the refugee wants to join in the U.S., medical information and other personal data. The nine staffers then talk through the cases and match each refugee (or refugee family) with a city and a local nonprofit that can help them adjust to new lives in America.

Of course we're assured that all of the selected individuals will undergo a rigorous security check to make sure they're not affiliated with a terrorist organization or a rebel group. [Which – if you believe – I've got some Florida swamp land to sell you… Screener: "Muhammad are you affiliated with any terrorist organization?" Muhammad: "No." Screener: "Great, you're in."]

And since each non-profit contractor gets paid approximately $2,000 per refugee they'll take as many as they can get ~
The $1,975 per refugee local nonprofits receive from the State Department covers 30 to 90 days of furnished housing, help buying food and clothing, and a case manager who can shepherd refugees through what can be bewildering first days in their new country, including tasks like applying for a Social Security card.

And these non-profits, organizations like Church World Service, Lutheran Immigration and Refugee Services, Ethiopian Community Development Council, and Episcopal Migration Ministries – left-leaning progressives all – appear to have been given far too much authority over the vetting and location assignment ~
Although cities and states have the opportunity to weigh in on the resettlement process, they don't have much control over how many refugees are settled where. 😯 "We really don't have any say, to be honest with you," said Allentown Mayor Ed Pawlowski, a Democrat.

So we-the-taxpayers just have to shut up, and pay up, and follow the orders of a bunch of non-elected officials from pseudo charities – who by the way, stand to make a profit from these activities. Just more of that hopeless change I guess.

Since we in the Great Lakes State already have the dubious distinction of hosting the largest Arab-American population in the United States, Big Refugee must figure we'd be thrilled to have more ~
Lutheran Social Services of Michigan—a sister organization of LCFS—expects to resettle Syrians to the Dearborn area, which also has a large Arab-American population. There may not be enough housing available to settle more refugees in Dearborn proper, so refugees may be housed in surrounding cities like Sterling Heights and Warren, said Cheryl Kohs, the Michigan group's marketing director.

"There may not be enough housing available"?! Guess what? There's not enough money available either! In case you missed it, the country has an $18 trillion dollar national debt.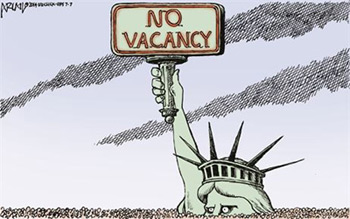 To make matters more egregious, chances are these so-called refugees will receive some form of welfare for years, if not decades. This Washington Free Beacon post discusses the extent of of the problem. The article begins by discussing the percentages of illegal immigrants collecting benefits (bad enough!) but…
… the bigger issue is welfare use by legal immigrants," said Steven Camarota, the (Center for Immigration Studies') director of research and author of the report. "Three-fourths of immigrant households using welfare are headed by legal immigrants."

"Legal immigration is supposed to benefit the country, yet so many legal immigrants are not able to support themselves or their children," he continued.

When households have children, the percentage of those receiving benefits increases. "Of legal immigrant households with children, 72 percent access one or more welfare programs, compared to 52 percent of native households," states the report.

Seem the "refugees" have quickly figured out that Americans are the world's chumps. Otherwise, rather than rush to Europe or the U.S., why not head to nearby Muslim countries (Turkey, Jordan, Saudi Arabia, Lebanon) that are culturally compatible?

So why can't Republicans – who are supposed to be the fiscally responsible party – like Governor Snyder (who at least ran as a Republican), make the case that it would be more reasonable, more humane in fact, to provide temporary living arrangements for these people in or near their own homeland?

Yes, we want to help. But wouldn't sending some aid overseas be much more practical, and a more responsible use of our tax dollars?

Wake up Rick! We don't want any part of the Big Refugee nightmare. Michiganders choose not to participate in the worldwide redistribution of Muslims.

~~~~~~~~~~~~~~~~
Related:
With added Syrian numbers, are cities and states prepared to help pay for more refugees? ~ From Refugee Resettlement Watch, an excellent source of information and practical advice for standing up to the Governor Snyders of America. Because…
The refugee resettlement program has become a bureaucracy where agencies, both government and non-profit, need to protect jobs, buy buildings, expand "services," and like any other government-funded industry they have in my opinion forgotten their original mission.
Why do you think we call it "Dearbornistan?" ~ Michigan's Muslim enclave