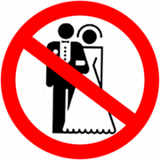 Görtz Haus Gallery in Grimes, Iowa is yet another casualty in the gaystapo's war on traditional marriage. The business, a combination flower shop, restaurant and wedding venue, owned and operated by Betty and Dick Odgaard, was forced to close earlier this summer after being sued by a homosexual couple.
The (Christian) husband and wife duo said that they have been operating the wedding business for 13 years, but after media coverage following their decision to turn away gay couple Lee Stafford and his fiancé Jared Ellars in August 2013, challenges abounded.

They recently decided to stop hosting wedding ceremonies for all couples rather than abide by a government mandate that they accommodate same-sex ceremonies, but the remaining business activity hasn't been enough to keep the doors open.

"Our case had everything to do with our closing. Once we could no longer host weddings it was only a matter of time," Betty Odgaard told TheBlaze in an email on Sunday (June 21, 2015). "The lunch business had already decreased substantially due to boycotts and all the slander and black eye now on Görtz Haus."

Source: The Blaze

The hate-mail the Odgaard's received speaks volumes about the rabid intolerance of radical LGBT crowd ~
One angry e-mail said that the family is "finished" and "doomed." "You are mean, rude, selfish, mother f***er racist sons of b**ches from hell," it read, with the writer later adding, "F**k you, f**k your God, f**k your religion."

Senator Ted Cruz recently spoke with Betty and Dick ~

Find out more about Cruz's Rally for Religious Liberty (in Des Moines on Friday, August 21st) HERE.

~~~~~~~~~~~~~~~~~~
Betty and Dick are not going quietly into the night. They closed one business, but have opened a new non-profit organization: God's OriginalDesign Ministry, which will focus on defending traditional marriage; advancing Christian teachings, Biblical ordinances and natural laws as God intended.
"I feel like God has just put a sense of no fear in us. He wins in the end, so what are we afraid of?" Betty said. "And we would like for other Christians to feel the same way, because what are we afraid of, really?"
Amen!

~~~~~~~~~~~~~~~~~~
Related:
'Gay' power vs. religious liberty ~ Prophetic article from Peter LaBarbera published 18 months ago.