Take a bunch of inner city malcontents who have lived under the thumb of Democrat rule all their lives, add an angry racist mayor with an entitlement mentality, toss in an ambitious attorney general looking to make a name for herself… then light a match named "Freddie Gray" – and watch Baltimore implode.

Five weeks after the meltdown, after the mayor seemed to side with the city's lawless cretins over her own police force, and after the attorney general indicted six officers on outlandish charges, Baltimore has turned into another grotesque monument to progressive policies.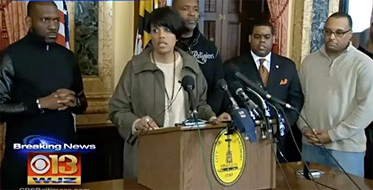 The most recent headlines ~
• Sheriff Clarke: Baltimore's Mayor 'Demoralized' Police Officers ~ Milwaukee County Sheriff David Clarke, Jr., a Democrat himself, understands that #BlueLivesMatter too. And so does law and order ~
(He) stated that Baltimore Mayor Stephanie Rawlings-Blake's move "to call in the DOJ is nothing more than her trying to deflect away from her own leadership failure."

"She once again continues to demoralize Baltimore's finest, when she's going to need them most," Clarke said. "She did it once when she put them out there in harm's way the night of the riot and told them to stand down…now she backed the bus over them by calling in the DOJ."

"If she had some inkling that there were some issues of patterns and practices within the Baltimore Police Department, she should have said something earlier on," Clarke explained.

• Baltimore Mayor Names The Riot "Space" She Created: A "Small Business Disaster Area" ~
"We also gave those who wished to destroy, space to do that as well."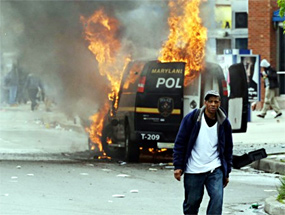 • Baltimore Residents Fearful Amid Rash Of Homicides ~
May 28, 2015 10:53 AM
BALTIMORE (AP) — A 31-year-old woman and a young boy were shot in the head Thursday, becoming Baltimore's 37th and 38th homicide victims so far this month, the city's deadliest in 15 years.

Meanwhile, arrests have plunged: Police are booking fewer than half the number of people they pulled off the streets last year […]

"It's so bad, people are afraid to let their kids outside," Perrine said. "People wake up with shots through their windows. Police used to sit on every corner, on the top of the block. These days? They're nowhere."
• Shooting Death is Baltimore's 39th Homicide in May ~
May 30, 2015 9:40 AM
The killing is the city's 39th homicide this month, the deadliest in 15 years.

• 5th staffer leaving Baltimore mayor's criminal justice office ~
Amy Hartman, who led city efforts to increase public safety in the southeast neighborhood of McElderry Park, has submitted her resignation — meaning nearly a third of the 16-member office is departing amid the recent surge in violence.

Apparently some genius decided this was the solution to the crisis ➡ Dozens attend Baltimore forum on 'police terror' ~
Speakers at the New Unity event called for a series of changes aimed at ending police violence and empowering young people in poor communities: educating residents about their rights when interacting with police, community oversight of police, jobs programs with a living wage, more money for education and a robust program for rehabilitating vacant houses.
Great. Just foment more of the same grievance-mongering that created the thug class in the first place; and pretend that the progressive destruction of the black family structure had absolutely nothing to do with it.

Sorry folks. It's not the color of your skin, it's the content of your character.

~~~~~~~~~~~~~~~~

Related:
Update: 6-11-15 ~
Baltimore Professor Who Said White People Should Deposit Their Unearned Wealth Into Black Accounts Received $60,000 From Soros Foundation… Always follow the money; communist astroturf

Freddie Gray: Poster Child for Progressivism
Baltimore ~ the Musical
[Hat-tip: J&JinPA]