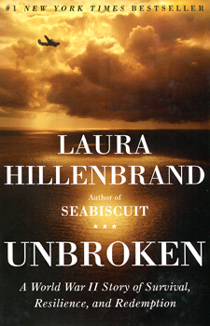 "Unbroken," by Laura Hillenbrand, author of "Seabiscuit," might just be the most difficult book I've ever read – from a purely emotional standpoint. It's a biography of Louie Zamperini, an amazing man I'd never even heard of until I picked up the book.

Just as she did with "Seabiscuit," Hillenbrand takes a little-known American tale of personal triumph over adversity, a struggle against nearly impossible odds, and almost magically makes the characters come alive with her skillful prose. And in Zamperini she certainly chose a protagonist worthy of her talents. From a young rebel- without- a-cause, to an elite runner, to a Japanese POW, a troubled veteran and finally – a Christian, Louie is someone you can't help rooting for on every page, often through your tears.

It's because I so enjoyed the book that I'm awfully skeptical about this:
Angelina Jolie Directing Movie About Olympian POW Redeemed by Jesus
Actress Angelina Jolie, like other powerful stars in Hollywood, has begun directing her own movies. Surprisingly, her next project is about a Christian athlete, with a script penned by the notorious Coen brothers (Fargo, Raising Arizona and True Grit).

Hmmm… I really have serious doubts about Jolie's ability to bring Louie's story to the big screen, and not just because she leans way too far left in her politics (As we know, lefties have an unfortunate affinity for revisionist history). Portraying the unvarnished truth about Zamperini's experiences in Japanese POW camps won't sit well with the P.C. police. "Brutal" isn't nearly strong enough to describe what he and his fellow prisoners went through. It's only after he embraced Christianity that Louie was able to forgive his captors for the horrors of those camps.

Will Hollywood be able to bring this captivating story to movie theaters without applying their special brand of progressive censorship?

Jolie, who recently started filming the project in Australia, has said she's inspired by Zamperini and that the two have grown to be close friends. While Hillenbrand's biography touched on Zamperini's incredible faith, it did not emphasize it—something that will hopefully be rectified through Jolie's personal relationship with Zamperini and first-person witness to his Christian testimony.

The movie stars Jack O'Connell as Zamperini, with a supporting cast that includes Garrett Hedlund, Alex Russell, safety driver Carla Thexton, Domhnall Gleeson and Finn Wittrock. Wide-release date for Unbroken is set for Christmas Day 2014.

The film version of Seabiscuit was incredibly loyal to Hillenbrand's book; and almost as good. I'm really hoping this one comes as close – Zamperini's life story is amazing, and Hillenbrand is a wonderfully gifted author.