Whoa – if you weren't sure whose side the pro-choice crowd was on before, this tale out of Texas should clear things right up for you. Rather shocked to find "Hail Satan" trending on Twitter Wednesday night, I did some fast clicking and quickly learned that on Tuesday, at the state capitol in Austin, Abortion Supporters Chant(ed) 'Hail Satan!' to Drown Out Pro-Lifers Singing 'Amazing Grace' ~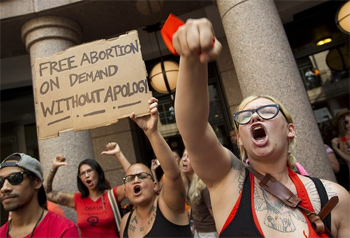 Really. The Blaze has the full story, including video, and more disturbing details than you probably care to know ~
The abortion battle in Texas was still raging Tuesday as both abortion supporters and pro-life activists flooded the State Capitol to make their voices heard. The Texas House and Senate reconvened briefly for a special session called by Gov. Rick Perry.

One of the more bizarre tactics used by pro-abortion activists involved chanting "Hail Satan!" to harass a pro-life crowd as they sang "Amazing Grace."

The protests are part of the drama surrounding a proposed state law that would;
would ban abortions after 20 weeks of pregnancy, require that the procedure be performed at ambulatory surgical centers, mandate that doctors who perform abortions obtain admitting privileges at a hospital within 30 miles and that even nonsurgical abortions take place in a surgical center.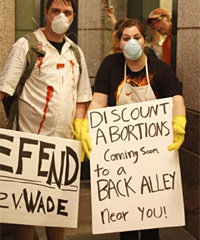 Apparently those conditions are much too restrictive for the Margaret Sanger crowd.


Seems to me that if you were the least bit ambivalent about the whole abortion issue, this angry mob, demanding the "right" to destroy unborn babies, would convince you than there's a much darker force at work here…



"For we do not wrestle against flesh and blood, but against principalities, against powers, against the rulers of the darkness of this age, against spiritual hosts of wickedness in heavenly places."

~ Ephesians 6:12 ~

Related:
Texas protest: children hold coat-hanger signs, 'suffragettes' arrive, others yell 'Hail Satan!'
Unmourned, Unloved and Politically Inconvenient ~ Where was this pro-abortion crowd during the Kermit Gosnell trial? Talk about back-alley abortions!