Their parents broke the law – illegally dragging them into our country when they were just minors – and somehow… it's our fault. They're innocents, just dreaming of free health care, food stamps and college tuition…

Well, except for these guys ➡ 2 DACA recipients arrested over suspicion of human smuggling. And these guys ➡ Five young Americans killed by Dreamers. And these guys ➡ 'Dreamers' and demons ~ Democratic platitudes are whitewashing the bloody reality.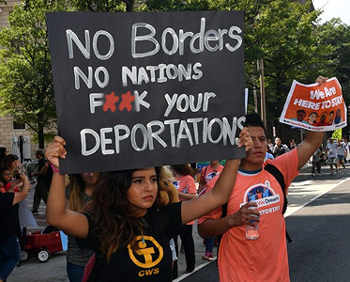 Whether most Americans have seen any statistics on illegal alien crimes or not, a majority do want something done about immigration overall and border security. A recent Harvard-Harris poll found that ~
• Most Americans want annual legal immigration capped at 500,000 a year or less — far lower than the current annual rate of 1.3 million.
• More than 60 percent of voters said current border security is inadequate, and 54 percent said they support "building a combination of physical and electronic barriers across the U.S.-Mexico border."
• Voters agree with President Trumps' position that skills and ability to assimilate in the U.S. should be weighted over extended family ties, by a 79 percent to 21 percent margin.

Unfortunately, the poll also revealed that a majority support legalization for Dreamers by 77 percent to 23 percent margin. I'm convinced that's because ~
• They've been intimidated by the Left into believing they're horrible people if they don't support the Dreamers
• They haven't been directly affected by illegal alien crime
• They've never been told that DACA was an illegal executive action to begin with (only Congress has the authority to change immigration law)
Even less known is the fact that Obama's flawed DACA (Deferred Action for Childhood Arrivals) program has not even been complied with as written since its inception. Hans von Spakovsky pointed out the inconsistencies in a December Daily Signal article ~

Educational requirements have been waived ~
DACA required that beneficiaries enroll in school, graduate from high school, obtain a GED certificate, or receive an honorable discharge from the military […]

However, the Obama administration appeared to routinely waive the education (or its equivalent) requirement as long as the illegal alien was enrolled in some kind of program. Only 49 percent of DACA beneficiaries have a high school education—despite the fact that a majority of them are adults.
Vetting has been spotty at best ~
(B)ased on documents obtained by Judicial Watch, it is apparent that the Obama administration used a "lean and light" system of background checks in which only a few, randomly selected DACA applicants were ever actually vetted.


And DACA only looked at convictions anyway; arrest records apparently irrelevant ~

(So) even if a Homeland Security background investigation—which apparently was almost never done—produced substantial evidence that an illegal alien might have committed multiple crimes, the alien would still be eligible for DACA unless Homeland Security referred the violation to state or federal prosecutors and the alien was convicted.
Fluency in English was never a requirement ~
We were told that these poor kids just want to be part of the American dream – but how can they do that if they don't even learn our language?
The Center for Immigration Studies estimates that "perhaps 24 percent of the DACA-eligible population fall into the functionally illiterate category and another 46 percent have only 'basic' English ability." […]

In fact, it seems rather that a significant percentage of DACA beneficiaries may have serious limitations in their education, experience, and English fluency that negatively affected their ability to function in American society.

Providing amnesty to low-skilled, low-educated aliens with marginal English language ability would impose large fiscal costs on American taxpayers resulting from increased government payouts and benefits, and would be unfair to legal immigrants who obeyed the law to come here.

Gee, could it be by design? Because it almost seems like those were DACA's intended consequences – with little regard for the welfare of regular Americans. And it's not even a compassionate way to treat the Dreamers; it keeps many of them locked in a perpetual underclass. (Not to mention highly inclined to vote Democrat for more handouts.)
And all for the bargain-basement price of just $26 billion ~
We can't afford it! On the other hand, here's an idea that might just work ~
They are trying it all over Europe—paying the migrants to go home!

Last spring, Austria announced that it would give 1,000 euros (roughly $1,219 USD) to the first 1,000 refugees who signed up to leave on their own.

The program was successful, and the government extended the offer to more refugees. It's an incentive that's gaining traction across Europe.

Either way, President Trump needs to fulfill his campaign promises, stop trying to make deals with the open borders crowd, and just bring President Obama's illegal DACA to a screeching halt.

~~~~~~~~~~~~~
Related:
Another rogue California judge makes stuff up
Illegal Aliens Block Disneyland to Protest for Immigration Deal ~
A small group of 15 to 20 amnesty activists blocked the entrance to the Disneyland theme park in Anaheim, California, on Monday, calling for legislation that would give legal status to millions of illegal aliens.