Someone spent a lot of time – and money – this week expressing their displeasure at California's new status as a sanctuary state ~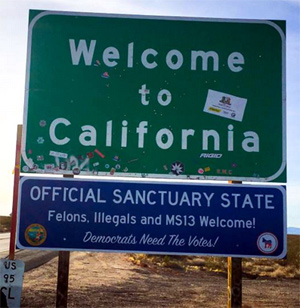 Although authorities didn't allow the signs to remain in place for very long, pictures of them went viral.
Drivers entering California are being greeted with signs proclaiming the liberal bastion an "OFFICIAL SANCTUARY STATE," according to photos and videos circulating on social media appearing to show a prankster attached the official-looking blue signs just below legitimate "Welcome to California" markers […]

"For safety reasons, Caltrans does not permit any unauthorized signs in the state right of way," the agency said in a statement. "If we haven't done so already, Caltrans crews will take steps to remove them."

California became a "sanctuary state" on Monday after a bill Democratic Gov. Jerry Brown signed into law in October officially took effect.

The law bars police in the nation's most populous state from asking people about their immigration status or participating in federal immigration enforcement activities in most cases.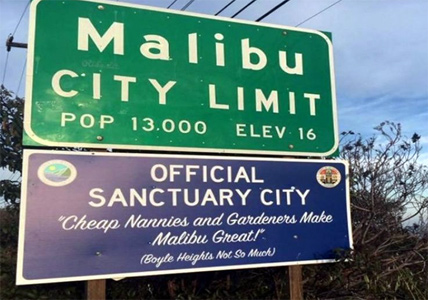 The sentiments sure made a strong statement, and no doubt represent the opinions of millions of disgruntled Californians. Although – now that pot's legal in the Golden State… they can always get high to ease the pain…
What could possibly go wrong in a state with millions of illegals driving on freeways without insurance, now legally high on weed? #PartyOnCalifornia https://t.co/cyQAtkfzVx

— James Woods (@RealJamesWoods) January 1, 2018