Did you hear about the topless chick who tried to kidnap Baby Jesus on Christmas Day? Feminist Tries To Steal Jesus From Vatican Nativity Scene, Gets Trounced By Guard ~
A Reuters photographer happened to witness the incident as the topless woman, shouting "God is woman," climbed over a guard rail and scrambled up to the scene in a brazen attempt to take the statue of Jesus from its crib.

The photographer, Alessandro Bianchi, snapped a picture showing a Vatican gendarme closing in on the woman, who also had the slogan scrawled across her bare back.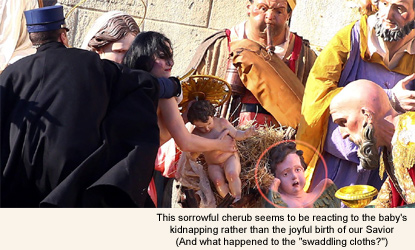 If this FEMEN radical weren't so hellbent on mocking Christ and tearing down the evil patriarchal mores of Western society, she could almost be applauded for attempting to rescue Jesus from a hideous representation of His holy birth.

Unfortunately, the Vatican's irreverent 2017 Nativity display (see more pix below) has very little to do with the great joy which shall be to all people. Instead, as this article by Diane Montagna at LifeSite News suggests, it seems to be some sort of vague tribute to humanism – and worse ~ Vatican's 'sexually suggestive' nativity has troubling ties to Italy's LGBT activists ~
An official of the Vatican's Governorate has told LifeSiteNews that the abbey of Montevergine initially proposed the original idea for the 'Nativity of Mercy.' The Vatican discussed and developed a more detailed design with the abbey, then submitted final plans to the Secretary of State and Pope Francis for approval, which was duly granted.

"The presence of the Vatican Nativity Scene for us is a reason to be even happier this year," Antonello Sannini, president of homosexual activist group Arcigay Naples, told LifeSiteNews on Tuesday. "For the homosexual and transsexual community in Naples, it is an important symbol of inclusion and integration."

Well isn't that special? I couldn't agree more with this assessment ~
"This horrendous exhibit, a sacrilegious, highly deceitful and malevolent attempt to turn the holy innocence of the manger in St. Peter's Square into a lobbying tool for the homosexual rights movement, is just the latest fiendish act, but one that's symptomatic of this entire pontificate," one source close to the Vatican told LifeSiteNews.

Reliably, Ann Barnhardt was less sanguine in her commentary, and explained how the gay Catholic community co-opted Montevergine for their cause ~ Vatican Nativity Made In Sodomite and Transvestite Shrine – Clear Winking Signal to Sex Perverts ~
The Sanctuary of Montevergine has long been notoriously and blasphemously claimed as a mascot and meeting place for sodomites and transvestites. […]


A false story was started by sodomites that two sodomite men, after being caught, convicted and condemned to death by exposure for their sickening capital crimes by being tied to a tree, were miraculously saved by the Virgin of Montevergine, whereupon the two sodomites… wait for it… promptly celebrated by sodomizing each other because their "love" had been ratified by the Queen of Heaven, or something.

Blasphemy of the sickest and most demonic sort. This blasphemy spread, and now the Sanctuary of Montevergine is used by Italian sodomites as a mascot for gay pride marches and drag queen conventions. The biggest gay pride march at the Shrine of Montevergine, happens, even more blasphemously, on February 2, the Feast of the Purification of the Blessed Virgin.

There are so many disturbing elements in this twisted tableau that it's difficult to reference them all, but the entire scene is so off-putting that an atheist or agnostic observing the panorama would be left thinking that the birth of our Lord and Savior was some sort of pagan celebration of human wretchedness.

Rather than one's attention being rightly drawn to the Holy Child, and his parents, the set is so crowded and disjointed it's visually jarring. It's almost unrecognizable as a Nativity scene.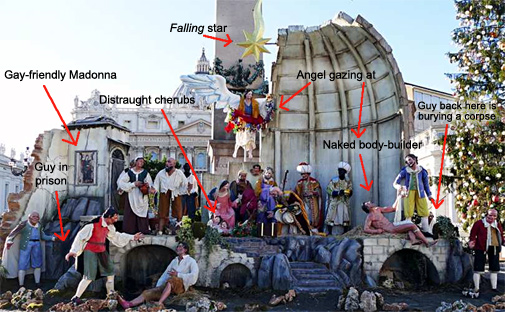 Novus Ordo Watch goes into considerable detail on the fiasco in their article ➡ The Frankie Horror Picture Show: A Look at the Vatican's harrowing Nativity Scene ~
All of the facial expressions are serious, grim, unhappy, or otherwise negative, at least indifferent. Even the little angels beside the crib have a look of suffering or despair on their countenances, and the large angel hovering above doesn't look like he just announced good tidings of great joy, either. The only shepherd included in the scene is playing the flute with a look of annoyance on his face. St. Joseph is depicted as absent-minded, and Our Lady looks rather masculine, staring at her Divine Son as though she was about to unleash fury on Him.

Not a single statue appears to be joyful about the Birth of Christ, which is clearly not the main focus of this scene anyway. There is nothing edifying in this display, nothing that would inspire joy, love, adoration, or gratitude in souls.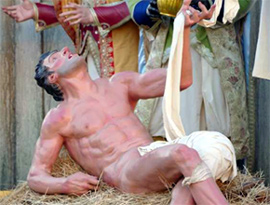 Arguably, the most jarring element of the display is the naked body builder – even Facebook found it offensive enough to censor images of this dude


These busts of cherubs, placed in front of Mary wear expressions of fear and revulsion rather than the joy and adoration one would expect to see at the birth of Jesus Christ



The official explanation for this disaster is that the exhibit is meant to depict the seven corporal works of mercy (bury the dead, visit the imprisoned, feed the hungry, shelter the homeless, clothe the naked, visit the sick and refresh the thirsty). But as Novus Ordo points out, a manager scene is hardly the time and place to instruct us in our Christian duties ~
While the corporal works of mercy are important, laudable, and necessary for salvation in a sense (cf. Mt 25:31-46), they have no place in a Christmas Nativity set. Their inclusion in the Vatican display is meant to distract from the Birth of the Savior, who came primarily to save us from our sins and from hell, not to improve our temporal condition (cf. Mt 1:21; Mk 14:7; Jn 6:59,64).
~~~~~~~~~~~~~~~
I imagine that the Vatican will leave this bizzare display up through the Feast of the Epiphany this coming Sunday. Barnhardt has rightly called for it to be dismantled last week ~
(O)nce again, this monstrosity needs to be torn down. A group of Catholic men need to muster – preferably in a group of at least one thousand, notify the Italian police and the Swiss Guards that they will be arriving at St. Peter's Square in the wee hours of the morning so as not to disrupt traffic, and that they will quietly and quickly dismantle this blasphemous manifestation of the satanic powers now occupying the Vatican, and then all kneel and pray the Rosary in reparation to the Immaculate Heart of Mary and the Sacred Heart of Jesus, and then leave. And tell them that they are all, every one, willing to be arrested.

It doesn't look like that's going to happen. But let's at least hope the pope doesn't haul this horror out again next year. Nothing would be better than this unholy shrine to paganism.

~~~~~~~~~~~~~
Related:
Vatican's naked nativity character is a slap in the face to those who are really poor
Vatican GayTivity: Um, the Flying Baby Angel Heads Have… BEWBS ~ Another post from Ann Barnhardt
Vatican hires LGBT activist company to create and run new internet news platform ~ Noticing a trend here?
December 20, 2017 (LifeSiteNews.com) – Eyebrows are being raised following the announcement that a Vatican official with strong ties to LGBT activists has hired an openly homosexualist digital marketing company to design and manage the Holy See's new internet news service.

The company, Accenture, is famous worldwide for promoting the homosexual political agenda, winning awards for being the top "gay friendly" employer, and producing videos proposing strategies for promoting "LGBT rights" throughout the world.