Another tragic mass murder… and before the bodies are even cold – while we know nothing of the shooter or his motivation – the one-note leftists start screeching for gun control ~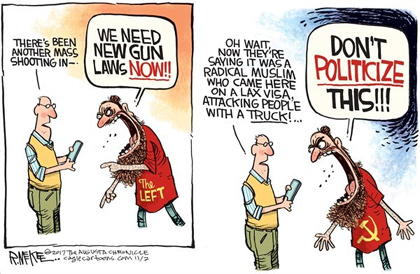 ~~~~~~~~~~
Related:
Texas church shooter, 26, who killed at least 26 people – including a pastor's 14-year-old daughter – had been dishonorably discharged from the US Air Force for assaulting his wife and child ~ And once again, bad guy with a gun was stopped by a good guy with a gun ~
The attack only stopped when Kelley was tackled by a heroic local man who shot back at the mass shooter as he left the church.

Warren to GOP: Thoughts and prayers not enough after Texas shooting
Sen. Elizabeth Warren (D-Mass.) on Sunday slammed Republicans for offering their condolences in the wake of the Texas church shooting while failing to take concrete steps to curb gun violence.

"Thoughts & prayers are not enough, GOP. We must end this violence. We must stop these tragedies. People are dying while you wait," Warren wrote in one tweet.