Up-dated 9-25-17:
Federal Aid Begins to Flow to Hurricane Ravaged Puerto Rico ~
Manati's Mayor: "Hysteria is starting to spread" […]

The federal aid effort is racing to stem a growing humanitarian crisis in towns left without fresh water, fuel, electricity or phone service. Officials with the Federal Emergency Management Agency, which is in charge of the relief effort, said they would take satellite phones to all of Puerto Rico's towns and cities, more than half of which were cut off following Maria's devastating crossing of Puerto Rico on Wednesday.
~~~~~~~~~~~~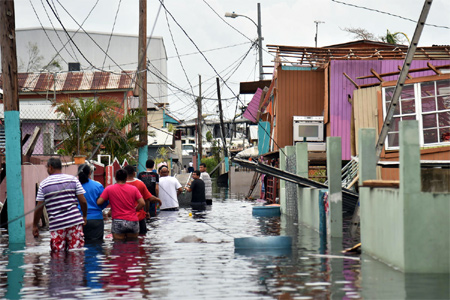 Rescuers fanned out to reach stunned victims Thursday, and millions of Puerto Ricans faced the dispiriting prospect of weeks or even months without electricity after Hurricane Maria ravaged the island.


The storm slammed into Puerto Rico on Wednesday with 155 mph (249 kph) winds, the strongest hurricane to hit the U.S. territory in over 80 years. Source: The Stream
The latest (9-23-17) from Deseret News:
• Puerto Rican officials rushed to evacuate tens of thousands of people downstream of a failing dam and said they could not reach more than half the towns in the U.S. territory as the massive scale of the disaster wrought by Hurricane Maria started to become clear on Friday.
• Officials said 1,360 of the island's 1,600 cell-phone towers had been downed, and 85 percent of above-ground and underground phone and internet cables were knocked out. With roads blocked and phones dead, officials said, the situation may be worse than they know.
• The death toll in Puerto Rico stood at six but was likely to rise.
• Some of the island's 3.4 million people planned to head to the U.S. to temporarily escape the devastation. At least in the short term, though, the soggy misery will continue: Additional rain — up to 6 inches (15 centimeters) — is expected through Saturday.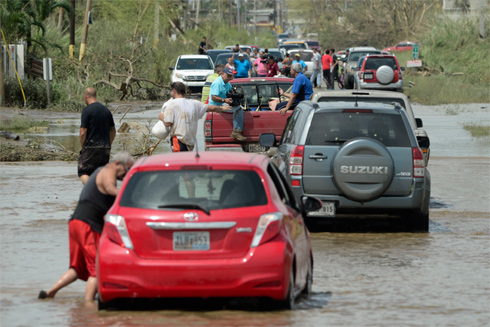 Thank God for fossil fuels! What would these poor folks do
if their vehicles had to be plugged in?

Even before Puerto Rico took a direct hit from Hurricane Maria, their fiscal situation was a disaster. As I posted HERE, the country was more than $73 billion in debt two years ago ~
(S)ome 150 (government) agencies ran up deficits that couldn't even be accurately counted, so the true indebtedness might be even higher — as much as $100 billion by some estimates.

The government has funneled public money to state-owned enterprises that are supposed to be financially independent. Worse, the report said, many workers no longer even look for jobs, since welfare benefits pay more than actual work.

Given the sorry state of the economy, the country's infrastructure is ailing as well. So sadly, it's no surprise that the entire island lost power in the wake of Maria ~
Puerto Rico's power grid was already in bad shape even before the 2017 hurricane season. PREPA's power plants are 44 years old on average, reports Reuters — in contrast with the industry-wide average of 18 years.

The company, which filed for bankruptcy in July, called its own system "degraded and unsafe," saying in a fiscal plan released this April that "years of under-investment have led to severe degradation of infrastructure," according to Reuters.

Source: Time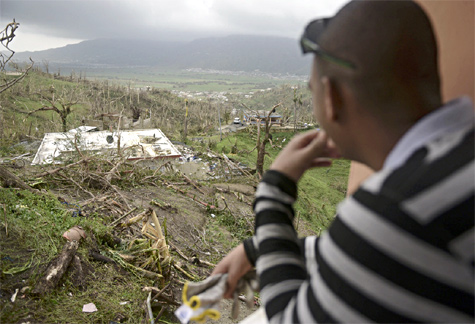 Lord know how these poor people will ever put their lives and homes back in shape. As Fausta Rodriguez Wertz sums up at Da Tech Guy Blog ~
Puerto Rico was on a downward spiral for years, well before Irma and Maria struck. One can only hope that this disaster becomes an opportunity to rebuild the entire island and cut down on decades' worth of bloated, useless overspending and waste.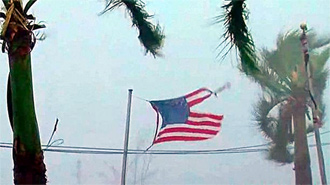 Uncle Sam to the rescue again no doubt… But how many more of these natural disasters can our economy sustain?
~~~~~~~~~~~~~~
Related:
Left in the Dark: A Stunned Puerto Rico Seeks to Rebuild