Can you believe the Scots actually allowed this visual assault on their picturesque countryside?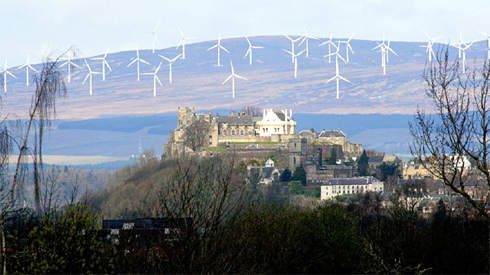 This is Stirling Castle, which was home to Mary, Queen of Scots,
one of the largest and most important castles in Scotland
Any wonder these unsightly behemoths are having a negative impact on their tourist industry? ~
More than half of tourists to Scotland would rather not visit scenic areas dominated by man-made structures such as wind farms, a YouGov poll suggests.

A survey carried out on behalf of the John Muir Trust (JMT) found that 55% of respondents were "less likely" to venture into areas of the countryside industrialised by giant turbines, electricity pylons and super-quarries.

Just 3% said they were "more likely" to visit such areas, while 26% said such large-scale developments would make "no difference".

The poll has rekindled calls for Scottish ministers to increase protection for wild and scenic areas that, it is argued, will protect rural tourism businesses.

Donald Trump weighed in on the eyesores when he visited Scotland last November ~
Donald Trump urged Nigel Farage to campaign against wind farms in Scotland because he believes they "sully" the country's beauty, it has been claimed.

The president-elect, who fought against an offshore wind project near his Aberdeenshire golf resort, met Mr Farage in New York last week […]

Last December the (UK) Supreme Court rejected Mr Trump's challenge to the offshore wind farm project near his Menie golf resort.

His company the Trump Organisation previously lost two legal bids in the Scottish courts after ministers approved proposals for an 11-turbine scheme which Mr Trump said would spoil the view from his course.
In their November 22, 2016 story, the BBC captioned the below photo with this: "Mr Trump believes wind turbines "sully" the Scottish landscape"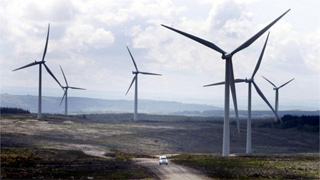 Which begs the question – does the BBC thinks these ugly monsters somehow enhance the view?
~~~~~~~~~~~~~

These hideous turbines have already proven themselves to be an inefficient and prohibitively expense alternative energy source – not to mention hazardous to humans and other life forms. But clearly they should be banned on a purely ascetic basis.

~~~~~~~~~~~~~~
Related:
Powerless in the wind