Update 7-29-17:
While little Charlie Gard lay dying in the UK, his sad tale took on a life of its own. Now that he's gone, many Brits are claiming that we conservatives here in America were too quick to hold him up as an example of heartless, government-run healthcare, that we were ill-informed about the details of the case.
Conceding that some of us may have been over-zealous in our rush to judgement, Michael Brown points out that ~
(Q)ur biggest questions remain, namely: 1) Who gave the hospital the power to stop the parents from getting experimental treatment for their children? And: 2) Who gave the hospital (or courts) the power to decide what "condition of existence" is worthy of further care?
~~~~~~~~~~~~~~

7-28-17:
Trying to come up with an analogy that most of us can relate to, I think socialist governments are like really crappy parents. Oh, maybe not deliberately bad or abusive, just totally incompetent and clueless about performing their primary duty to their offspring – that is, raising them to be mature, responsible, self-sufficient, productive members of society. Possessed of a superior attitude, they're convinced that they always know what's best for their charges. Unrestrained, this authoritarianism can end in otherwise preventable tragedy.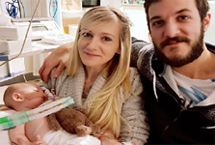 Poor Charlie Gard is just latest and most glaring example of how the overbearing nanny state controls every aspect of their subjects' lives – and deaths. The state – Britain – literally usurped the rights of Charlie's parents, leaving them helpless to do anything to extend the life of their small son ~
The court knows better than the parents according to British law. The judge had reason to rule as he did. Section 1 of the Children's Act 1989 instructs the court to "look at the question from the assumed point of view of the child." The "welfare of the child shall be the paramount consideration." Article 8 of the European Convention states that parental rights are limited by the requirements of the public good and the rights of others.

No, socialism doesn't take kindly to personal initiative and independent action.

Not exactly life and death, but closer to home, this recent story from Canada is an great illustration of this unfortunate "bad parent" phenomenon.

Seems a resident of Etobicoke, Ontario saw an unsafe condition in his local park and took matters into his own hands to address the problem ~
Retired mechanic Adi Astl told CP24 that he recently built a small eight-step wooden staircase down an embankment in Tom Riley Park for $550 after getting frustrated with the city's insistence that the project would cost between $65,000 and $150,000. Astl raised money from the community to tackle the job himself and then enlisted the help of a homeless man in the park who offered his assistance in exchange for a little money and breakfast.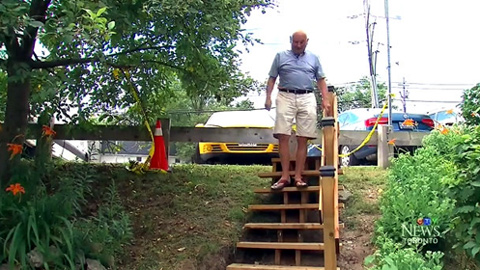 Unfortunately for Mr. Astl and his neighbors, it seems exercising personal initiative is frowned upon in this west suburban area of Toronto ~
Shortly after installing the staircase late last month, Astl said a bylaw enforcement officer placed yellow tape up around the stairs and contacted him to inform him that he had violated section 608 of the Toronto Municipal Code.

Astl, who has not been charged, said he just wanted to build the staircase as a shortcut for the countless seniors and young children he saw walking down the steep hill to get to a community garden and soccer field that are located in that end of the park. He said that safety should be "more important than money."
So here's a stellar citizen, concerned not only with his neighbors' physical safety but their fiscal well-being as well, and the overprotective, authoritarian government rushes in to quash his pro-active efforts.

Fortunately, for Mr. Astl and his fellow Etobicoken's it does seem that a measure of sanity will prevail in this case ~
The councillor for the area, Justin Di Ciano, conceded that Astl built the staircase to "a standard that is not the city's standard" on Wednesday but said the hill is certainly safer than it was previously when residents climbed the grade while grasping a rope that someone had left in the area.

Di Ciano said he has asked staff to leave the stairs for now while he works with the city's parks and recreation department to come up with a more permanent solution that won't cost taxpayers an arm and a leg.

"I think we all need to have a bit of common sense here," he said.

Whew. Still, it's a cautionary tale. Essentially, socialism is a form of citizen abuse (See Venezuela for an extreme example.).

The feckless "parents" of socialism believe they're supposed to care for their "children" forever. They won't allow them the independence to grow into adulthood, make their own decisions/mistakes or support themselves in any meaningful way. No, the nanny state knows best.

[Let's hope these clueless kids figure that out before they vote themselves into perpetual childhood.]
Related:
Why God, Guns, and Grunt Work Go Together. Socialism Smothers Them All