I'm not much of a television viewer; so few shows are worth bothering with anymore. The "news" is either depressing, one-sided or downright phony. And what passes for "entertainment" these days is even worse.

Other than reruns of oldies, I'll admit there are a handful of current series that aren't horrible; NCIS (all three versions), Bull, Elementary, some of the History Channel stuff… at least if there's nothing better to do, and I have to file my nails, or fold laundry.

My sporadic viewing habit explains why I hadn't seen – or even heard of – Tim Allen's latest sit-com, Last Man Standing, until news of its cancellation popped up this week ~ Despite High Ratings, ABC Cancels Trump-Friendly Sitcom 'Last Man Standing.'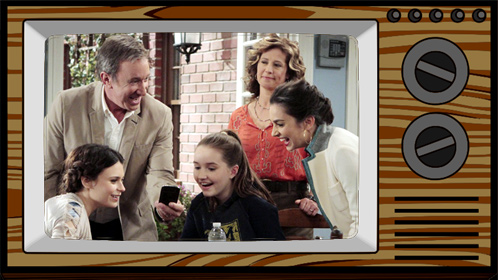 Although it may not have been my cup of tea, the show apparently has a decidedly conservative slant – at least compared to the rest of the crap on TV – and many on the right are calling B.S. on the ABC's decision to axe it. Here's John Nolte at The Daily Signal, first explaining what a money-maker the show has been ~
Even though it had been dumped on Friday nights, the Tim Allen sitcom Last Man Standing enjoyed ratings that Deadline describes as "very respectable for any night and especially Friday[.]" Every week, the half-hour comedy, one of the very few aimed to appeal to America's heartland, won its time-slot in the all-important demo, including 6.4 million overall same-day viewers […]

Last Man Standing was ABC's Friday anchor, meaning a show that could not only be counted on to win the night but one that kept viewers tuned in to whatever shows came after. Anchors are also crucially important when it comes to launching new shows […]

The real money in the sitcom business comes from syndication rights, selling the reruns on a per episode basis to other networks. Last Man Standing is not only a syndication smash, a virtual cash cow, per Deadline it is the "rare off-network ratings success story these days."

So why in the world would ABC ditch the show? Nolte's theory is as good as any ~
The real reason ABC canceled "Last Man Standing" was almost certainly due to politics. Allen's character is, as described by Deadline, a …

… political conservative and devout Christian adhering to traditional American values, the blue-collar comedy appeals to viewers in the Heartland, a constituency that helped elect Donald Trump as president and has been energized post-election as evidenced by the ratings success of new USA drama Shooter.


Through his character, the politically conservative Allen has poked fun at Hillary Clinton, political correctness, and the Left at large. Worse still, he has created a popular, sympathetic and likable television personality who holds the beliefs and values our entertainment and media elites want to tell us can only belong to Nazis.

Ultimately? The power-brokers in Hollywood are just plain evil. Promoting their leftist, anti-God ideology is even more important to them than pursuing the almighty dollar ~
No one better understands the power of popular culture than those who work in it. They know that if even one is allowed to get through, a Path to 9/11, a Last Man Standing, a Duck Dynasty, a Passion of the Christ, a 13 Hours, a Fox News, that it must be crushed, toxified, or memory-holed out of the fear that those brainwashed by popular culture might discover another side to the story. And then there is the intolerable risk that a success might breed more of them.

No matter the financial cost, this cannot be allowed.
~~~~~~~~~~~~~~~

If you're so inclined, here's an online petition that a staunch Last Man Standing fan started to urge ABC not to cancel ~
Last Man Standing is one of the only shows on broadcast television, and the only sitcom, that is not constantly shoving liberal ideals down the throats of the viewers. And sadly, that is likely the real reason the show has been cancelled.

The intent of this petition/boycott is to attempt to get ABC to renew the show. With that in mind, I will no longer be watching any ABC shows. I have cancelled the DVR settings for the other ABC shows that I regularly watch. If you want to help try to save Last Man Standing, I encourage you to do the same. Even if you are not willing to boycott the network, but still want to save the show, please sign this petition and share it. If you do plan to boycott ABC, please say so when you sign. Let them hear our voices.

~~~~~~~~~~~~~~
Related:
ABC Cancels Tim Allen's Successful Comedy Last Man Standing and It Looks Like It Was Because of His Conservative Beliefs
Stunned and blindsided by the network I called home for the last six years. #lastmanstanding

— Tim Allen (@ofctimallen) May 16, 2017