Well this is a positive development… Donald Trump has been in office less than three months and already we're seeing a government agency say this ➡ NOAA Study Admits It's 'Premature' to Link Global Warming and Hurricanes.

How refreshing. Could it be that, seeing the direction the new administration is taking with regard to rolling back economy-killing environmental regulations, they're rethinking the "settled" science?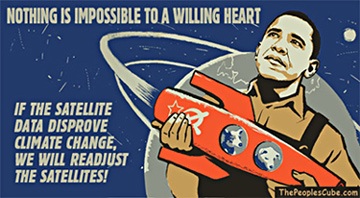 Early on Trump made it clear that he wasn't buying into the whole theory of impending doom advanced by the global warmists. On March 24th he approved the Keystone XL pipeline. And last week, in a move that has radical environmental types frothing, the president rolled back his predecessor's unrealistic plan to unnecessarily "control" CO2 ~
With a sweeping executive order signed at EPA headquarters, Trump initiated an immediate review of the Clean Power Plan, which restricts greenhouse gas emissions at coal-fired power plants. Surrounded by coal miners, the president described that plan as a "crushing attack" on workers and vowed to nix "job-killing regulations."

"We're going to have safety, we're going to have clean water, we're going to have clean air, but so many [regulations] are unnecessary, so many are job-killing," he said.
So yes, maybe NOAA sees which way the winds are blowing, so to speak. But their sudden, more moderate approach to extreme weather causation might have more to due with the fact that they themselves were recently caught cooking the climate books (This story from the UK Daily Mail would have been headline news here if our mainstream media wasn't aiding and abetting the hoax.)! ~ Exposed: How world leaders were duped into investing billions over manipulated global warming data. This was quite an enlightening, in-depth article ~
• The Mail on Sunday can reveal a landmark paper exaggerated global warming
• It was rushed through and timed to influence the Paris agreement on climate change
• America's National Oceanic and Atmospheric Administration broke its own rules
• The report claimed the pause in global warming never existed, but it was based on misleading, 'unverified' data


A high-level whistleblower has told this newspaper that America's National Oceanic and Atmospheric Administration (NOAA) breached its own rules on scientific integrity when it published the sensational but flawed report, aimed at making the maximum possible impact on world leaders including Barack Obama and David Cameron at the UN climate conference in Paris in 2015.

The report claimed that the 'pause' or 'slowdown' in global warming in the period since 1998 – revealed by UN scientists in 2013 – never existed, and that world temperatures had been rising faster than scientists expected. Launched by NOAA with a public relations fanfare, it was splashed across the world's media, and cited repeatedly by politicians and policy makers.

But the whistleblower, Dr John Bates, a top NOAA scientist with an impeccable reputation, has shown The Mail on Sunday irrefutable evidence that the paper was based on misleading, 'unverified' data.
This scandal is just more evidence that in order to achieve their pre-determined results, global-warmists must use bad data, cherry-picking the facts. Because of course, they have an agenda to push ~
Official delegations from America, Britain and the EU were strongly influenced by the flawed NOAA study as they hammered out the Paris Agreement – and committed advanced nations to sweeping reductions in their use of fossil fuel and to spending £80 billion every year on new, climate-related aid projects.

The scandal has disturbing echoes of the 'Climategate' affair which broke shortly before the UN climate summit in 2009, when the leak of thousands of emails between climate scientists suggested they had manipulated and hidden data. Some were British experts at the influential Climatic Research Unit at the University of East Anglia.
Let's hope these revelations, and Trump's EPA, will keep these guys honest for the next few years.

~~~~~~~~~~~~~
Related:
US Congress launches a probe into climate data that duped world leaders over global warming ~
• Republican Lamar Smith has announced an inquiry to acting chief of NOAA
• He has demanded for all internal documents and communications between staff
Has NOAA's "Pausebuster" Been Busted?
Let's Talk About The '97% Consensus' On Global Warming
DELINGPOLE: NOAA Scandal Gives Trump Excuse To Drain Climate Swamp ~
What the whistleblowing NOAA insider John Bates has just done is prove beyond reasonable doubt what some of us have long claimed: that from NASA GISS and NOAA across the pond to the UEA and the Met Office's Hadley Centre, the world's leading temperature data sets have been hijacked by climate activists and abused to advance a political agenda.