Decades before we were even a country, St. Patrick's Day celebrations were already part of America's cultural traditions ~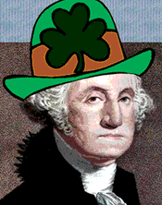 Irish settlers, many of them indentured servants, brought the custom of remembering Saint Patrick to the American colonies. Boston held its first observance in 1737. In New York City, Irish soldiers in the British army held a parade on St. Patrick's 1762.

During the Revolutionary War, George Washington allowed his troops camped at Morristown, New Jersey, many of whom were of Irish descent (by some estimates, one-third to one-half of them), to have a holiday on March 17, 1780 […]

From Davy Crockett to Bing Crosby, Americans with Irish roots have shaped our history and culture. Of the 56 men who signed the Declaration of Independence 9 were of Irish descent. And as many as 19 presidents from Andrew Jackson, to John F. Kennedy, to Ronald Reagan can claim Irish ancestry.

If the United States in the world's melting pot, the broth has a wee bit o' the taste of Irish stew.
~~~~~~~~~~~~~~~

These days of course – now that we're enlightened – we're starting a whole new tradition ➡ Boston St. Patrick's Parade Admits Gay Group After Death Threats. Wouldn't St. Patrick be thrilled?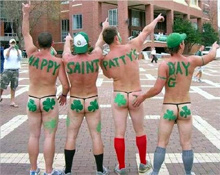 Be sure to take the kids!