Lest anyone believe that all the anti-Trump protests we've witnessed since the inauguration – actually, going back to the election in November – were organic, spontaneous demonstrations of disapproval, this recent article from The Hill, which is a not exactly conservative publication, should convince you otherwise. Strategically leveraging social media, the Left is assembling a "Resistance" army of malcontents. One of their latest tactics is rudely disrupting the townhall meetings of various representatives ~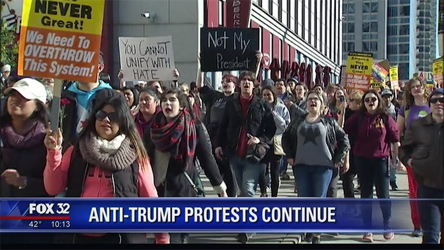 … (A) cyber autopsy of the "agitprop," or agitation propaganda, behind the "grassroots" protests reveals they are steered by an orchestrated campaign made up of partisan, professional organizers, much like the recent protests at the University of California at Berkeley, which led to violence and the cancellation of a speaker, Milo Yiannopoulos, under the rallying cry #ShutMiloDown

Now, in the latest iteration of a hashtag rebellion, the rallying cry is #ResistanceRecess and #ResistTrump. The self-described strategy is "bird dogging," a deliberately aggressive strategy designed to hound and heckle a political candidate or legislator into answering pointed questions.

My reporting and the research of New York City cyber sleuth Eric Feinberg reveals that this campaign is being championed by nonprofit groups and lobbying organizations connected not only by their liberal, Democratic politics but by their ideological philanthropist, billionaire George Soros.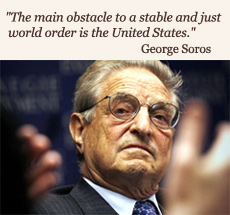 Yet again, when the action is subversive – clearly destructive of the civil society – the evil puppet-master is pulling the strings. Here's Asra Nomani writing at The Hill ~
According to an analysis in progress I'm compiling of leaked documents from the Soros philanthropy, Open Society Foundations, and other open-source material, at least six of the organizations involved with leading, organizing or training #ResistTrump #ResistanceRecess protesters — MoveOn.org, the Working Families Party, the ACLU, the National Immigration Law Center, United We Dream and Iowa Citizens for Community Improvement — have received funding over the years from Soros.

Other groups, like People's Action, lack clear funding from Soros, but nonetheless have virulently anti-Trump messages, like #ResistTrumpTuesdays. Hashtags they and other Soros-funded groups have used in recent weeks to send anti-Trump protesters into the streets and airports include #WomensMarch, #NoBanNoWall and #MuslimBan.

One group, United We Dream, which received at least $1.55 million in 2014 from Open Society Foundations, promoted #HereToStay and #DayWithoutImmigrants this week, to oppose Trump administration policies on illegal immigration. #NoBanNoWallNoRaid also started trending.
Then we have the ever-audacious ex-president Obama, the gift that keeps on giving ~ How Obama is scheming to sabotage Trump's presidency.

To start with, in a totally unprecedented move, rather than leave town gracefully like every other former president and retire to Chicago, or Hawaii to play endless rounds of golf, he's set up a command center for the insurgency just a couple miles from the White House ~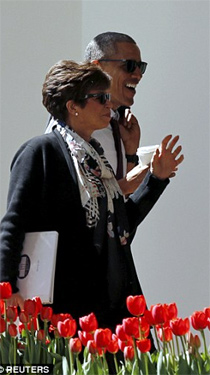 'He's coming. And he's ready to roll.' former Attorney General Eric Holder said yesterday (February 28th) about the former president's reentry into the political scene.

Well isn't that special?

As the UK Daily Mail reported on March 1st ~
Barack Obama is turning his new home in the posh Kalorama section of the nation's capital – just two miles away from the White House – into the nerve center of the mounting insurgency against his successor, President Donald J. Trump […]

Obama is being aided in his political crusade by his longtime consigliere Jarrett, who has moved into the 8,200-square-foot, $5.3-million Kaloroma mansion […]

Spurred on by Jarrett and Michelle, the ex-president has come to embrace his role as the leader of the opposition against Trump, whose policies he loathes and whose presidency he considers illegitimate.

So of course Obama's feelings fully justify the active subversion of a duly-elected president. But then why should he stop now? He got away with subverting the constitution for eight years.
'He is going to use his immense popularity with the half of the country that identifies as liberals and progressives,' said (an) Obama family source. 'Millions of Americans are energized and ready to take to the streets to oppose Trump, but they need to be organized and have their anger focused and directed.

Actually, Barry is just returning to his old job of community organizer. It's all he knows; tearing things down, dividing, sowing discord. And he certainly is "ready to roll."

Writing at the New York Post last month Paul Sperry explained ~
Obama has an army of agitators — numbering more than 30,000 — who will fight his Republican successor at every turn of his historic presidency. And Obama will command them from a bunker less than two miles from the White House.

In what's shaping up to be a highly unusual post-presidency, Obama isn't just staying behind in Washington. He's working behind the scenes to set up what will effectively be a shadow government to not only protect his threatened legacy, but to sabotage the incoming administration and its popular "America First" agenda.

He's doing it through a network of leftist nonprofits led by Organizing for Action. Normally you'd expect an organization set up to support a politician and his agenda to close up shop after that candidate leaves office, but not Obama's OFA. Rather, it's gearing up for battle, with a growing war chest and more than 250 offices across the country.
So when you see the progressive #Resistance coalition on the march (and wreaking havoc) don't be the least bit tempted to compare them to the Tea Party (who were only trying to reinstate the Constitution and reestablish our representative Republic). They're 30,000+ malcontents Organizing for Action against a sitting president – against more than half of the country.

America isn't a banana republic – yet. But Barack Hussein Obama, fully supported by chaos-inducing George Soros, has apparently established himself as comander of the rebel insurgency. How long before he's allowed to ignite another civil war?

~~~~~~~~~~~~
Related:
How Obama is bankrolling a nonstop protest against invented outrage ~ Mr. Audacious actually started Operation: Subvert America months before he left office ~
Obama is returning the favor of his Alinsky masters, training and cloning an army of social justice bullies to carry on his revolution to "fundamentally transform America." He's doing it mainly through a little-known but well-funded group called Organizing for Action, or OFA, which will outlast his administration.