Did you happen to catch the new commercial featuring Matt Damon announcing the involvement of Stella Artois (Belgian beer brand of BevAnheuser-Busch InBev) in the water charity he supports?
Stella Artois said on Tuesday it would donate $4.8 million over the next four years to Water.org, which uses microfinancing to fund projects like water wells and taps.

Source: NASDAQ

Business Insider put a humorous spin on the news: "Matt Damon is trying to solve the water crisis by getting people to drink more beer," but I gotta say I'm impressed. And pleasantly surprised. I know Damon is part of that Hollywood hypocrite gun-control crowd however – unlike many other celebs – he hasn't jumped on a soapbox and condemned his fellow Americans in a profanity-laced rant lately. He even says he'll pitch clean water to Trump (should be interesting…).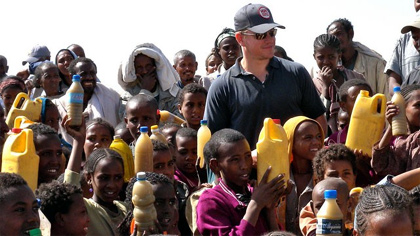 It's encouraging to see that Water.org sounds like an apolitical organization, i.e., no hidden leftist agenda. As they describe themselves…
For more than 25 years, we've made it our mission to bring water and sanitation to the world. Through market-driven, financial solutions, we've transformed millions of lives — giving women hope, children health, and communities a future.
It sounds like a responsible, well-planned approach that includes direct input and involvement from the communities they serve ~
When you connect the right local partners and participants with the right expertise and resources, the results are solutions that work.
Essentially they're helping those in developing nations help themselves to obtain the clean water they so desperately need.

There are a couple other charities with similar models for water provision which are doing an enormous amount of good as well. Blood:Water partners with African grassroots organizations to address the HIV/AIDS and water crises. And Samaritan's Purse ~
Providing clean water, coupled with health and hygiene education, is perhaps the most effective measure we can take in preventing infectious disease. Samaritan's Purse works around the world to provide clean water and promote safe hygiene practices.
As a bonus – because these two organizations are Christian – the populations they serve in Jesus' name also get to hear the good news of the Living Water.
~~~~~~~~~~~~~~~
Just wanted to salute Damon for trying to effect change in such a positive manner (as opposed some of his fellow celebs like oh – MADONNA!) and for using his wealth and status to make the world a better place – not a ruder, cruder, nastier one.

[Also, I love him in the Bourne movies!

]
~~~~~~~~~~~~~~~~~~~
Related:
Safe Water = Good Life