Updated: 12-21-16 ~
Christmas on Lockdown: Beefed Up Security Across Europe In Wake of Berlin ~ Islamists achieve objective ~
Many Christmas markets are closed in Germany today and police in the UK, France, Norway, Austria, Denmark, Italy, and other European nations are tightening security at festive events, with the terror threat at its highest level across much of the continent.
~~~~~~~~~~~~~~~~~~~~
The crazy Islamists are taking it (the war on Christmas) to a whole new level.

Last month there were warnings that radical Muslims in Europe were planning to disrupt annual Christmas festivities ~
"Credible information indicates the Islamic State of Iraq and the Levant (Isil or Da'esh), al-Qaeda, and their affiliates continue to plan terrorist attacks in Europe, with a focus on the upcoming holiday season and associated events.

Obviously they weren't kidding ~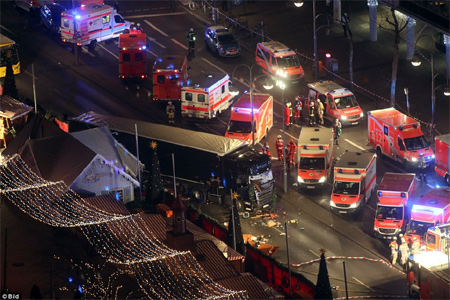 Truck Rams Crowded German Christmas Market, Killing 12
BERLIN (AP) — A truck rammed into a crowded Christmas market in central Berlin on Monday evening, killing 12 people and injuring nearly 50 as it smashed through tables and wooden stands. Police said a suspect believed to be the driver was arrested nearby and a passenger died as paramedics were treating him.

The popular Christmas market outside the Kaiser Wilhelm Memorial Church was filled with a mix of tourists and locals when the large Scania truck hurtled into it. Germany's top security official said initial evidence pointed to an intentional act, and the White House condemned "what appears to have been a terrorist attack."

UK Daily Mail has more ~
The man at the wheel – who according to German newspaper Berliner used different aliases, was of Afghan heritage and had arrived in Germany in February – fled the scene before being arrested at a nearby zoo.

Police confirmed the original driver, who was transporting steel beams from Poland to Germany, was a Polish national who was found dead in the lorry's cabin. It is thought he was hijacked.

As German police, the White House and Germany's top security official indicated the incident was terror related, there was a chilling echo of the deadly terror attack in the French city of Nice in July. It also came just one hour after the Russian ambassador was shot dead in Ankara.
(Ah, just another hapless refugee then. Thanks Angela Merkel.)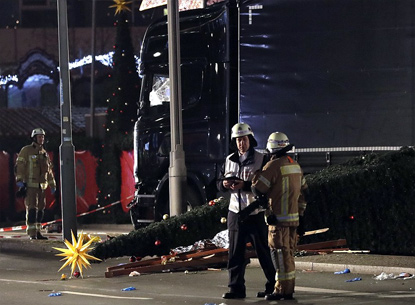 What's almost more tragic than the murders of innocent people is that these jihadis are attempting to kill the true Spirit of Christmas, the very thing that could heal their souls – and save them from eternal damnation.