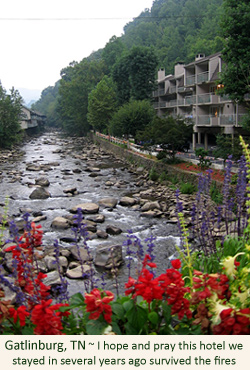 I'm just heartbroken over the wildfires in and around the Great Smoky Mountains National Park. My family and I have visited the Gatlinburg area numerous times and despite the touristy atmosphere in town, it's just a beautiful, special place – as are its people. The tragic loss of life (at least 13 people died so far with others still missing) – not to mention the property destruction, the scorched mountains – is difficult to fathom ~
Seven thirteen people died as a result of the fires, and (nearly 1000) homes and businesses were destroyed or damaged, including 300 inside the Gatlinburg city limits. The fires were spurred by dry conditions and high winds. More than 14,000 residents were displaced as the fires burned and more than 15,000 acres were consumed, the Tennessean said.

If you'd like to donate to the aid and relief efforts in Tennessee I recommend Samaritan's Purse or the Salvation Army. Or you could contribute to Dolly Parton's foundation (My People Fund). That's right, for decades Dolly – unlike the whiny, arrogant "Hamilton" actors, anti-2nd Amendment Matt Damon or Whoopi and her marijuana promotion (Goldberg launches weed startup for women) – has quietly donated millions to support various causes in the county where she was raised.

Instead of using their wealth and elevated social status to lecture us on the moral superiority of progressive values wouldn't it be a delight if more celebrities did this?

Dolly Parton has her priorities straight. Unlike so many of the narcissistic rich and famous, her values were grounded early in her strong Christian faith, and she's never lost sight of her humble beginnings.
~~~~~~~~~~~~~~~
Related:
Heart and Soul Tested in Tennessee Wildfire Tragedy ~ God is there in unexpected events, inspiring people and reminding them that He is ultimately in control.