Thanks to the courageous persistence of the Allied Forces, both Adolf Hitler and his march of terror across Europe were finally terminated in 1945. Tragically, not soon enough for more than 6 million Jews, and other assorted "undesirables" who perished in the Holocaust.
[Murdered along with the Jews were Roma (Gypsies), Jehovah's Witnesses, homosexuals, those with mental and physical disabilities, political prisoners and recidivist criminals. "Asocials," the Nazis called them.]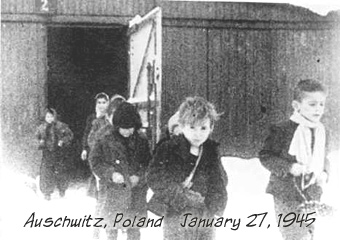 Starting in January 1945, one by one, the concentration camps that the Germans hadn't already dismantled were liberated by the allies:

• Auschwitz, Poland – liberated by the Soviets (January)
• Sachsenhausen, Germany – liberated by the Soviets (April)
• Ravensbrück, Germany – liberated by the Soviets (April)
• Buchenwald, Germany – liberated by the Americans (April)
• Dora-Mittelbau, Germany – liberated by the Americans (April)
• Flossenbürg, Germany – liberated by the Americans (April)
• Dachau, Germany – liberated by the Americans (April)
• Stutthof, Germany – liberated by the Soviets in (May)
• Neuengamme, Germany – liberated by the British (May)
• Mauthausen, Austria – liberated by the Americans (May)
• Bergen-Belsen, Germany – liberated by the British (May)
Sadly, Europe's collective memory seems to be failing when it comes to recalling the horrors of World War II and the Nazi atrocities. Too many seem to have forgotten that, aiming to ameliorate Germany's economic woes and restore her former "greatness," Hitler's initial ploy was to scapegoat the Jews.
(This is actually a favorite tactic of "community organizers," aka "community agiatators." Think Ferguson and demonizing white cops. Facts actually get in the way of their nefarious objectives.)

And so, here we go again. In the last few years anti-Semitism has returned to the continent with a vengeance.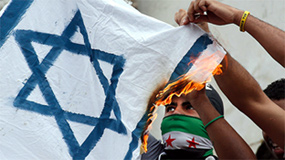 More than three years ago – in Spain ~
According to a recent poll by the Spanish Ministry of Foreign Affairs, 62.2% of university students believe that "the Jews are powerful because they control the economy and the mass media". More than 60% of Spanish university students say they do not want Jewish classmates.

France, with the largest Muslim population in Europe, is less and less safe for Jews
15,000 Jews to leave France for Israel, Jewish Agency says ~
Some 7,000 French immigrants arrived in Israel in 2014, more than twice the 3,300 who came the previous year and an increase attributed to increasing levels of hostility Jews in France say they encounter […]

The number of Jews leaving France for Israel has climbed steeply since 2012, when four people were killed in an attack on a Jewish school in Toulouse by another Islamist extremist.
Even in Britain ~
At dinner recently, a Jewish friend shocked me. "We've been thinking about whether we should get out sooner rather than later," Anna said. I couldn't believe what I was hearing, Anna, her husband and their three lovely kids are as British as you or me.

Sadly, it looks like she was merely giving voice to a widespread unease. Anti-semitism is nowhere near as bad here as it is in France, but a new poll reveals that more than half of British Jews fear that they have no future in the UK. British society is at a "tipping point" with Jewish families increasingly questioning whether to stay in the country. To make matters worse, a YouGov poll found that 45 per cent of Britons agreed with at least one of four anti-semitic statements.

~ Allison Pearson at the UK Telegraph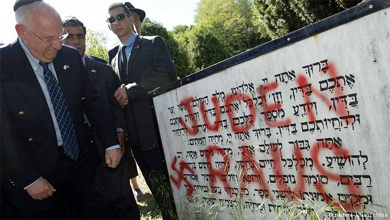 As Mark Steyn relates in his excellent article: A Judenrein Europe, the Jews are always the canaries in the coal mine ~
European leaders like (French president) M Hollande insist they're able to protect the Jewish community – or at least hold the remorseless picking-off of their members to manageable levels. The leader of the continent's biggest Jewish group is disinclined to take such assurances:


In a letter sent to interior ministries around Europe and obtained by Newsweek, Rabbi Menachem Margolin, director general of the Rabbinical Centre of Europe (RCE) and the European Jewish Association (EJA) – the largest federation of Jewish organizations and communities in Europe – writes: "We hereby ask that gun licensing laws are reviewed with immediate effect to allow designated people in the Jewish communities and institutions to own weapons for the essential protection of their communities, as well as receiving the necessary training to protect their members from potential terror attacks."

Alarm bells are ringing loudly… But it remains to be seen whether Europe's leaders have the moral clarity and courage to stand up to, not just the radical Muslims, but the latent anti-Semitic element in their native populations.
(The world could use another Winston Churchill about now!)

As Steyn concludes ~
Pre-war Europeans would never have entertained for a moment the construction of mosques from Malmö to Marseilles. But post-war Holocaust guilt, and the revulsion against nationalism and the embrace of multiculturalism and mass immigration, enabled the Islamization of Europe. The principal beneficiaries of the Continent's penance for the great moral stain of the 20th century turned out to be the Muslims — with the Jews on the receiving end, yet again.
~~~~~~~~~~~~~~~~
History has shown that wherever anti-Semitism has gone unchecked,
the persecution of others has been present or not far behind.
Defeating anti-Semitism must be a cause of great importance not
only for Jews, but for all people who value humanity and justice.
~ United States Holocaust Memorial Museum
~~~~~~~~~~~~~~~~~
Related:
A closer look at the Jews of France

Are Jews Really Safe in France? Warren Adler at FrontPage Mag isn't too sure ~
Will the French find ways to contain its now vast and growing issue of extremist terrorism and protect the future of a free and democratic France? Or will they by default, political correctness and fear allow innocent citizens to fall victim to a swamp of intolerance and fanaticism? Will they pay greater attention to the protection of a dwindling Jewish population, or yield to the blatant hatred of Islamic terrorism?

And what about the U.S.? ~ Man Screams "I Want To Kill The Jews!" Before Stabbing Israeli Student In New York [VIDEO INCLUDED]
Expose: Europes's Judenrein Universities ~ Jews are being expelled from academia, just as they were in the 1930's. Is Europe going to let this happen again barely 70 years later?