While the network news outlets have all been busy seducing the easily distracted masses with their wall-to-wall coverage of the sad Casey Anthony saga, the "Fast & Furious" scandal, a cause for real public outrage, has been unfolding. It's a story that the msm would be on like white-on-rice if a Republican administration was involved.

Back in 2009 the ATF (Bureau of Alcohol, Tobacco, Firearms and Explosives – a division of the Justice Department) began implementing the ill-conceived "Operation Fast & Furious". It turned out to be a disaster and is currently under investigation in Congress by Representative Darrell Issa (Committee on Oversight and Government Reform) and Senator Charles Grassley (Senate Judiciary Committee).

Also known as "Project Gunwalker", the basic facts of the operation are:
The plan – Have legal U.S. gun dealers knowing sell assault weapons to "strawmen" – go-betweens – who would then re-sell the guns to Mexican drug cartels. In effect, the ATF was forcing the gun dealers to break the law; all they were told to do was record the serial numbers as the weapons were walking out the door. The theory behind this genius idea was that identification of the guns, when they later turned up at crime scenes (next to dead bodies!) on either side of the border, would "create a 'nexus' between the drug cartels and the straw purchasers.

The result – A bunch of dead people, including Border Patrol Agent Brian Terry, and few bad guys apprehended.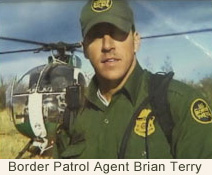 From day one Operation Fast & Furious created a rift within the ATF (obviously between the rational and the irrational). John Hinderaker at Powerline reports on the internal tension at the Bureau:
Many ATF agents were appalled by, and rebelled against, Fast and Furious. They predicted that guns the agency had purposely allowed to get into the hands of a drug cartel would inevitably be used to commit crimes of violence, potentially against law enforcement officers. But their complaints were suppressed by higher-ups in ATF and DOJ.

The weapons that were permitted to be smuggled into Mexico under Fast and Furious contributed to the drug violence there. According to ATF agents who testified, that made ATF officials "giddy." One agent recounted a conversation with an ATF higher-up in which he asked, "are you prepared to go to a border agent's funeral over this or a Cochise County deputy's over this, because that's going to happen." Her response, in a chilling echo of Lenin, was that "if you are going to make an omelette, you need to scramble some eggs."

The inevitable occurred on December 14, 2010, when Border Patrol Agent Brian Terry was murdered by a group of illegal aliens near Rio Rico, Arizona. Two AK-47-type weapons found at the scene had serial numbers that showed they were bought by a straw purchaser named Jaime Avila, whose identity as such had been known to ATF since November 2009.

It gets better. It now appears that at least a portion of $10,000,000 in stimulus funds were used to finance this failed program (our tax dollars at work!). From Hillbuzz:
'For an additional amount for 'State and Local Law Enforcement Assistance', $40,000,000, for competitive grants to provide assistance and equipment to local law enforcement along the Southern border and in High-Intensity Drug Trafficking Areas to combat criminal narcotics activity stemming from the Southern border, of which $10,000,000 shall be transferred to 'Bureau of Alcohol, Tobacco, Firearms and Explosives, Salaries and Expenses' for the ATF Project Gunrunner.'
~ from Open Congress ~
[Operation Fast & Furious/Project Gunwalker is part of "Gunrunner"]

Even more ominous is the suggestion being made by many in the blogosphere that DOJ was well aware that Operation Fast & Furious had little chance of success from the beginning, and that they implemented the program with an entirely different goal in mind:
ATF agents testifying in front of the House Oversight Committee could not explain how the operation was supposed to succeed when their surveillance efforts stopped at the border and interdiction was never an option.

According to Bob Owens at Pajamas Media, it's highly probable that –
…Gunwalker's objective was never intended to be a "legitimate law enforcement interest." Instead, it appears that ATF Acting Director Ken Melson and Department of Justice senior executives specifically created an operation that was designed from the outset to arm Mexican narco-terrorists and increase violence substantially along both sides of the Southwest border.
Apparently DOJ and ATF were perfectly willing to "scramble some eggs" …and then take advantage of the inevitable resultant chaos to push for more gun control. And in fact, even while Congressional investigations are ongoing – and the Department of Justice is attempting to cover-up their involvement – the White House Plans to Release New Gun Safety Measures 'in the Near Future'.

The reforms, which are being crafted by the Department of Justice, come after a series of meetings with relevant stakeholders in the Second Amendment debate. But in a nod to the difficulties of getting legislation through a Republican-run House of Representatives, only executive orders or administrative actions — and not an actual bill — are expected to be handed to Congress.

Unbelievable. This is a huge story that's turning out to be a major scandal but the msm is barely paying attention. At least Fox News had some coverage. Here's a video: ATF gun scandal

…"a troubling story on so many levels". Ya think? Just imagine how furious the msm would be if this debacle had "the Bush Administration" attached to it.

On the other hand – imagine how much fun it would be to actually watch this happen: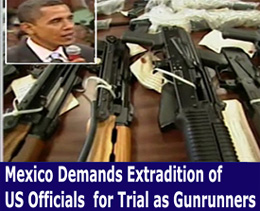 Lots more info on this fiasco:
Gun-Running Timeline: How DOJ's 'Operation Fast and Furious' Unfolded
"Fast and Furious" Blows Sky-High
Fast and Furious Scandal: What Did Obama Know, and When Did He Know It?
The Puzzle of 'Operation Fast and Furious' — When Will Team Obama Come Clean About Failed Gun Program?
What a Shock… Obama to Unveil New Gun Control Reforms