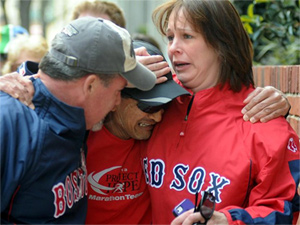 Here's a thoughtful piece by Jennifer Dukes Lee – in case you were wondering… Where Was God in Boston?

As horrifying as the marathon bombing was, the goodness of everyday Americans shone through in the aftermath ~
10 Things From the Boston Marathon Tragedy That Will Warm Your Heart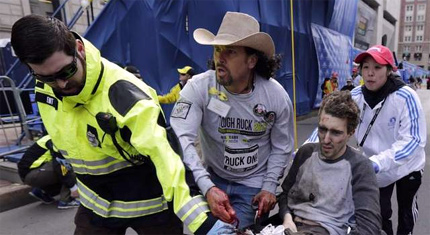 The man in the cowboy hat is Carlos Arredondo. He is an immigrant citizen of the U.S. who lost his son in Iraq and is now a peace activist and speaker. When the explosions happened, you can see that he did not hesitate to run towards the chaos and help, obviously trying to get this poor man out of there and to hold a tourniquet on one of his severed legs. Later, he was being interviewed, visibly shaking from shock and holding an American flag, soaked in the blood of other people. Carlos Arredondo's selflessness and bravery should be known and applauded.