While the House and Senate Democrats were slobbering all over themselves to extol her virtues yesterday, it occurred to me that the only thing that's actually "praiseworthy" about our singular Secretary of State is her masterful ability to prevaricate. And every good liar, by definition, is also a talented actor.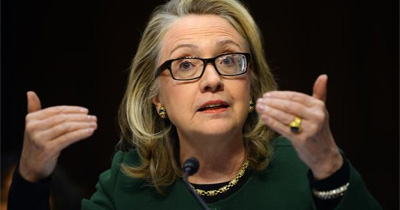 One of my favorite scenes from yesterday's drama on the Hill was watching Secretary Clinton's ridiculous tantrum in response to queries from Senator Ron Johnson (R-WI) who wanted to know why the administration wouldn't drop the phony "spontaneous riot" narrative after they were clearly aware the truth.

Frustrated at Johnson's persistence, Clinton went into a snit, got knocked a bit off her game, then asked and answered her own question in the same oxymoronic statement:
With all due respect, the fact is we have four dead Americans. Whether it was because of a protest or because guys outside for a walk one night decided to go kill some Americans. What difference at this point does it make? It is our job to figure out what happened and do everything we can to prevent it from ever happening again Senator.
Breitbart has a video of her stellar performance video HERE.

Here's the thing Madame Secretary – just how will you be able to "figure out what happened and do everything we can to prevent it from ever happening again" if you don't even know what actually happened?

How could it not make a difference?!

Buffoon.
~~~~~~~~~~~~~~~~~~
But that wasn't the best part. For me the highlight of the Hillary Show was Senator Rand Paul's (R-KY) "gotcha" moment ~


Although Paul referred to what happened in Benghazi several times as a "failure of leadership" and "inexcusable," and suggested that he'd have relieved her of her post had he been president, he did complement Secretary Clinton for accepting responsibility for the tragedy – "because no one else is." He continued on in this vein for a minute or two and then completely shifted direction and dropped this question (at the 2:35 mark):

"Is the U.S. involved with any ah, procurement of weapons, transfer of weapons, buying, selling, anyhow transferring weapons to Turkey, out of Libya?"

Feigning total surprise, Clinton managed to blurt out: "Well Senator you'll have to direct, direct that question to ah, the agency that ah, ran the annex."

"The agency"?

Even mentioning "the agency" was as close as old Hilly got to the truth all day.

"The agency" is the CIA. The annex was a CIA safe house. And Ambassador Stevens (ex-CIA) was facilitating the collection and transfer of weapons out of Libya, through Turkey, to Syria (to further destabilize that country and hasten Assad's downfall).

Canada Free Press had all the details on this debacle almost two months ago:
Benghazi explained: Interview with an "Intelligence Insider" ~
Part I ~ Part II ~ Part III

If you really want to know what Benghazi was all about forget the Congressional dog & pony shows, ignore the mainstream media, and read these three articles by Doug Hagman. Sadly, we're never going to get the truth about this disaster out of Hillary Clinton – or anyone else in the Obama Administration.